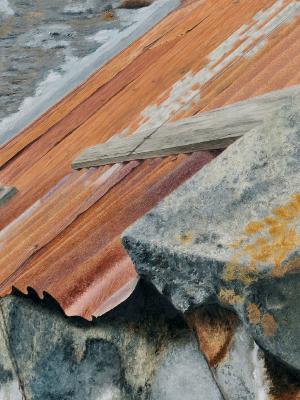 Lismirrane I (detail) Oil on Board. Click to enlarge.

The Clew Bay Hotel Gallery, Westport, presents an exhibition of painting, drawing and sculpture by Pauline Garavan. The exhibition will be opened by Marie Farrell, Director of the Linenhall Arts Centre, on Friday, 12th April, at 7.30 pm, and all those interested are invited to attend. The exhibition continues daily until mid-May.

The work is an in-depth study of West of Ireland rusted galvanized roofs. Though rusted and weathered, Garavan's work explores their hidden beauty.