---
A Memorial To Two Adventurers.
This monument honours the achievement of
John Alcock and Arthur Whitten-Brown
The first men to fly non-stop across the Atlantic Ocean.
On the morning of the fifteenth day of June nineteen hundred and nine-teen they landed in their aircraft five hundred yards beyond the cairn which can be seen one and a half miles south of this point having left St. John's, Newfoundland, sixteen hours and twenty seven minutes before. The aircraft was a Vickers Vimy bi-plane powered by two Roll-Royce Eagle V111 engines of three hundred and fifty horsepower each, and the average speed was one hundred and fifteen miles per hour.
Dedicated this the fifteenth day of June nineteen hundred and fifty nine.
Tá a ngaisce greannta ar chlár ná spéire.
The above is the inscription on a plaque mounted on the Alcock and Brown memorial which stands on a high hill, with spectacular views, near Clifden, Co. Galway. The monument, in the shape of an aircraft tailfin, is situated overlooking the landing site in the bog some distance away.
Photos in a previous posting showed a replica aircraft re-enacting the flight and landing at the local golf club, Sunday, July 3rd 2005.
The photographs below shows the monument and inscribed plaque.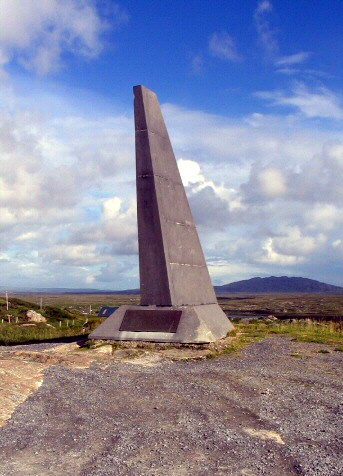 Alcock & Brown Memorial.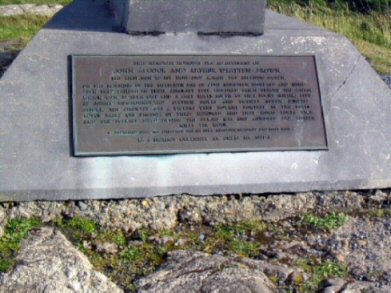 Plaque.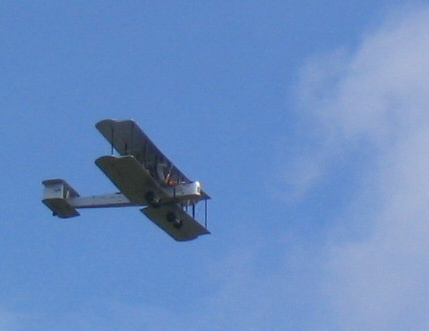 Replica Vickers Vimy.
---
Photos of Steve Fosset and Mark Rebholz who landed safely in Clifden in 2005 having repeated the original Alcock and Brown transatlantic flight.
Mayo Historical and Archaeological Society
© Copyright 2006 by the author(s)/photographer(s) and www.castlebar.ie

Top of Page