---
The Franciscan Third Order Friary,
At Bunnacurry, Achill.
The photos below, show the abandoned Franciscan Third Order friary at Bunnacurry, Achill, in a sorry state. Sections of the roof have collapsed, the windows are broken, their timbers rotting, and the doors have mostly disappeared.
The once neat little church, with a confessional situated at the rear, is now a sad sight, and has obviously been used to house animals. The plaster is falling from the ceiling, and the wallpaper, except for a tiny fragment which still retains its original colours, has been bleached white by the elements, and hangs loosely on the walls.
Outside, a short distance away from the friary, is an enclosed graveyard, the last resting place of several members of the order, including the friary founder, Br. Bonaventure McDermott, who died 16th March, 1896, 'in the 50th year of his religious life.'
The friary was opened in 1852 under the jurisdiction of the Archbishop of Tuam, John McHale, who enlisted the help of the brothers in his efforts to combat the influence of the Bible Societies, and Scripture Reading Societies, which had been active in the west of Ireland, particularly during the famine period. Food and other help was given to those Catholics who would renounce their religion and send their children to be educated in the 'colony' schools. Many hungry and desperate people in Achill, and elsewhere, took up the offer, and the work of the societies was hailed in Dublin and London as 'the dawn of a new Reformation in Ireland'.
The friars continued their work and teaching in Achill for many years, but in the late 1960's the friary closed and the religious dispersed to other parts of the country. Afterwards the friary property was purchased by a co-operative that proved to be unsuccessful, it too closed, and the building is now empty and rapidly becoming derelict.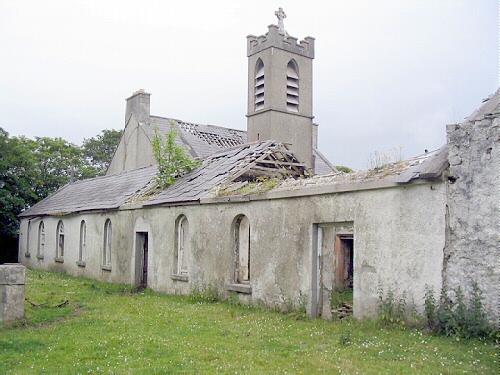 Friary of the Franciscan Third Order (Modern) at Bunnacurry.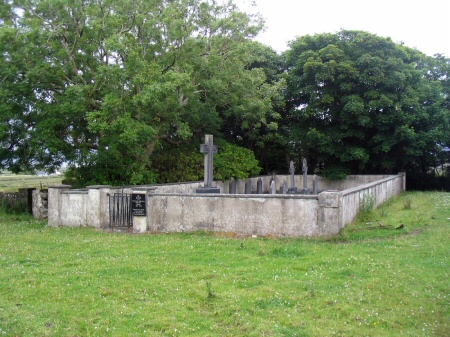 The friary graveyard.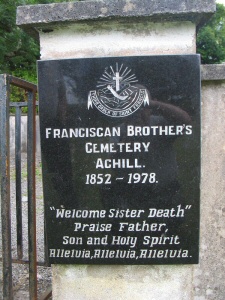 Plaque on the gate to the graveyard.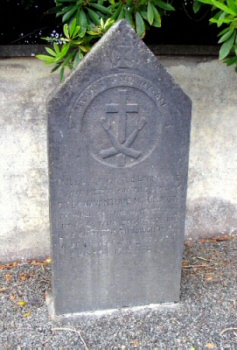 The grave of the friary founder, Br. Bonaventure McDermott.
© Copyright 2006 by the author(s)/photographer(s) and www.castlebar.ie

Top of Page