---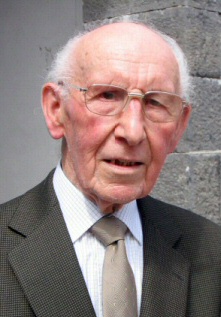 Michael John Gallagher.
A large audience attended a talk on travelling shops that were popular in the days when the population of Ireland was not as mobile as they are today. The travelling shop was an important part of Irish rural life in the 1940's, and continued to provide an invaluable service up until recent times. In fact, some shops are still trading, bringing supplies to people in remote areas.
The speaker, Michael John Gallagher, was a travelling shop operator from 1947 until 1982, and in that thirty-five year period served the community from Ballylahan Bridge to Foxford, and all areas in between Kilkelly, Knock, and Bohola. He started his business with a horse drawn van, and soon progressed to a small motor van and latterly, he acquired a large specially equipped vehicle.
In his talk, Michael John recalled the days of shortages and rationing following W.W.2, he talked of the difficulty of doing business when petrol was scarce, he spoke of the 'big snow' in 1947, when snow drifted up to a height of eight feet in places, and did not thaw fully until early June. He remembered with affection his loyal customers, some of whom attended the talk. The photo above shows Michael John, hale and hearty, and obviously enjoying his retirement.
The talk was organised by The Museum of Country Life, at Turlough, Castlebar, where other interesting talks and demonstrations are held every Sunday and Wednesday afternoon at 2.30 p.m. There is no admission charge, but booking is advisable.
© Copyright 2006 by the author(s)/photographer(s) and www.castlebar.ie

Top of Page