---
Part of a well-built North side-wall, with a small degraded window looking out onto the sea some distance away, is all that remains of Killeentrynode or Killeenatrinody, (The Little Church of the Trinity), a 13th Century priory of the Premonstratensians, an Order founded by St. Norbert at Prémontré, France. (Hence the Order's name).
The priory was originally erected c. 1260, and was subject to its motherhouse on Trinity Island, Lough Key, Co. Roscommon.
The building, which is in the townland of Killeen, in the Parish of Kilbride, near Ballycastle, is also known as the Church Of The Black Veiled Nuns (Teampul-na gcailleach-dubh ), which suggests that it was a nunnery , but church historians dispute this.
In Gwynne & Hadcock's book 'Medieval Religious Houses, Ireland' it is suggested, that there may have been only a small number of religious here, probably sent from the motherhouse at Lough Key, to look after the Order's interests in the area. - We will never know for certain.
Because of their white habit, the Premonstratensians are referred to as The White Canons, and are known as Norbertines, after their founder St. Norbert.
The photos show the ruined remains, such as they are.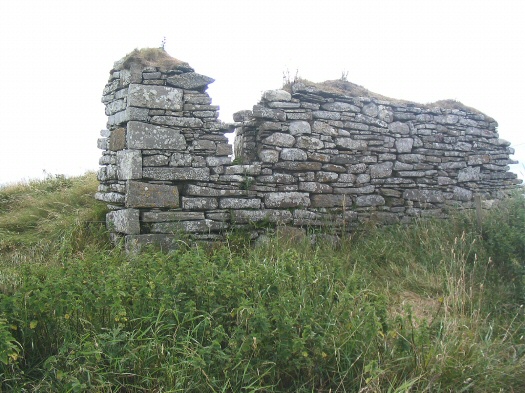 The ruined priory at Killeen townland.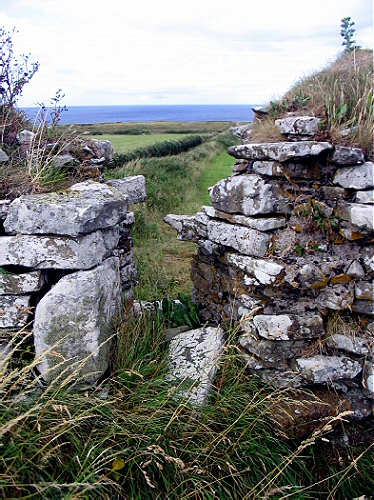 A view towards the sea from the small window.
© Copyright 2006 by the author(s)/photographer(s) and www.castlebar.ie

Top of Page