Wednesday 16th November 2005
midweek-wednesday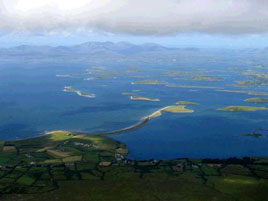 Views from Croagh Patrick taken on 4th of July 2005. Click photo for more from Noel Campbell.
Can you help? Operation Chrismas Child 2005 is under way.
Science Week: Lots of science activities at the Museum of Country Life this week
Your Amazing Photo Galleries
Why not put your photos on our Front Page? Castlebar's 365 daily front page photos are selected from submitted photos. You can email them or upload your digital photos to Castlebar.News or to our new DIY Gallery.
| | |
| --- | --- |
| | Not the Neale Pyramid in Mayo but one of Egypt's famous Pyramids. Click for more from PJ's recent Egyptian Odyssey. |
| | |
| --- | --- |
| South America: Niamh Ruane's photos taken in Brazil and Argentina are quite spectacular. | |



Reflections from Castlebar: Check out our DIY photo gallery system which allows you to upload your photos and easily modify the look and feel of your albums. Why not register and upload some of your photos? - Or just


Reflections from Castlebar




View a Random Photo from the new Gallery.
Castlebar Miscellany
Castlebar.News Needs Contributors? Is your local club news up to date? Just email the info or upload items directly to Castlebar.News free of charge. The online archive of material means that your club history is automatically updated and can be found immediately by anyone who can Google.
Sunset Silhouette - more East to West photos from Kevin Morris. click photo for his new gallery upload.
Angling News: The game angling season has ended - so take a look back at 2005 and plan next year's fishing.
Classified Adverts: If you have something to sell or buy - cars, property, electronic equipment, furniture, etc. why not try our free online classifieds.
Search our Business Directory: A new, improved search facility for the Castlebar Business Directory. Search by business, category or address.
Mayo Ancestors: Now over 1600 requests searching for Mayo Roots and Connections - can you help them?
Castlebar Sport
The Sports Section: Lots of updates from local sporting organisations in our sports section. You can publish your results and club notices here.
Rugby: Get the latest news from Castlebar RFC.
Snugboro United played their first match on their new turf at Snugboro. Brendan Mullins has some great photos of the grand opening. Plus lots more matches on their Castlebar home page.
Ladies Football: Castlebar Mitchels Ladies GAA Club News
Mayo Athletics Club: Details of the Mayo Athletics Club AGM and officers for 2005.
Castlebar Golf Club: All the latest competition results - Castlebar Golf Club - find out who's hot this week on the golf course.
Badminton: Castlebar Badminton Club website - all the latest news.
Basketball: Castlebar Westaro Comets team website. Check out the 2005 Season.
Swimming: Read the latest from Castlebar Swimming Club.
Castlebar Celtic: Two Celtic player on Irish U-15 team that played against Holland on 2nd Dec 2004. Check out Castlebar Celtic's Website.
The Castlebar Archives:
Look Back: 5 - 4 - 3 - 2 and 1 Years Ago -
Our Daily Archive has over 1800 separate Front Pages for you to browse through.
Read Yesterday's Front Page
Our Photographs
The West - from Addergoole to Windy Gap: Over 2000 photographs for you to browse through with a West of Ireland emphasis.
Galleries: Because we add 20 or 30 new photos every day we now have many thousands of photos on the Castlebar site.
Publishing an article or news item on the Castlebar.News section is easy. Just follow these simple instructions.
Free Classifieds: Sell or buy with our free classified ads