29 October 2011

President Higgins!
Today's Featured Photo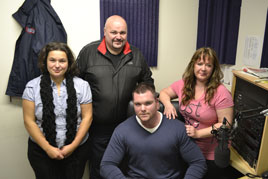 Every Ounce Counts runs until December 9th on CRCFM - follow the participants' progress every Friday on CRCfm @12:05



---
Latest Headlines
Museum of Country Life - Nov 2011

-

28, Oct 2011

Safe Secrets: the Story of the Coggalbeg Hoard - Focus on Irish History 1850-1950 - A Stitch in Time - Re-awaken the Musician within You.
Quiz Night - Fri 25 Nov

-

28, Oct 2011

Quiz in aid of Castlebar Mitchels Juvenile Hurling Club - Friday 25 Nov 2011.
Public Procurement Process

-

28, Oct 2011

November's MOCC Meeting will take place on Wednesday 2nd November at 11am in the Harlequin Hotel.
New Christmas Market in Castlebar

-

28, Oct 2011

Quality craft work, delicious culinary treats and carol singing are just some of the treats you can expect at the Castlebar's newest Christmas Market.

Get STRUCK to The O2 - Official

-

25, Oct 2011

Help get STRUCK, a Castlebar based Pop/Punk Band to the O2 in Dublin. Vote for them now & help them Win the O2 Smartsounds Competition for Unsigned Irish Bands.
Thought Fox

-

24, Oct 2011

Exhibit A is Thought-Fox, winner of Music Network's Young Musicwide Award for 2010-13











Try Our Newsfeed - updated 365 days a year
---