17 April 2017

This day 1949 - Ireland leaves the British Commonwealth - ushering in Republic of Ireland
Today's Featured Photo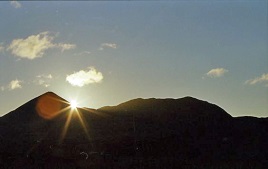 Coming up tomorrow 18th April - the Bohea Rolling Sun Phenomenon. Click above for previous photos by Jack Loftus showing the sequence.
---





---
Latest Headlines
Boheh Rolling Sun

-

17, Apr 2017

Boheh Rolling Sun Phenomenon next display at Croagh Patrick Mountain Tuesday April, 18th 2017 - clouds permitting
Living Well With Arthritis

-

13, Apr 2017

The Mayo Branch of Arthritis Ireland are pleased to host the Standford University renowned self-management course LIVING WELL WITH ARTHRITIS and associated conditions.
Castlebar Bridge Club Results - 11 April 2017

-

11, Apr 2017

Chris Casey & Maureen Flynn, Pauline Casey & Mary G Bourke, John Bourke & Mary P Bourke, Mary Tighe & Phil McMahon, Flavia Cafolla & Nato Neary, Nancy O'Farrell & Eileen Bunyan, Sheila Healy & Margaret Mullen, Ita Mongan & Frances Price, Catherine McCarthy & Mary McKeon, Helen Norton & Ray Norton.
Partry FolkFest 2017

-

10, Apr 2017

Partry FolkFest 2017 in aid of Mayo Roscommon Hospice and Mayo Cancer Support