Lough Corrib
Declan Gibbons reports that fishing has really picked up since last week. Duckfly hatches are still going in many bays, with more fish feeding on them, as well as a few early olives.
In the Oughterard area the Oughterard Regatta Development 50 Competition was held on Saturday and Sunday last; 42 rods participated in the annual event. 1st place went to Oughterard men Mike Faherty and Kevin Molloy with 11 trout for 23.74lbs. 2nd place went to Tom Doc Sullivan, Cornamona and Mike Keady, Moycullen with 10 trout for 16.22lbs. 3rd place went to Moycullen duo Toby Bradshaw and Eugene McCarthy with 9 trout for 14.96lbs. The heaviest fish prize went to Darren Maguire from Garrison, Co. Fermanagh with a fish of 4.5lbs.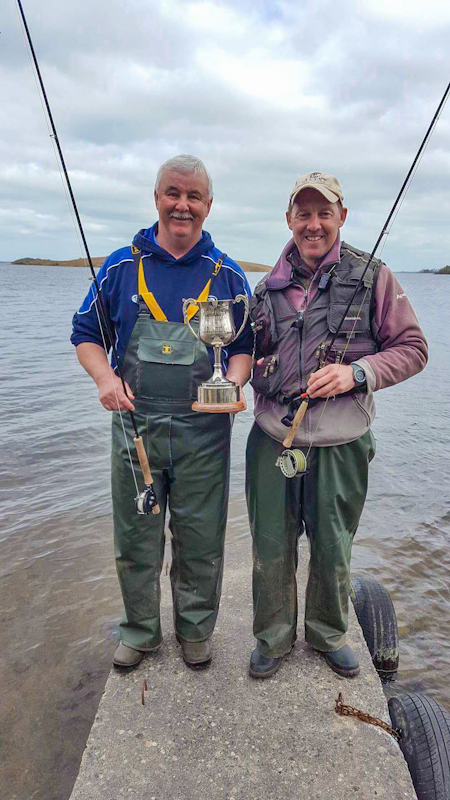 Mike Faherty and Kevin Molloy, winners of the Oughterard Development 50 Competition held on 1/2 April, 2017.
Also in the Oughterard area Basil Shields of Ardnasillagh Lodge (091-552550) reports average fishing with Simon Hollifence from England catching a fish of 3lbs on buzzer. David Kidd from Belfast had 2 fish on buzzer, best fish 3lbs, John Malcolm from Bangor had 3 fish for 6lbs, and former World Cup winner Robbie Crichton From Cork had 6 fish for 15lbs. John Fitzgerald from Shannon had 3 fish on Sunday averaging 1.5lbs. Fellow Shannon angler Eddie Shanagher had 2 fish on Sunday. Gary Maguire from Omagh had 2 fish for his visit to Lough Corrib, and Cork anglers Stephen O'Reilly and Henry Jeffers had 2 fish to the boat for their day.
In the Cornamona area Richard Molloy of Ballard Shore Boat Hire & Accommodation (087-2879399) says Tipperary anglers Neville Atkinson and Fergus Hogan had excellent fishing on duck fly and olives, with a good number of fish to the boat. John Finn, also from Tipperary had 2 fish for his days fishing on Corrib.
Staying in the Cornamona area Tom Doc Sullivan (087-6113933) was guiding Roger O'Neill from Dublin and Roger had 2 fish for his day on duckfly, with the best fish being 2lbs.
David Ryan (086-3170081) from Ryans River Lodge Fishing & Shooting in Cong recently guided a visiting USA angler who had 4 trout for his day, and also guided visiting French visiting angler Guy Choisel, who landed a fine pike of 25lbs. Martin McCoy from Derry caught a fish of 3lbs on Monday last in Salthouse Bay which he sportingly released. Luke O'Connell from Sligo stayed at Corrib View Lodge, Glencorrib (087-9135222) and had a cracking trout of 4.14lbs on Saturday last.
Phillip Comber (086-2786301) was on to us telling us of recent good fishing in the Rabbit Island area and had 2 fish for 5lbs, Phillip can be contacted for rental of Rabbit Island Lodge, or check it out on Facebook for a unique place to stay and enjoy a visit to Corrib.
A group of anglers from Northern Ireland consisting of Greg White, Brian Stanfield, Stevie Ellis, Tony Hogg, Stan McCart and Gary Stewart fished out of Annaghkeen for their week's stay and fished the Rabbit Island, Lees and Birchall areas, finding fishing difficult at times, however they had a few fish every day and caught some good quality trout on buzzers, like Greg's fish pictured here.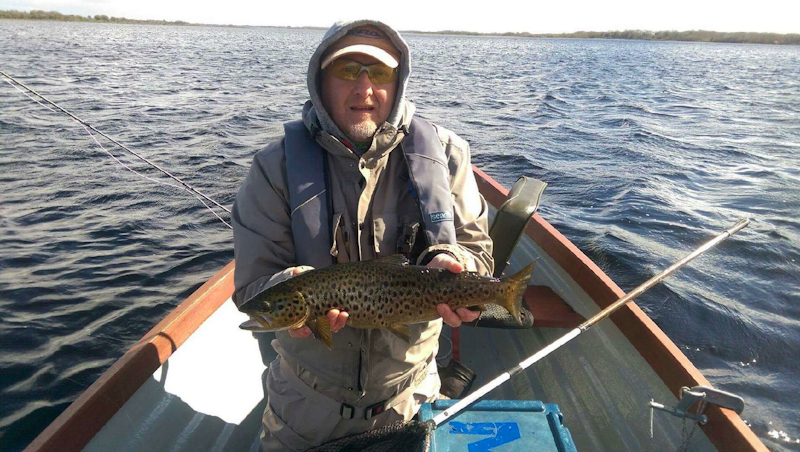 Greg White, Northern Ireland with a nice Corrib trout taken on buzzer on a recent trip with friends.
On Wednesday and Sunday last in the Greenfields area Loughrea Brothers Robert & Richie Reilly enjoyed excellent fishing landing 16 fish for the two days - best fish 5lbs.
Ennis and District Anglers hosted a competition out of Greenfields on Sunday last, run on a 14 inch limit basis. 9 fish were weighed in for 14 rods. 1st place went to Damien Culliney with 1 fish for 3lbs 9oz, 2nd was Paul Dignam with 2 fish for 3lbs 8oz, and 3rd was Michael Killeen with 1 fish for 3lbs 5oz.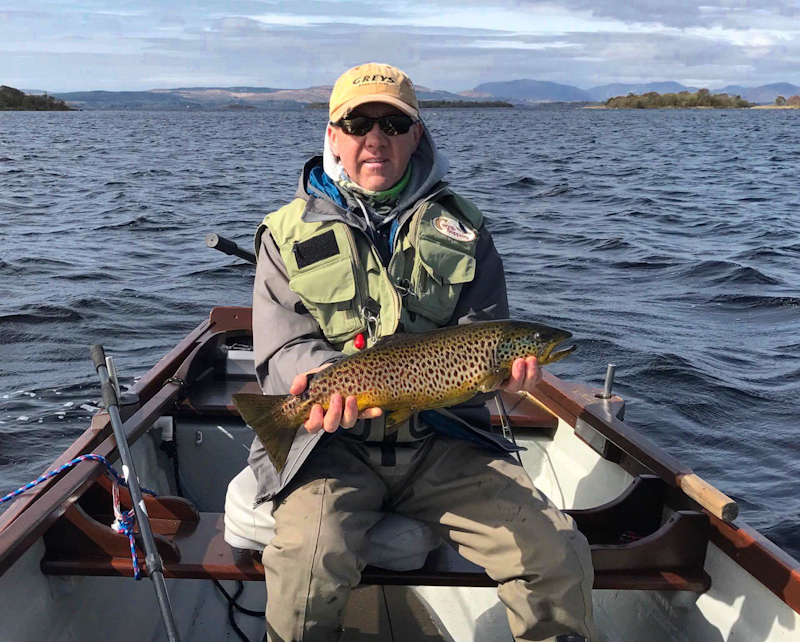 Loughrea angler Robert Reilly with a fine Corrib trout caught recently.

Lough Mask
Ronan Cusack reports that the good fishing continues on Mask, as we enter the first week in April. Anglers have reported seeing some excellent hatches of duckfly and small sedge on the warmer days this week.
Visiting anglers Martin McCoy and David Nevin had 22 trout over the size limit last weekend, mostly on wet-flies (best fish 2lbs). Philip Comber from Headford had 2 nice fish on dry duckfly patterns this week at the south end of the lake (best fish 3lbs). Kevin Egan and Declan Gibbons from Ballinrobe fished together on Sunday and they finished with 11 on a combination of buzzer and wets (best fish 1.75lbs, all released). Fermanagh angler Billy Graham fished with Sean Maloney from Ballinrobe on Sunday and they had 7 good fish for their day (best fish 2.25lbs). Joe Fitzharris from Ballyhaunis was guiding for 2 UK anglers for 3 days towards the end of last week. The lads had a total of 19 trout for their trip on a combination of buzzer and wets (best fish 2.5lbs). Conor Dennedy from Claremorris had a lovely 3.5lbs trout off the Ballycoyne rocks while fishing wets for a few hours on Tuesday last, with several more smaller fish landed and released.
The Ignatius Burke Memorial Cup 2 Day Competition was held in Clonbur on Tuesday and Wednesday of last week, with anglers from all over the country enjoying a festive stay in Clonbur and some decent fishing as well, despite inclement conditions. 112 anglers fished the competition, with first place going to Nigel Greene, Enniskillen, with 4 fish for 3.68kgs. Thomas J Carroll from Westport was second with 6 fish for 3.518kgs, third was Mike O'Shea, Killorglin Co. Kerry with 4 fish for 3.47kgs. Mike also won the Heaviest Fish prize with a trout of 1.67kgs. The Junior Angler prize went to Daithi Ryan from Cong, with 2 fish for 0.821kg.
A great addition to the facilities of Lough Mask, is the construction of a wheelchair-accessible facility for disabled boat anglers built at Burkes pier at Ferrybridge. Timmo Sullivan from Co. Kerry was the first angler to use the facility for the competition, and is pictured here with Ciaran Burke, brother of the late Ignatius who the competition was held in memory of. The Burke family welcome any and all anglers who wish to use the facility - access can be obtained by contacting Tomás Burke on 087 9099593.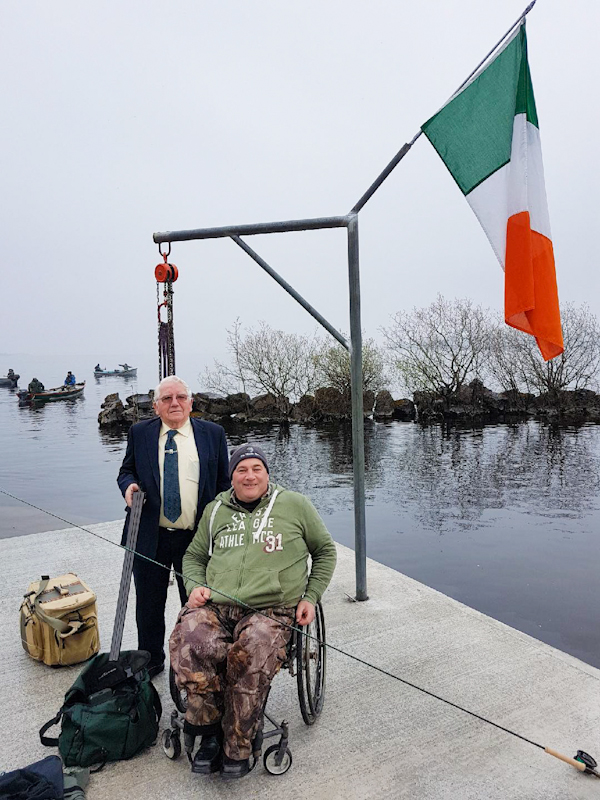 Ciaran Burke, left with Timmo Sullivan, preparing for the shotgun start to the Ignatius Burke Memorial, and unveiling the new disabled access facility at Burke's Pier, Lough Mask.

Galway Fishery
It's been a long wait, but the first salmon of the year in Galway was finally landed by local angler Dave Lenihan on Thursday 30 March. Water levels had been very high, but dropped to 5 gates open last week, and Dave knowing the river so well was quick to take advantage. The fish which weighed 6.5lbs, was landed in Jimmy's Pool and took a shrimp bait. After a tough year last year, it's great to see Dave back to good health again, and his comrades and rivals for the first fish were genuinely delighted to see him take the honours again.
In time-honoured fashion, the first salmon was donated to charity and served in a local restaurant. This year, the White Gables Restaurant in Moycullen made a generous donation of €500 to COPE Galway for their fantastic Means on Wheels service that provides much-needed sustenance to older people in the Galway area. Many thanks also to local photographer Joe Travers for the use of the photos.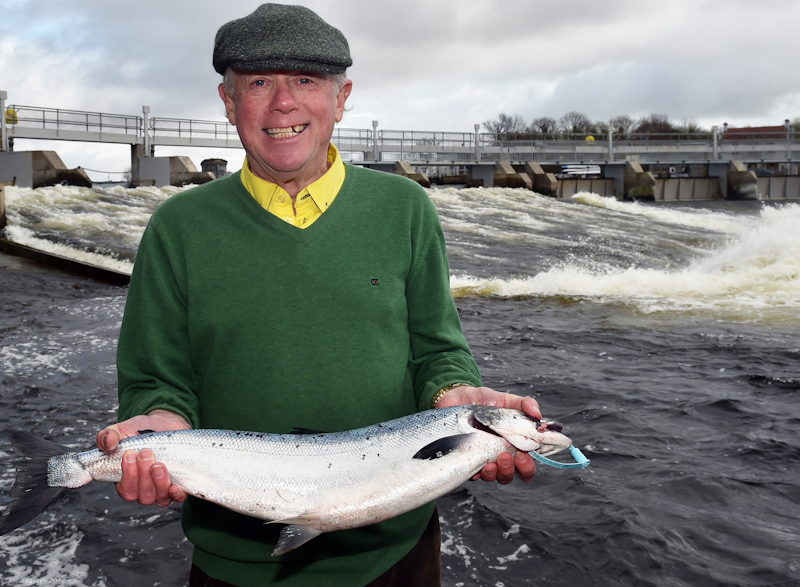 Dave Lenihan, Knocknacarra landed the first salmon of the season a fine fresh Salmon weighing 6.5lbs & was caught on a shrimp in Jimmy's Pool on Thursday. Photo: Joe Travers
Dave Lenihan, Knocknacarra landed the first salmon of the season a fine fresh Salmon weighing 6.5lbs & was caught on a shrimp in Jimmy's Pool on Thursday. Pictured with Dave are James Quinn, Galway Fishery, Kevin Dunne White Gables, Moycullen, Marie-Anne Michel & Geraldine Ryan (COPE Galway) who received a cheque donation from the White Gables. Photo: Joe Travers