The National Museum of Ireland and the making of a National Collection
2017 marks the 140th anniversary of the passing of the Dublin Science & Art Act, 1877, which provided for the institutions which eventually became the National Museum and National Library This lecture will look at the events which led to the foundation act of 1877, the formation of the National Museum and its development as a national cultural institution down to the present day.
Raghnall Ó Floinn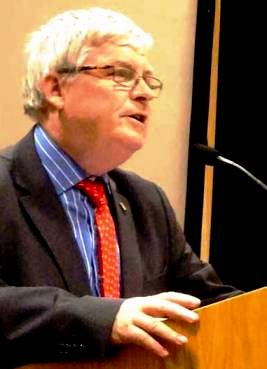 Mr. Raghnall O Floinn. Director of the National Museum of Ireland.
Raghnall Ó Floinn was appointed Director of the National Museum of Ireland in 2013. He joined the Museum in 1976 as Assistant Keeper in the Irish Antiquities Division. In 2003 he was appointed Head of Collections. In that role he had overall responsibility for the care and development of the Museum's world-renowned collections of natural history, folklife, decorative arts and history and antiquities as well as collections conservation, documentation and research. As the first holder of this new post, he pioneered the development of museum-wide policies and procedures relating to all aspects of collections care.
A graduate of University College Dublin with an MA in Celtic Archaeology, he is a member of the Royal Irish Academy and a Fellow of the Society of Antiquaries of London. He is currently Chairman of the Council of National Cultural Institutions and a Vice Chairman of the Society for Medieval Archaeology, London.
He was a member of the advisory board for Volume 1 of the Royal Irish Academy's Art & Architecture of Ireland project.
His research interests lie primarily in the medieval period with a particular focus on reliquaries and the cult of relics; decorated metalwork; the archaeology of the early medieval Irish Church, antiquarians and the history of collections.
Publications
He has lectured widely and is the author of numerous papers and has co-edited a number of books, including Ireland and Scandinavia in the Early Viking Age (1998) and Treasures of the National Museum of Ireland - Irish Antiquities (2002). A co-authored monograph entitled Viking Graves and Grave-Goods appeared as part of the Museum's Dublin Excavations Series in 2014.
Lecture organised by the
Mayo Historical & Archaeological Society and the History and Geography Programme, GMIT. Mayo.
The event  takes place on Wednesday, February 15th at 8 pm., GMIT Campus, Castlebar.
All Welcome.