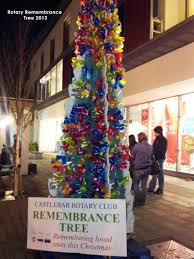 Rotary Tree of Remembrance

Castlebar Rotary Club's annual fundraising project, The Tree of Remembrance, will run again this year, from Saturday December 15th to Saturday 22rd December for the eleventh year in succession. Since this fundraising event started in 2008, it has raised more than €25,000 for local charities. The purpose of the Tree is to give members of the public an opportunity to remember a loved one at Christmas while supporting local charities with a voluntary donation.
The Tree of Remembrance will once again be located on Hopkins Road, outside New Look. Each loved one will be remembered by placing a silk ribbon on the Tree and all intentions will be prayed for at 10am Mass in the Holy Rosary Church on Christmas Eve. This year the proceeds will be distributed to Rock Rose House, Family Carers Ireland, ISPCC & Irish Pilgrimage Trust.

Rotary Club President John O'Donnell, in launching the event, said: "This project is unique in that it affords people an opportunity to remember their loved ones in a very tangible way while at the same time contributing to worthwhile local charities. We are again appealing to the people of Castlebar and all visitors to the Town during this festive period to take some time out and visit The Tree of Rembrance on Hopkins Road to take part in this very unique project"