Firsts
The Firsts are now in full preparation for their opening Cawley cup game on Wednesday when they face Tuam in Cloondeash. A win will be very important but will be difficult. Everyone is asked to come out on Wednesday night and support the lads. Kick off time 7.30pm
Seconds
The Seconds gave all they could but could not overcome OLBC on Sunday last in the Ard Na Cregg. This is a young talented team who never gave up and deserved great credit. There is still silverware to be won with the Mayo cup so all is not lost.
Castlebar Panel: Brian Flannery, Neil Coyle, Owen OíNeil, Sheamus Devaney, Paul Heverin, Gavin Sullivan, Eamon Cafferkey, Andrew Verity, Padraig Healy, Conor OíMalley, Shane Davis, Stewart McLoughlin, Brian Gannon, Liam Molloy, Danny McGing, Damien Glackin, David Staunton, Paudie OíMalley, Richie Moylette, Chris Jordan, Cathal OíCiobhain, Mike Moran, Sean Hynes, Chris Rogan, Barry Barnacle, Colm Gallagher, JJ Ormsby, Tom Murphy, Noel Cusack, John Derrig.
Castlebar Win Under 12 Connaught Plate
CASTLEBAR Under 12 rugby team won the Connaught Plate which took place in Galway Corinthians rugby club on March 3rd. This success follows last years in which this same panel won the Under 11 blitz. The team were grouped with Connemara, Ballinasloe and Ballinrobe.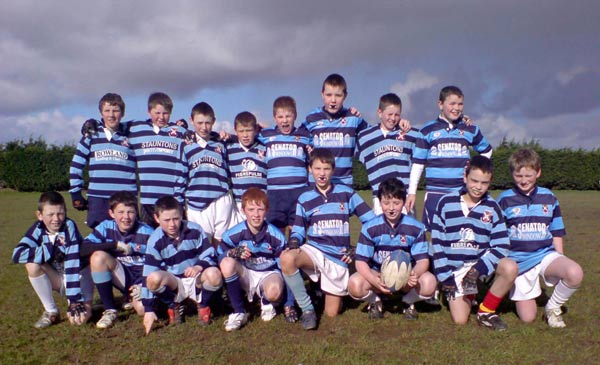 The opening game in the group was against a very strong Connemara team. Castlebar knew they would have to get stuck in from the first whistle. Every player gave one hundred percent. The game was extremely tight with Castlebar choosing to go for the quick ball option and use their speed in the pack and swift back line. The front row Diarmuid Finnan, Oisin Ferriter and Bryan OíMalley were outstanding around the park, getting to the ball and creating the second phase play. Ryan Coleman and Simon Staunton proved very difficult to beat in the line outs and their driving through the middle tested the defence of the Connemara team. For the first half this game was encamped in the centre of the park with no team giving an inch. The second half started at the same tempo with Castlebarís Jack Hannigan making a break through the defence passing to Jake Gannon and creating yet another fiercely contested rook. Tackling was courageous by both teams with equal determination. The breakthrough came when Connemaraís centre picked up a loose ball on Castlebarís attack to score a try in the corner, resulting in a 1-0 win for Connemara.
The next game was up against Ballinasloe and a win was imperative. Castlebar got into the game quickly with an opening try by the unstoppable Ryan Coleman. Castlebar hooker, Diarmuid Finnanís work rate around the park in both recycling the ball and delivering crunching tackles gave Castlebarís backs plenty of good ball to work with. Connor Mylettís tacking ensured that there was no way through for Ballinasloe. A follow up try by Castlebarís nifty scrum half, Conor Tuohy, put Castlebar in a comfortable position. Ballinasloe scored a consolation try resulting in a well deserved win for Castlebar.
Castlebar went on to beat Ballinrobe in their next game. Outstanding performances in the backline by Rory Staunton, Eamonn Kennedy, James Durcan and courageous tackling from Adam Murphy were too much for Ballinasloe to handle and with the determined performance from Oisin Kyne resulted in 6-0 win for Castlebar sending them into the semifinal against their Mayo neighbours from Westport.
Castlbar opened up this game with a try by Patrick Durcan. Westport pulled back a try finishing the first half 3-1 up. Westport came out fighting and determined to pull the game back but Castlebarís defence held up to the onslaught. Additional tries by Ryan Coleman, Jake Gannon and Conor Tuohy resulted in a 5-2 win putting Castlebar into the final against Athlone. This was to be a rematch of the under 11 blitz the previous year between the same teams.
The final against Athlone was a very hard fought game. The first half was equally fought by both sides with some outstanding breaks by Keith Egan and Jack Hannigan(Capt). In the second half Castlebar were under severe pressure on their line with Athlone being held up twice and narrowly being pushed into touch to stop what looked like certain tries.
The Castlebar pack, Diarmuid Finnan, Oisin Ferriter, Bryan OíMalley, Simon Staunton and Ryan Coleman delivered strong scrummaging providing clean ball which was cleared by Jake Gannon. The final whistle resulted in the Plate being won by both teams.
The coaches John Hannigan, Jimmy Tuohy and Bernard Kennedy would like to thank all the players who attended training this year and look forward to seeing them at Under 14 level next season and wish them continued success. Thanks to all the parents who supported throughout the year and at the blitz.

WELL DONE!!! From All at Castlebar RFC!
Castlebar Mini Rugby (In Association with Shaws Department stores Castlebar)
Sponsorship Launch
The Official Launch of Castlebarís Mini rugby association with Shaws Department Store Castlebar will take place in Shaws Castlebar this Thursday at 6.30pm. Could all Mini Coaches and Coordinators please be there for 6pm so that photographs can be taken.

Castlebar RFC would like to thank Shaws Department Stores for their sponsorship and are looking forward to a very exciting time together.
Mini Blitz 2007!
The waiting, the training and the games have come to an end and next Saturday in Castlebar starting at 10.30, Castlebarís under 8 and under 9 teams are taking to the field in their first ever Under 8ís and 9ís Blitz. All Parents are asked to come out and join in the fun and cheer on the lads. There will be refreshments for both the players and their parents and even the aunties and uncles are invited! So come along and cheer on the lads as they wear their castlebar Colours.
The Under 10ís, 11ís.and 12 teams are not forgotten either as they travel to Ballina to take part in another Blitz. The Bus leaves the Courthouse at 10am and returns back to Castlebar at 10am.
Annual Dress Dance
The dress dance will be held on Saturday 21st April in Breaffy House Hotel. Tickets cost fifty Euro and are available from Club Officers later.