Firsts
Last Sunday the Firsts went one step closer to the Cawley cup final with a well deserved win over Dunmore at the Green. Nigel Byrne scored two tries with Alan Gavin, Arron Louden and Enda Murphy adding the rest. Paul Coady kicked two penalties.
Next up is the semi final against Corrib in Headford next weekend. This is a vital game and one we can win with there being a possibility of an All Mayo final with Westport should they overcome Creggs next week. A big support is needed for this semi final so everyone is asked out to come out and roar on the lads.
Castlebar: Brian Flannery, Paddy Durkin, Ruairi Hughes, Alex Goor, Arron Louden, Enda Murphy, Ger Prendegast, Eamon Cafferkey, Christy Cusack, Simon O'Malley, Paddy Flannelly, Nigel Byrne, Tadgh Kirby, Mark Staunton, Paul Coady. Replacements used: Paul Heverin, Damien Glackin, Ciaran Flynn, Alan Gavin, David Staunton.
Dunmore: David Keaveney, Thomas Lee, Fergal Leonard, Nigel Silke, Shane Rattigan, Brendan Burns, Brian Egan, Ger Kelly, Michael Corless, Jason Ronayne, Matt O'Neill, Brendan Bownes, Keith Corless, Donal Raftery, Mark Coen.

Under 18 News
Connacht U-18 Cup
Castlebar 20 Ballinrobe 12
Castlebar U-18's recorded a hard-won victory over a gutsy Ballinrobe side in this cracker of a cup match, played under floodlights at Cloondeash on Saturday night.
Ballinrobe had come out on top in both of their earlier encounters this season, but this time, it was different. The hard work at training is starting to pay off, and Castlebar played a very attractive attacking style of rugby. While being overpowered early on by a physically bigger Ballinrobe team, Castlebar slowly worked their way into the game. The superb back row of David Casey, Daire Mulgrew and captain, Fintan Casey turned over lots of opposition ball. It was from such a turnover that centre Luke Staunton threaded through the most delicate of kicks, and was on hand to gather the ball and touch down. Touch judge Gerry Casey somewhat controversially awarded the conversion, but he was over-ruled by the referee.
Castlebar started to find their rhythm, and the pack were rucking and mauling superbly. The front five of Alan Regan, Conor Walsh, Ross Barrett, Padraig O Hora and especially Damien McLoughlin continuously punched holes in the Ballinrobe cover. Scrum half Stephen Keane punished Ballinrobe with very effective box kicks, while Mark Conlon was excellent at out half. Mark Conlon kicked a penalty to leave Castlebar in the lead 8-0 at half time.
Early in the second half, Damien McLoughlin crashed over after one of his trademark breaks. It looked as if Castlebar were about to open up, but this gutsy Ballinrobe team had other ideas. They pounded the Castlebar line, and crashed over for a well-worked try. Only some superb defence from Peter Lyons, Emmet Gill, Conor Douglas and Joe O' Neill kept the Castlebar line intact, but eventually the pressure told, and Ballinrobe scored another try, converted it, to make it a one-point match.
The Castlebar lads dug deep, and showed that the hard work had been done in training. Working as a team, they gathered the kick off, and drove the ball downfield. After several scoring chances, one by Alan Regan, it was prop Conor Walsh, who crashed over. Mark Conlon scored the conversion to seal a great win for Castlebar.
Credit must go to both sides that served up a wonderful match that showed all that is good about rugby.
Team – Alan Regan, Conor Walsh, Damien McLoughlin, Ross Barrett, Padraig O Hora, David Casey, Daire Mulgrew, Fintan Casey, Stephen Keane, Mark Conlon, Peter Lyons, Luke Staunton, Joe O Neill, Conor Douglas, Emmet Gill
Subs used - Thomas McHugh, James Staunton, Darragh Loftus
Scorers – Luke Staunton, Damien McLoughlin, Conor Walsh (tries), Mark Conlon (penalty and one conversion)
The next round of the cup sees Castlebar at home to Ballinasloe next Friday night at 8.00. All support is very welcome.
Training continues at 7.00 on the pitch on Wednesday.
Under 14 news
The under 14 side were in action in the plate against Ballina but had to give second best to a strong team. Final score was 12-0.
CONNACHT UNDER 11 MINI RUGBY BLITZ.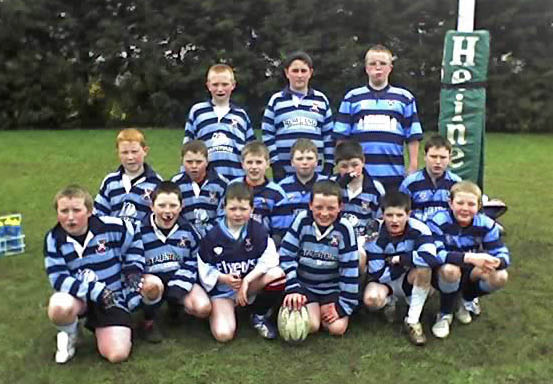 The Connacht U11 Rugby Blitz was held under glorious sunshine in Monivea, Co. Galway, on Saturday 24th March. A total of 20 teams from all over Connacht took part in what was a very enjoyable and well run event for all. Four groups of five played a Round Robin Tournament with the top team in each, going to the Cup knockout rounds and the second placed team going to the Plate knockout.

Castlebar started their pool matches with a defeat to eventual cup winners Athlone, going down 3 - 1. Peter Rogan scoring Castlebar's only try. Next up was Corinthians and in a tough fought contest, Castlebar edged through on a 3 - 2 scoreline with tries by Patrick Bourke, Chris McCormack and Daire Morrin. Tries by Chris McCormack, Gareth Dunne and Sean Conlon saw off Ballinasloe 3 - 1. The most exciting pool match was that played against Creggs. Both teams required a win to go through to the knockout stages, and on a half time score line of 2 - 0, it looked as if Creggs were going to make it. However, a superb full pitch run and try by Fintan Murphy saw a great revival by the Castlebar youngsters. A further try by Gareth Dunne brought the sides on level terms and in the last minute of play great forward play by Colm 0'Reilly, Shane Kiernan and David Brody was rewarded with a fine try by Sean Conlon. Also, to play well for Castlebar were Dylan Ruane, James Mulloy and Cale Coen.

The Plate semi-final against up and coming side, An Gaeltacht, was a very hard fought contest and with a half-time score of 1 - 0, to the Galway side, it was anybody's game. However, a place in the final was not to be, as two further try's scored by the heavier Galway lads proved vital. A consolation try by Castlebar's best players on the day, Ronan Beirne, left the scores 3 - 1.

Touring side visits Castlebar:
This weekend Dunfermline from Scotland visit Castlebar this weekend for two friendly matches with Castlebar RFC and the Connaught development squad. Part of the trip includes a visit to McHale Park for Mayo's vital National football league tie with Dublin. The Club would like to Welcome our Scottish friends and hope that they enjoy their stay.

Annual Dress Dance
The dress dance will be held on Saturday 21st April in Breaffy House Hotel. Tickets cost fifty Euro and are available from Club Officers later.

Lotto:
The winners from our last two lotto draws have been announced and are:
January – Held in Rays
Numbers drawn were; 1, 22, 23, 27
No winner
One match three – Tom Walsh – 100 euro

February – Held in the Castle Inn
Numbers Drawn were 4, 5, 8, 16
No winner
Three Match Three – Ita Staunton, Sheamus Regan, Siobhan McHugh – 33 Euro Each

Next Draw is Friday night 30th March in Johnny McHales
Jackpot – 8,300 Euro
All Sellers MUST be available on the night.