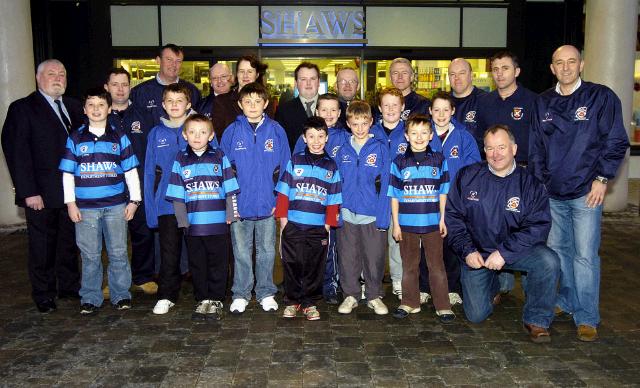 Pictured outside Shaws Department Store Castlebar at a presentation of shirts for the Under age team Castlebar Rugby Club. Members of the under age team pictured with L-R: Trevor Ardle (President Castlebar Rugby Club), Shane McElwee, Steve Allen (Coach), Keith Finan (Coach), Carmel McTigue (General Manager Shaws Department Store), Nigel Bradley (Retail Manager Shaws Department Store), Paul O%u2019Reilly (coach), John Hannigan (Coach), Liam Whyte(Coach), Mark Gaffney (Coach), Michael Tobin(Coach), Front Michael Hastings (Under age Co-ordinator Castlebar Rugby Club), Photo © Ken Wright Photography 2007.
Sponsorship Launch
The Official Launch of Castlebarís Mini rugby association with Shaws Department Store Castlebar Took place on Thursday evening last in the wonderful surroundings of Shaws department store situated on the old Westport Road Castlebar. Balloons and refreshments greeted the Young Players who were beautifully decked out in their new Jackets and Jerseys accompanied by their Coaches and Mini Rugby Co-Ordinator Michael Hastings. The Club was also represented by Club President Mr Trevor Ardill, First Team manager Shane McElwee and PRO John Mulligan.
Representatives for Shaws included Retail Manager Mr Nigel Bradley and General Manager Ms Carmel McTigue who welcomed everyone to the Store and thanked everyone for their attendance.
In his speech following the official photo call, Mr Ardill paid tribute to Shaws and thanked them for their wonderful support of the mini rugby section of the club stating that it is this support and the support of all our sponsors that makes Mini Rugby one of the most successful aspects of the club and it was his wish that this would continue for some time to some. The Mini Rugby section of the club has over 150 players from under 8 to under 12 and this takes a lot of organisation. With this amount of players it is necessary to have the right systems in place and there are sometimes as many as fifteen coaches out with the players on a Saturday morning. Special tribute was paid to the players themselves who have represented they club with great pride and decorum and the hope is that they will continue to enjoy the game and in time become part of what has been a very successful time for the club both on and off the field.
Check out more photos of the occasion by Ken Wright
Mini Blitz 2007!
The training and preparation came to a very successful end on Saturday Morning last when Castlebarís under 8ís and 9ís took to the field for their Connaught Blitz. The emphasis of this year was on participation and everyone enjoyed themselves immensely.
In total over 350 players came from all over the province and everyone enjoyed themselves immensely.
Castlebar faced four games at under 8 level and won three of them. Their fourth was against Buccaneers which they lost by a single score. Something that could not be bettered by anyone else in that age group. The under 9 team had an even better day playing five games, winning four and drawing one against a strong Ballina side. This was a true classic. Ballina led 3-0 at half time but Castlebar responded brilliantly in the second half to level matters before full time. A great performance on a day where everyone played brilliantly. It would be unfair to name any individual players who stood out as everyone played their hearts out and deserve the same credit. Well done to all the players for doing their club very proud and enjoy a well deserved break!
As next weekend is St Patrickís Weekend, there will be no training but the following week the under 11 team are in Monivea for the Connaught Blitz and all other teams are travelling to Ballinrobe for a Blitz. Best of luck to all teams.
Lotto
The Club Lotto takes place next Friday night in the Castle Inn Castlebar with a jackpot of 8,200 euro. Tickets cost 2 euro each and are available from sellers on the night. Please support.
Annual Dress Dance
The dress dance will be held on Saturday 21st April in Breaffy House Hotel. Tickets cost fifty Euro and are available from Club Officers later.