Success is a rare thing; when a club moves to within touching distance then the walls will be taken down to get to that Holy Grail. Castlebar will do that on Sunday as their under 16 team bid to bridge a gap of many years in winning the Connacht League. Last year the Under 18 team went close before losing to Creggs but this time around there is an air of optimism that the long awaited success will come to the Club who for many years have knocked on the door only to have it slammed shut on more than one occasion.
The Build Up
The league Campaign of both sides make some reading, Castlebar started their league in excellent fashion with a 34-24 win over Ballinrobe before defeating Oughterard 30-20 in Castlebar. From there it was on to the Clash with Tuam that they won 8-5 before travelling to Ballyhaunis and defeating their opponents 31-8. Four out of four and things were looking very good. But their next game was going to be a serious challenge with a trip to Monivea. However, Castlebar were inspired and gave the Galway side a dose of serious rugby to win 18-5. This was now looking very good for the 'Bar and a lot of sides were taking notice. After defeating Loughrea 38-15 there was time for the Christmas break before running out comfortable winners against Gort. Castlebar were now top and well deserved as they faced Creggs in their final league game of the Season. A win or a draw would be enough to remain top and hold a good draw in the semi final. Creggs needed a draw to Remain in the top four and that was exactly what happened. A 5-5 draw and Creggs rather lucky 3-0 win at home to Oughterard meant that both sides would meet again in the semi final. This was going to be tough. Creggs have had an Indian sign in recent times over Castlebar but Rory Casey and his Backroom staff engineered a brilliant team performance to overcome the Roscommon side and make it through to the final. There they await Tuam who had a good season with wins over everyone except Castlebar adding an element of unfinished business when both sides walk out on Sunday.
The Coach's thoughts
Rory Casey was a relaxed man when spoken to on Monday last. Together with Greg Barry, Simon Shevlin and Mick Brady they have masterminded a team who have played together since mini rugby days and have nurtured and developed this team not only into a top quality rugby team, but a bunch of friends who look out for each other. It is obvious when he speaks how highly the management team hold this team. "They are a great bunch of lads" he says, "they have been together for several years and there is a great team spirit among the squad. This team have worked really hard and have no shortage of skill. I am looking forward to it". He remembers the Tuam game well, "it was tough but we got the result 8-5. Tuam are a good side and have had a good run of results recently. I hope both sides give a good impression of themselves on Sunday" with the traditional Casey smile the interview ends and one gets the feeling that Castlebar will be ready for this challenge. The Sportsground will see one of the largest attendances on Sunday and it is possible that the gap will finally be bridged.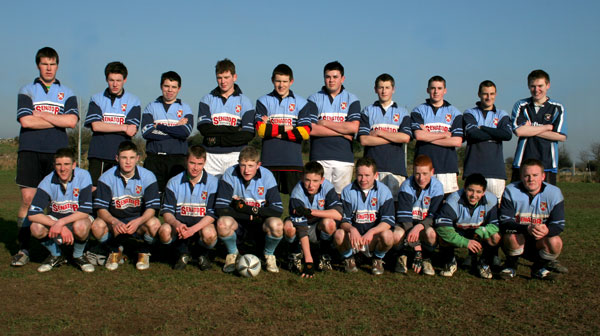 The team will not be named until closer to kick off. The Squad are as follows:
Castlebar Under 16 Squad v Tuam – Connacht Under 16 League final
Conor Walsh, Daniel Kelly, Colm Corbett, Ross Flynn, Alan Regan, Cian O Sullivan, John McGuinness, Shane Casey, Stephen Keane, Luke Staunton, Conor Douglas, Pat Wiseman, Kevin Curry, Stephen Rogan, Ray O Malley, Neil Douglas, Donal Newcombe, David Casey, Brian Kiernan, Kevin Glynn, Emmet Gill, Sean Whooton.
Team Management: Rory Casey, Greg Barry, Simon Shevlin, and Mick Brady.