Connaught Under 16 league Final

Castlebar 8 Tuam 5

The wait is over. For years Castlebar RFC have knocked on the door of success only to be denied at the death. Numerous hard luck stories have surrounded the club when it came to final's time during that time in which the club were denied by late penalties, unusual refereeing decisions or by other means. Two previous finals defeats to Tuam still fresh in the mind. But not any more. The date of March 12 will forever remain in the minds and hearts of those fortunate to witness one of the finest underage league finals ever to be held at the Sportsground and for those who took part in this historic final, the honour and the glory of this historic win over Tuam in a classic under 16 league final can never be taken from them.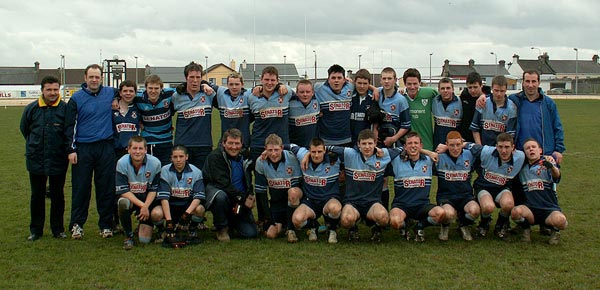 It was a game that will never be forgotten, but the work still had to be done. Tuam came into this game prepared, the memory of their defeat by just three points still fresh in their minds. Castlebar knew how lucky they were that day and the talk before kick off was of how they would deal with the early pressure put on them by the Galway side. The answer was emphatic. From the kick off Tuam lifted the game immensely only to be denied again and again by outstanding tackling by the Castlebar boys. Two mauls in the opening stages fell short with Derek Ryder and Cathal Silke combining very well only to be denied at the very death. Darragh Bolton also went short only to knock on. Even at this early stage the Castlebar back row come in for a mention, as they held firm against relentless pressure. It was incredible that not one score was to grace the scoreboard in the opening twenty minutes but that changed when on one of their first breaks out of their half, Castlebar opened the scoring.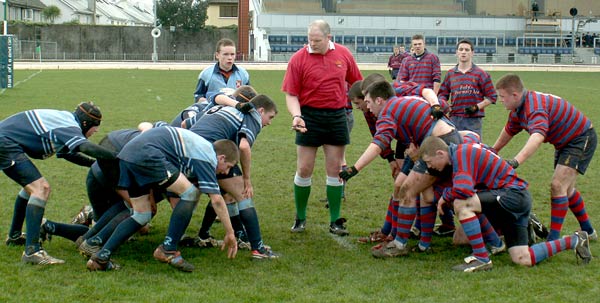 It all started when Shane Casey picked from the back of the scrum.
In a well worked move with John McGuinness they drove at the Tuam pack and made excellent ground before Emmet Gill took possession and drove over the line. The Castlebar support went mad when referee Sean Grealish put up his hand and awarded the try. Tuam were shell-shocked. All their dominance only for their opponents to score first. The conversion was missed but the breakthrough had been made. A breakthrough that was to lay the foundation for this famous performance. Five minutes later Castlebar were in dreamtime. Tuam were caught offside from a ruck and Neil Douglas steadied himself for a difficult kick from the ten metre line. His kick was true and the lead extended to eight points. A lead they would hold on to for the rest of the half.
It was expected that Tuam would come out flying in the second half and that they did, a penalty awarded after five minutes of the second half saw the decision to run. Again Castlebar had to withstand outstanding pressure with Bernie Ward working very hard and Conor Feeley giving as much as he worked his way inside only to face Donal Newcombe and Pat Wiseman playing the game of their lives. Tuam had to score and Derek Ryder decided to kick with ten minutes to go to narrow the gap to just five points. The tension was now at fever pitch. Tuam again broke through and when awarded another penalty decided to run. An incredible decision when a score would have left just two between the sides. But the result was another outstanding clearance in which Neil Douglas was to show his class as an out half. The wide expanses of the Sportsground perfect for his style of game. But he was not alone; everyone on the field for Castlebar gave all they could. The immense pressure not lifting until the final moments when incredibly a castlebar break almost produced a try. But it was not to be and when the referee blew for full time the scenes of joy were incredible as supporters and players celebrated a famous victory.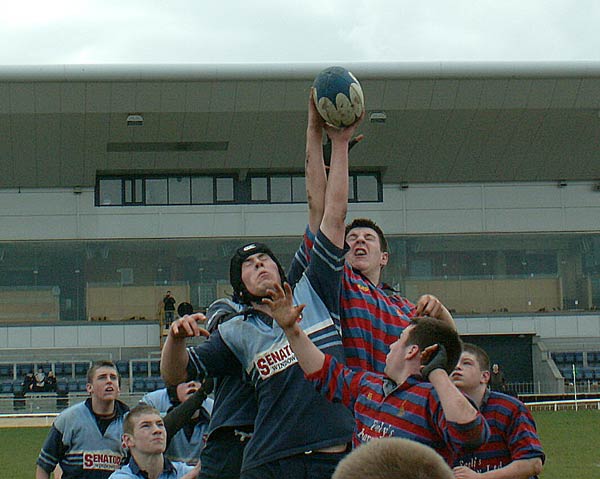 The main story is one of a team taking their chances, Emmet Gill and Neil Douglas doing just that. But credit must go to both teams for an outstanding game of rugby. The Wait is certainly over for Castlebar and maybe now the curse of losing finals that have haunted them in the past is finally gone.
Castlebar: Conor Walsh, Daniel Kelly, Colm Corbett, Ross Flynn, Alan Regan, Cian O Sullivan, John McGuinness, Shane Casey, Stephen Keane, Neil Douglas, Kevin Curry, Pat Wiseman, Donal Newcombe, Emmet Gill, Ray O Malley.
Subs: David Casey (for Ross Flynn) 48 mins, David Walsh (for Daniel Kelly) 45 mins, Conor Douglas (for Kevin Curry) 50 mins, Conor Summerville, Luke Staunton, Brian Kiernan, Kevin Glynn.
Tuam: Eanna Hegarty, Darragh Shaughnessy, Mickey Brady, Colin Raftery, Conor Feeley, Bernie Ward, Jamie Tierney, Patrick Cunningham, David Cahill (capt), Derek Ryder, Cathal Silke, Pa Clarke, Gerard Raftery, Luke Joyce, Darragh Bolton.
Subs: Michael Ward for Feely.
Referee: Sean Grealish