Castlebar RFC News
Cloondeash, Castlebar Co Mayo
Firsts News
It is D-Day for the firsts on Sunday next, 11 Jan, as they take on Monivea in Cloondeash. Monivea inflicted a very heavy defeat on Castlebar earlier in the league and will have the benefit of an earlier game against Ballinrobe. That result, however, showed that they are not unbeatable and Ballinrobe gave them a serious fright. This is going to be an occasion to be remembered and everyone is asked to get out and show what the famous Castlebar atmosphere is like. Kick off is at 2.30pm. Training resumes on Tuesday night.
Seconds News
The Seconds have resumed training and there will be news on Second's games over the week.
Ladies news
The Ladies resume training on Wednesday night and are looking forward to their first game of the New Year, which takes place shortly.
Mini Rugby
Mini Rugby resumes next Saturday at 10.45am and everyone is looking forward to the games in the New Year.
All training for under 14, 16 and under 18 teams resume this Wednesday at the usual time
Lotto
The club held its lotto draw on St Stephens day. It was a very successful draw with a lot of people giving their support and for that we would like to show out gratitude. We will have the full results in next week's edition.
St Stephens's day
The club held its annual St Stephens day celebration and it gave us three great games that kept the large attendance on their feet and very entertained. First of all was the clash of the under 16 and 18 teams that was followed by the Captains XV vs Presidents XV game. Then to cap proceedings came the Tommy Staunton memorial in which the golden oldies took to the field. Old by name but certainly not by action as they provided a display worthy of any occasion. Four tries were scored and a lot of fast exciting rugby was the order of the day. Including one particular player who has the rather unfortunate record of feeling unwell in the first half and then scoring a try in the second. He shall remain nameless to protect the guilty!!!
The day was a great success and the club would like to thank everyone for coming out. The next club social function takes place on the final Friday of January and everyone is once again invited to come out to the clubhouse. Don't Forget, for all the latest on Castlebar RFC we now have a website! For all the up to date news on your club go to our website www.castlebarrfc.com
Are you interested in playing rugby but thought that you lived too far from Castlebar? Well if you live outside of the Castlebar town area but are interested, then Castlebar RFC would like to hear from you. Training takes place for all mini rugby players on Saturday Mornings at 11am and there is training for all under 14, under 16 and under 18 players on Wednesday night at 7pm. We have best coaches around, all IRFU trained and approved and you become part of one of the fastest growing clubs in Connacht. If you are interested you can contact Castlebar RFC in Cloondeash and buses can be arranged if we have enough numbers making it easier on parents and taking the hassle out of attending training and games, so come on…,WHAT are you waiting for?? Get involved! New players are always welcome!
Castlebar U8 Team Photo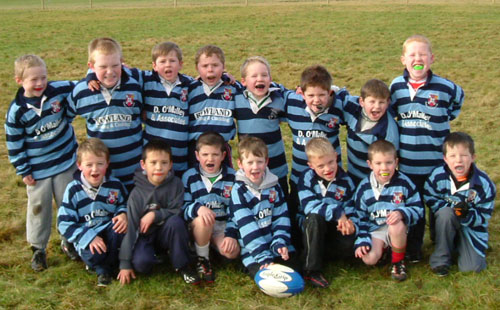 Pictured is the Castlebar U8's team who played Ballina and Ballinrobe in a recent blitz in Ballinrobe.



Pictured is the Castlebar U8's team who played Ballina and Ballinrobe in a recent blitz in Ballinrobe. Back left to right: S. Quinn, P. Bourke (Capt.), G. Walsh, R. Byrne, K. Timlin, K. Padden, P. Walsh, C. O'Reilly. Front left to right: K. Benson, J. Chan, D. Morrin, M. Walsh, S. Hastings, E. Morrin, C. Gannon. Missing from photo F. Murphy, S. Kiernan (injured).