CASTLEBAR PANTOMIME PRESENTS "JACK & THE BEANSTALK"
You may all be fairly familiar with the traditional tale of "Jack & The Beanstalk", but just wait until you see the twist in the tale during Castlebar Pantomimes version! Previously presented by Castlebar Pantomime in 1962 & 1991, what Pantomime tale would be complete with out its local families out witting their evil neighbours & this year's Panto is no exception. In his premier Panto role, playing the hero Jack is the talented musician Gary Monaghan who lives in the Panto village of Ballydoyle with his Mother Ma Spratt played by the pride of Ballyvary's Enhancement Committees Des Gilsenan & not forgetting Twink the Panto cow played by long time Panto thespian, Clogher's Jimmy Murphy. Now where would Jack be without Jill who is played by another Castlebar Pantomime new comer Marion Moran who when she is not teaching in Facefield N.S. also lives in Ballydoyle with her very generous Father Baron Bluff played by Castlebar Pantomime stalwart Sir Lar Davis. Even the good guys need help & this arrives through friends like Sally Gardens, played by the versatile Angela Prenty & Disco Stu played by Castlebar's ever smiling Philip McDonagh, both following on from great their roles as Cower & Count de Cash in last years Pantomime "Little Red Riding Hood". Not forgetting help from Castlebar's greatest walker Mary Lally as the classiest of fairies Anastasia & a welcome first role for Maria Summerville after many years shining in Castlebar Pantomimes Chorus line as Amy the Giants wife.
Now for the bad guys – boo – this year the plot revolves around Agatha Bogoff played by Castlebar Pantomime's premier golfer Antoinette Starken & her friend Mildred Mesley played by Mairead Coughlan who took to her flirty role of Gertrude last year with such enthusiasm. Together they plot to slowly capture all the villagers so that they will work as slaves in Mildred's laundry, while Agatha plots to sell off their land to build a pay-as-you-play golf course, some low density high quality housing, town centre, a hotel & parkland. Even for two evil doers this is a tall order, but Agatha Bogoff has another ally in the shape of you guessed it – THE GIANT! How do Castlebar Pantomime manage to get a Giant on stage? With the help of Mayo Art Squad of course! Just wait until you see the results of their talents on stage. Now every Panto has a few characters whose allegiances wobble between good & evil. This year these roles of Hale & Hearty are played by more Castlebar Pantomime newcomers Castlebar's Ann Barrett & Alanna Ni Mhiochain who although she hails from Kildare has Westport blood in her - don't miss a moment of their show stealing oven scene.
So will Ma Spratt forgive Jack for accepting the beans, when did Twink the cow start talking, will the villagers escape from the laundry, how do you catch a golden duck, will Sally Gardens find her man, how do you stop a Giant coming down a beanstalk, will there be a happy ending & a few weddings? Directed by Sharon Lavelle with Musical Director John Flatley & Choreography by Jason Guthrie, come along to "Jack & The Beanstalk" in the TF Royal Theatre running from 8.00pm Thurs 10th to Sun 13th with matinees Saturday & Sunday at 3.00pm, tickets from usual outlets or Box Office 094 9020832 to join in on the fun both in the audience & on stage as Castlebar Pantomime Committee present in their own imaginative way, "Jack & The Beanstalk"...............
Cast: – Jack – Garry Monaghan, Jill – Marion Moran, Des Gilsenan – Ma Spratt, Agatha Bogoff – Antoinette Starken, Anastasia – Mary Lally, Mildred Mesley – Mairead Coughlan, Disco Stu – Philip McDonagh, Sally Gardens – Angela Prenty, Hale – Barrett, Harty – Allanah O'Murchu, Maria Summerville – Amy Giants Wife, Twink – Jimmy Murphy, Baron Bluff – Lar Davis.
Senior Chorus:- Victoria Belavenceva, Anthony Breslin, Lisa Buckley, Nicola Buckley, Nolene Crowe, Therese Crowe, Lar Davis, Sinead Finnegan, Frank Foy, Pat Gannon, Rowena Gillespie, Johanna Gormley, Jason Guthrie, Martina Guthrie, Josephine Hall, Laura Heneghan, Elaine Loftus, Jimmy Murphy, Olga O'Connor, Maria Summerville.
Junior Chorus: – Shanie Bennett, Leah Brady, David Brody, Fiona Burns, Lisa Collins, Shona Connolly, Ciara Conway, Cloidhna Cooney, Rebecca Cuffe, Emma Daly, Vickie Davis, Naomi Derrig, Niamh Donnelly, Emma Duffy, Riona Duffy, Chloe Burke Fallon, Amy Felle, Lauren Fitzgibbon, Maeve Flynn, Katie Forrestal, Emeragh Fundu, Grainne Gavin, Brenda Gibbons, Katie Glynn, Killian Glynn, Sinead Guerin, Lori Hennigan, Laura Hickey, Ann Horan, Caoilfhionn Jordan, Emma Kelly, Eva Kimpwene, Amy King, Rebecca Lawless, Denise Lavelle, Holly Logan, Cian Lyons, Dylan McDonagh, Kayleigh McDonagh, Aisling McEvoy, Lana McGlade, Chloe McMorrow, Jennifer McNeela, Laura McNicholas, Palesa Mamakwa, ruth Moran, Lauren Moore, Isa Moya, Enda Mulchrone, Eoin Mulkerrin, Ciara Mullins, Naoimhe Mulroy, Niamh Murphy, Alannah Murray, Charlotte Murray, Jane Murray, Nicholine Mylette, Siun Ni Dhomhaill, Mark Nolan, Rebecca O'Callaghan, Aoife O'Connell, Melanie O'Malley, Sophie Osbourne, Kieran Padden, Emma Prendergast, Claire Prenty, Kevin Reidy, Nicole Scott, Maeve Tierney, Ryan Timlin, Tanita Tolan, Tanya Tolan, Ann Tuohy, Katie Jane Walsh, Ciara Whyte, Niamh Whyte, Nicole Williams.
Cast Photos by Michael Donnelly: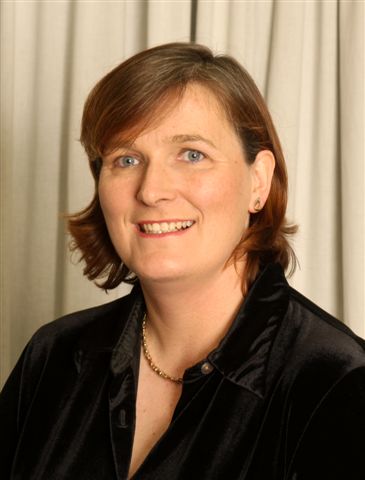 Ann Barrett as Hale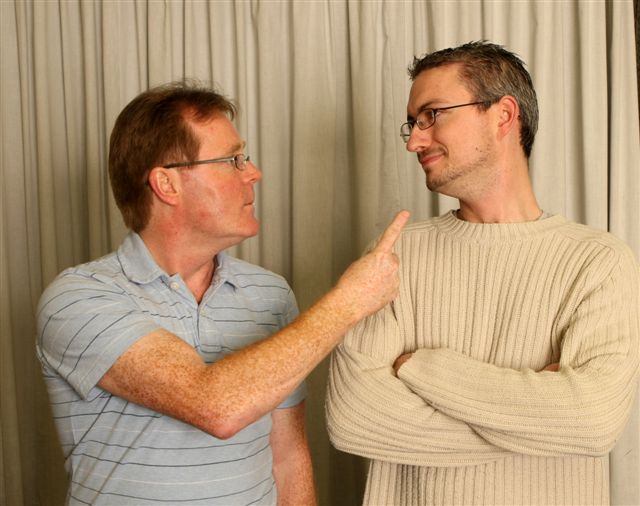 Des Gilsenan as Dame Ma Spratt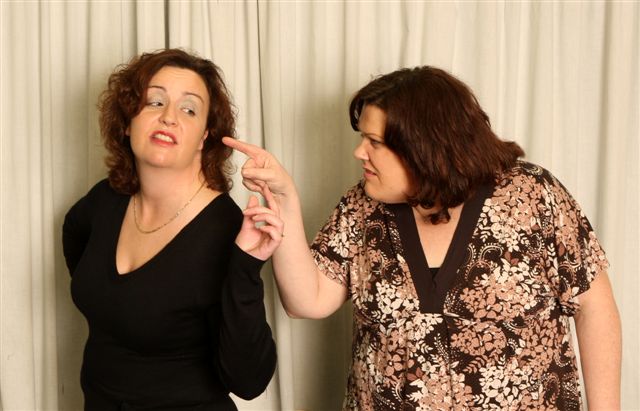 Antionette Starken appears as Agatha Bogoff with her evil croney Mildred Mesley played by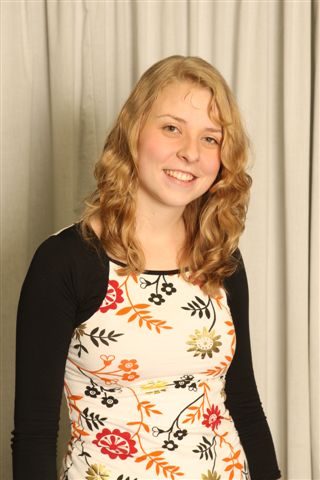 Allana Ni Mhiochain as Hearty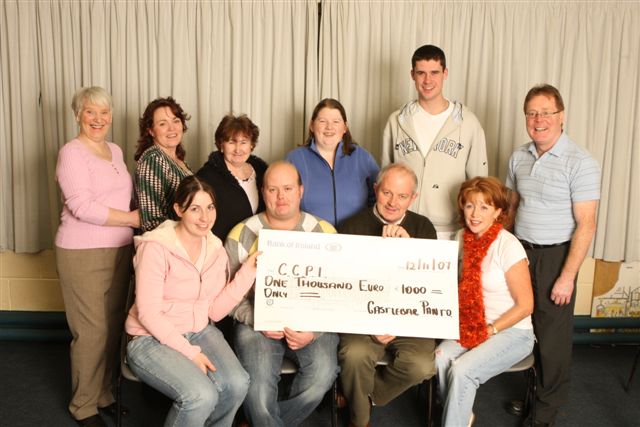 Castlebar Pantomime Committee presents cheque to Jimmy Murphy on behalf of Chernobyl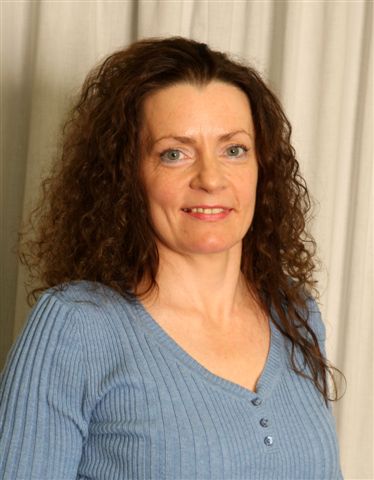 Angela Prenty as Sally Gardens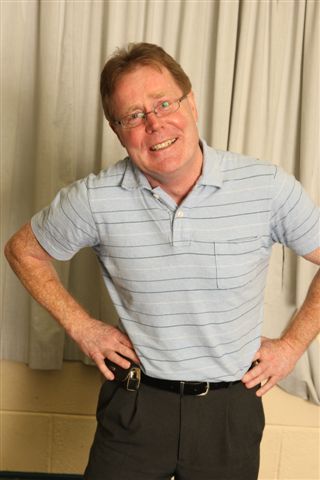 Des Gilsenan as Dame Ma Spratt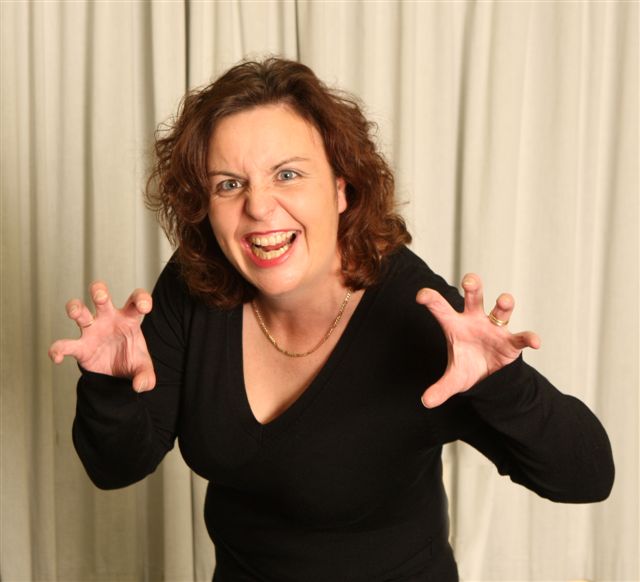 Antoinette Starken as Agatha Bogoff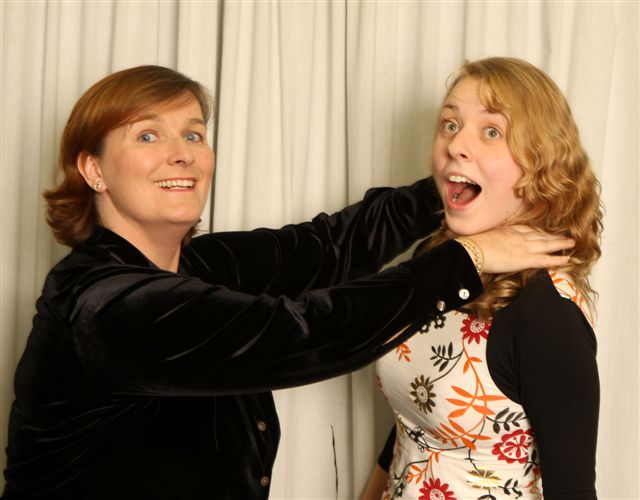 Ann Barrett as Hale gets the better of Alanna Ni Mhiochain as Hearty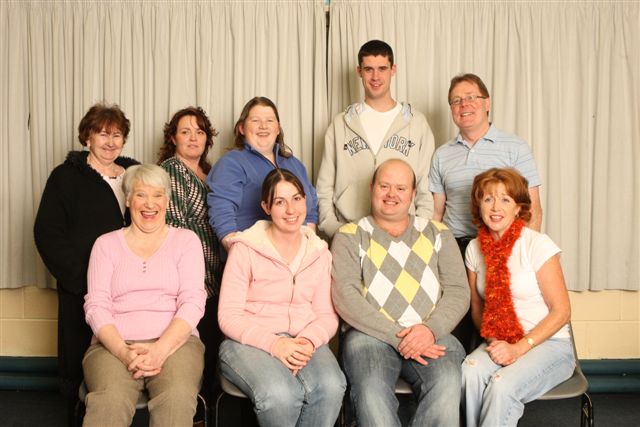 Castlebar Pantomime Committee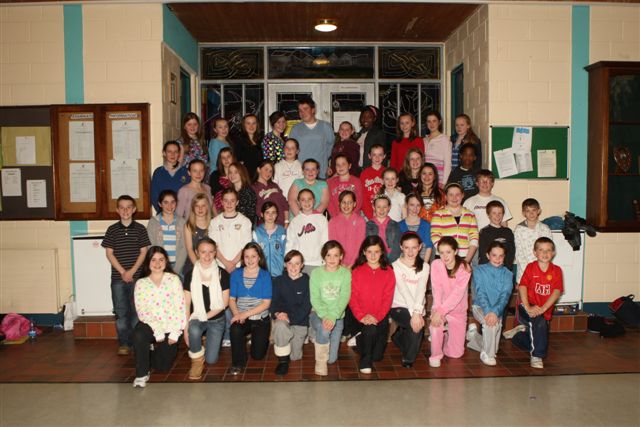 Jack & the Beanstalk 10 to 12 years Junior Chorus.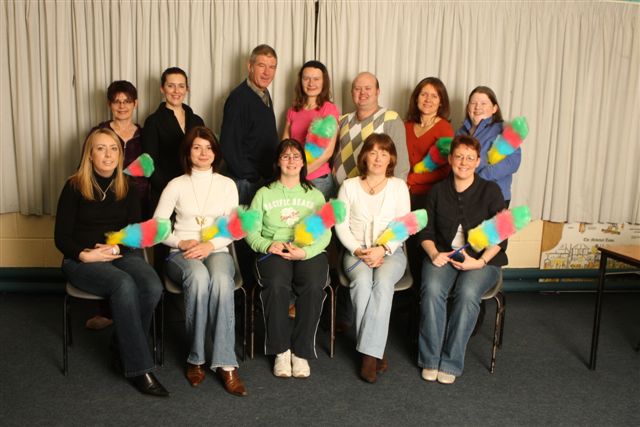 Jack & The Beanstalk Photo Senior Chorus.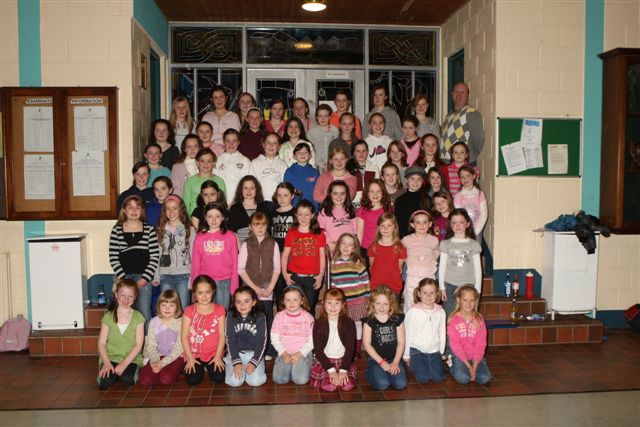 Jack & The Beanstalk intermission entertainment Watch This Space dance troup.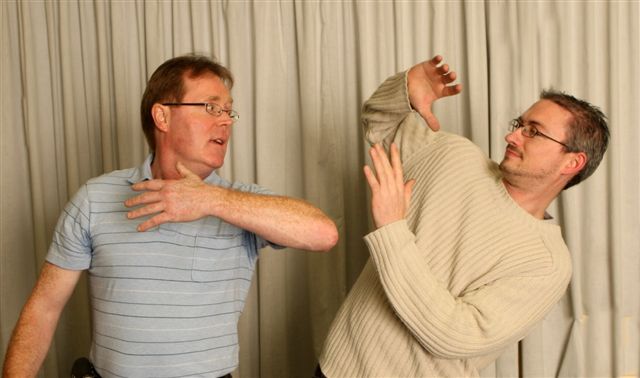 Des Gilsenan as Ma Sprat shows her son Jack played by Garry Monaghan the upper hand.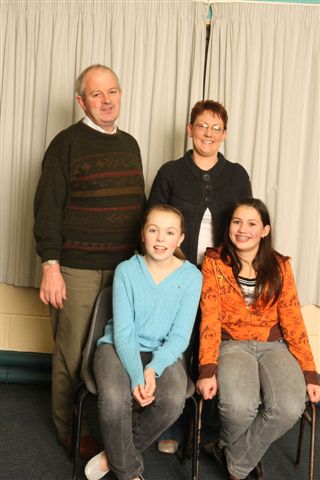 Jack & The Beanstalk Panto Signers - Jimmy Murphy Rowena Gillespie Leah Brady and Emma Daly.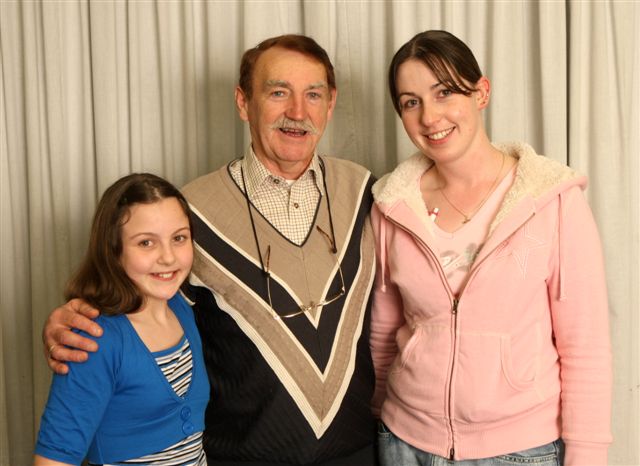 Family photo - Vicki Davis, Lar Davis & Paula Murphy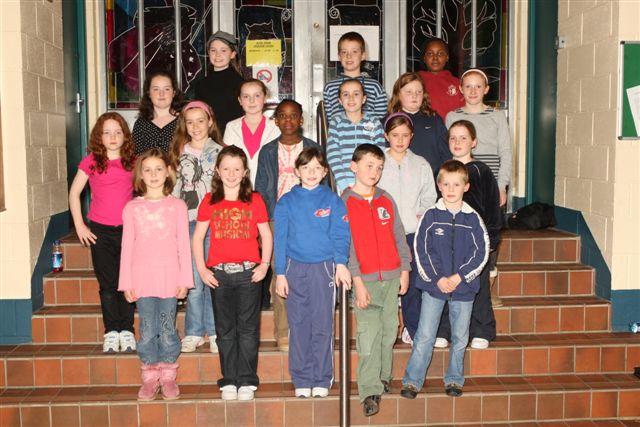 Jack & The Beanstalk Under 10 years Junior Chorus.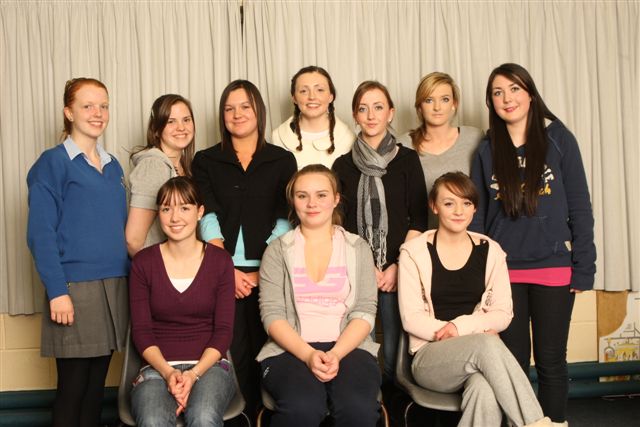 Jack & the Beanstalk Over 13 years Junior Chorus.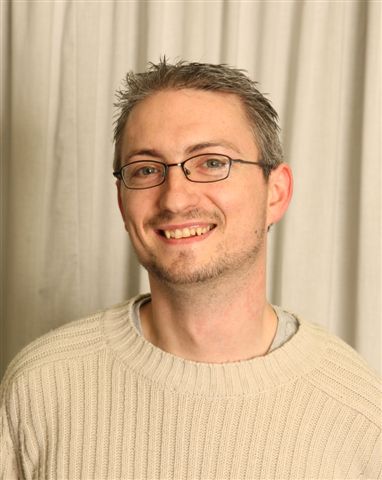 Garry Monaghan as Jack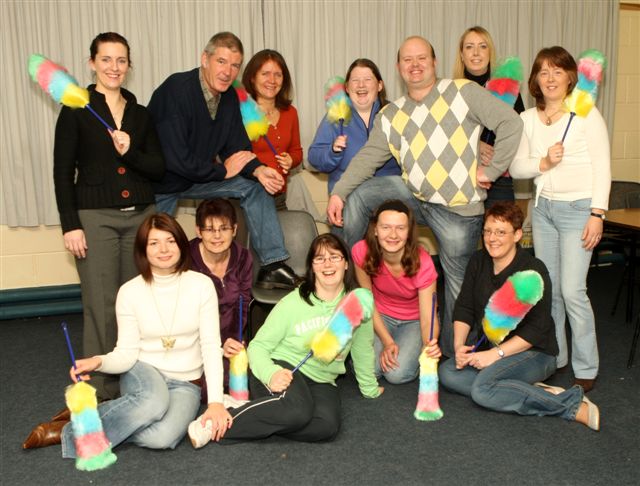 Jack & The Beanstalk Senior Chorus.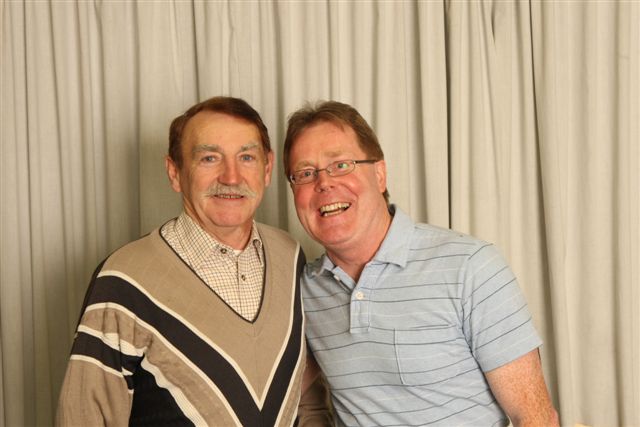 Lar Davis appears as Baron Bluff romantic interest of Dame Ma Spratt played by Des Gilsenan.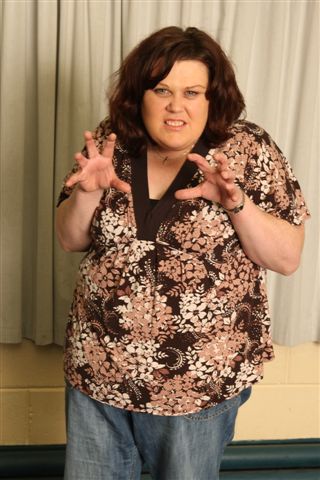 Mairead Coughlan as Mildred Mesley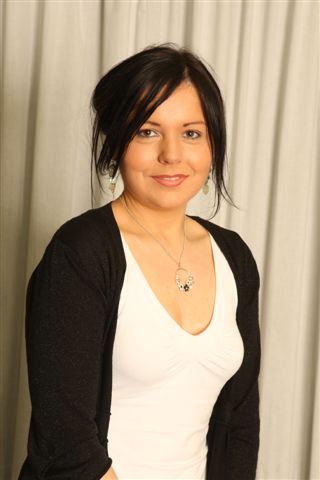 Marian Moran as Jill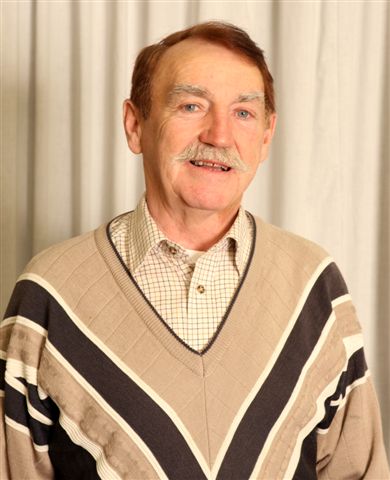 Lar Davis as Baron Bluff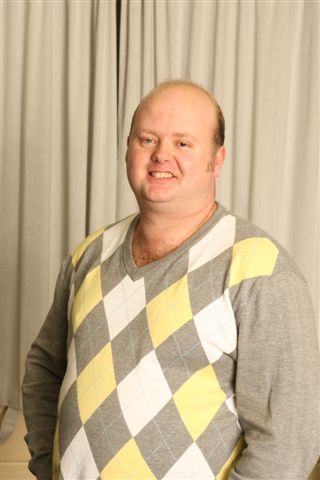 Jason Guthrie - Choreographer and Chairman