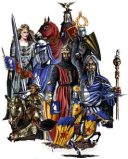 There's no business like sword business
Its that that time of year again!! The turkey is all gone, the trees are taken down and everyone is back into their normal daily routine. But not the Pantomime!!! Its all go up in the Traveller's Friend Theatre where the final preparations are taking place for this year's production - King Arthur. So why not treat the family and cheer yourselves up on the cold January nights and take them along to see the show!

This year's show is looking like it could be the best ever!! Mainly due to our fabulous production team: Sharon Lavelle (producer), Tony Varley (director), John Flatley (musical director) and Jason Guthrie (choreographer). The four have been working tirelessly to ensure the liveliest, most spectacular show yet. Never have four individuals seem to have worked so well together. Sharon's great ideas and organisational skills, Tony's vast experience of the stage, John's individualism and laid back calm attitude and Jason's creativity, talent and experience have all combined to make one unbeatable force!! Nothing is impossible for this team!!! They will tell you, however, that their hardest decision making came months ago at the audition stages. The talent was unbelievable!! Popstars had nothing on our eager hopefuls. It was extremely close in the end for both juniors and principals. But we picked the best for your viewing delight. We know you will give them all the encouragement and appreciation they deserve.

Among the cast of familiar faces are a few newcomers, namely Mossie McLoughlin. Last year Mossie helped out backstage, but this year he is centre stage in the role of Lancelot!! Also, we have Sally Lavin. An extremely talented lady with a beautiful singing voice for your listening pleasure who plays the role of Sally in the show!! Some other faces have returned from an absence, namely John Gavin. John is taking on the role of Guinevere, and has portrayed her like you've never seen her before!!! Definitely not to be missed!! Of course the old reliables are back again. Michael Rice takes up the lead as King Arthur, Micheal Tolan as Squirt, Sinead O'Donnell is Olivia, (you may remember her as the lead in Aladdin last year), Donna Carter as Morgana (hiss) and Denise Roddy as Mordred (hiss, hiss). Of course where would King Arthur be without his magician Merlin, and this year Karen Conway takes on the role. No pantomime would be complete without the singing and dance routines and this year is no exception. The music this year is good lively toe tapping stuff!! The dance routines are very energetic and the costumes should be a big hit!! Both senior and junior choruses are an extremely happy bunch and the commitment and effort they put in is 110 per cent!! Good luck to them all and as they say in show business "break a leg".

The curtain rises on Saturday 12th January for the first Matinee, (there are 3 matinees Sat 12th, Sun 13th and Sat 19th). Evening shows start at 8.0pm from Monday 14th until Saturday 19th. So come on, come along to the Traveller's Friend Theatre and enjoy one of Castlebar's best loved traditions. Treat yourself, let yourselves be entertained for a while, for only Eur 6.35!!! Where else would you get it!! (Tickets on sale at Downtown Records. Some availability on the door.)
The Story of King Arthur
Once upon a long ago when men wore metal and liked nothing better than fiddling with swords, there lived in the land of Camelot a king named Arthur and his beautiful young bride Guinevere. Well, maybe not so beautiful. And, on second thoughts, not so young either when our story catches up with them. But what of it. They were happy, mostly, and wanted for nothing.
And when King Arthur fancied a night out with the lads he only had to call on his knights in shining armour and they could while away a few hours playing poker at their lovely big circular table. Ah … those nights at the round table, they were a lot of fun. But one day the arrival of two horrible visitors cast a pall over Camelot and everyone wondered what would become of their idyllic hideaway. Arthur's long-lost cousin Morgana and her son Mordred seemed quite determined to change things quite dramatically.
You see Arthur was the handy young fella who had managed to pull the sword known as Excalibur out of a huge slab of stone. Everyone else for miles had burst blood vessels and strained muscles trying to do the same but only Arthur managed it, securing himself the throne in the process. And even though it had all happened many, many years previously, Morgana reckoned she had been swindled because women weren't allowed take part.
So now, with the help of her son, Morgana is back to challenge King Arthur to a jousting tournament. Her son is to take on the king's best champion - Sir Lancelot - and if Mordred wins, Morgana becomes Queen of Camelot.
What happens next? Well, you'll just have to wait and see, won't you? (Oh yes, you will.) And you'll meet some interesting characters along the way, including Squirt, and Sally, and Smoulder the baby dragon. Oh, and the magical Merlin, wizard supreme. So sit back, make yourself comfortable and enjoy the show.....
The Cast of 'King Arthur' (Click on photographs to enlarge):
| | | |
| --- | --- | --- |
| | | King Arthur - Michael Rice |
| | | Guinevere - John Gavin |
| | | Squirt - Michael Tolan |
| | | Sir Lancelot - Mossie McLoughlin and Olivia - Sinead O' Donnell |
| | | Sally - Sally Lavin |
| | | Morgana - Donna Carter |
| | | Mordred - Denise Roddy |
| | | Page - Peter Cotter |
| | | Smoulder the Dragon - Mary McHale |
| | | Merlin - Karen Conway |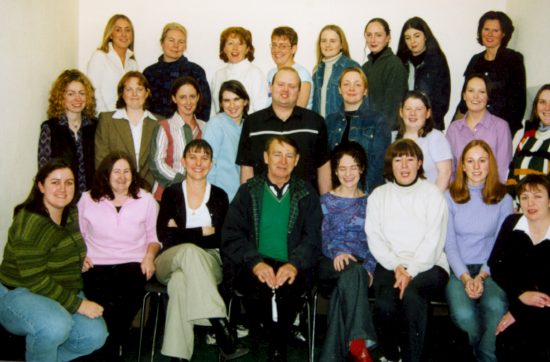 Senior Chorus:
Breada Donaghue, Marian Deasey, Rowena Gillespie, Caroline Guthrie, Martina Tolan, Charlotte Rippingale, Pascale Willard, Anita Donaghue, Emma Kilkelly, Valerie Murray, Annette Brosnihan, Jason Guthrie, Mary McLoughlin, Sinead Finnegan, Ann Sweeney, Rosemary O'Malley, Cathy Healy, Noleen Crowe, Tanya McGarvey, Lar Davis, Kathleen O'Hora, Wendy Cotter, May Flaherty, Antoinette Dugdale, Deirdre Rice, Padraic Heneghan.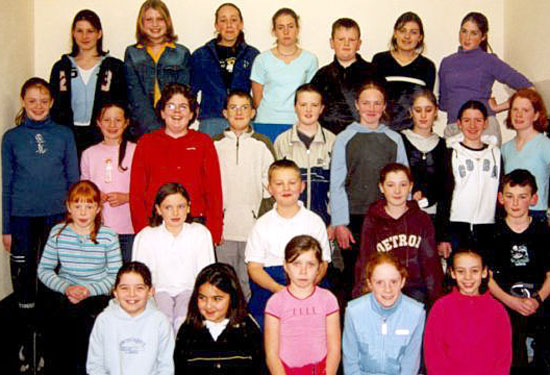 Junior Chorus:
June Healy, Karen Bourke, Shauna Roberts, Ciara McGowan, Brian O'Mahony, Brenda O'Donovan, Maria McMahon, Lyndsey Brown, Stephanie Forde, Edel Horan, Cormac McGowan, Ciaran Chalk, Niamh McDonald, Nessa McGarrigle, Sarah Maloney, Mairead McManamin, Tracy Hall, Emma Prendergast, John Tighe, Sara Jennings, Jason Joyce, Tara Corbett, Eva Donohue, Orla O'Hara, Catherine McManamin, Tara Gavin, Trina Gannon, Sally Rooney.
Musicians:
John Flatley, Garry Wynne, Tom Lyons, Sean Burke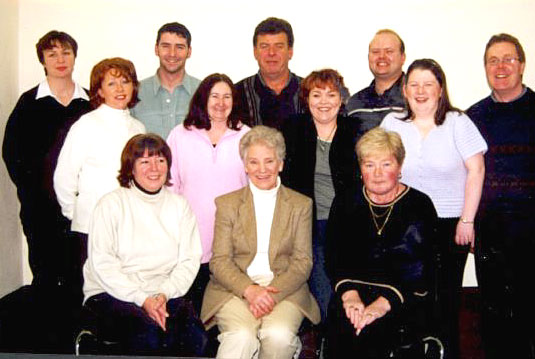 Panto Committee 2002
The Crew
| | |
| --- | --- |
| Producer | Sharon Lavelle |
| Director | Tony Varley |
| Musical Director | John Flatley |
| Choreographer | Jason Guthrie |
| Stage Manager | Brian Mannion |
| Back Drops, props created by | Gus Conroy, Mayo Arts Squad |
| Stage Crew | Brian Mannion, Raymond Mannion, Gary Tolan and Pat McKeown |
| Lighting and Special Effects | Pascal Goff |
| Sound | Dervin Sound |
| Costume Design | Sharon Lavelle, Jason Guthrie, Wendy Cotter, Marian Deasey |
| Dressmakers | Wendy Cotter, Marian Deasey, Mrs Finnegan and Mrs Murray |
| Programme Editor | Antoinette Dugdale and Darina Molloy |
| Posters & Programme Cover | Antoinette Dugdale |
| Photographs | Jackie Loftus |
| Makeup | Tanya Flatley, Denise Hynes, Hillary Keane, |
| Prompting | Edel Curley |
| Box Office | Paula Murphy, Pat Gavin, Mike Walsh and Bernie Bourke |
| Programme/Ticket Sellers | Amanda Larkin, Therese Egan, Emer Murray |
| Shop | Ann Walsh |
| Runners | Peter Flatley, Therese Crowe, Niall Donohue |
| Ushers | Liam Coady, Jimmy Murphy, Gerry Joyce and Tom McGrath |
| M.C. | Nan Monaghan |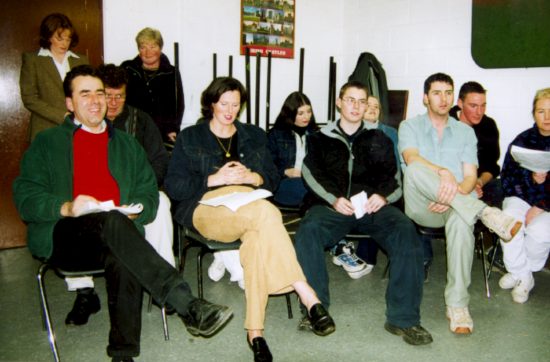 At Rehearsals for this years Panto
MAIN SPONSORS OF THE SHOW:
APC Legendary Reliability, Breaffy Rd., Castlebar.
Sponsors of Shows:
Sat. 12th Matinee McGreevy's Newsagents (Westport) Ltd

Sun. 13th Matinee Gerry Starken Paving Products, Galway

Mon. 14th Evening Coadys Friendly Tavern

Tues. 15th Evening Caseys Garage

Wed. 16th Evening Welcome Inn Hotel

Thurs. 17th Evening Castlebar Credit Union

Fri. 18thEvening Terry Fine Foods

Sat. 19th Matinee McDermotts Toymaster

Sat. 19th Evening Toghers Tyres
Other Sponsors
Penneys- Joe Reilly Ltd- Breaffy House.

AIB - UlsterBank - John Walsh Builders - Michael Duane, Builders - Roadstone - John Loftus Block Haulier - John O'Donnell - Stauntons - Frank Durcan.
Patrons
Gerry Tolster - John O'Donnell - Tommy Robinson - Fahy's Hardware Shop - John Donegan - Marie Beirne - Castle Travel - Maureen & Sean McDonnell - Order of Malta c/o John Cunningham - Padraig Flynn - Paddy McGuinness - Castlebar Florists - Beauty by Joan (Joan McHale) - Stephen Burns - Willie Ralph Taxi - Frank Durcan - Flannelly Auctioneers - Egan & Daughters Solicitors - Tony Hiney - Beverely Cooper Flynn - Enda Kenny - Eoin Garavan - Sen Paddy Bourke - Fr Des Fahy - Bertie Dowling - Johnny Mee - Tom Shiels - Pat Tierney.

We apologise if anyone's name has been omitted. List complete at time of printing.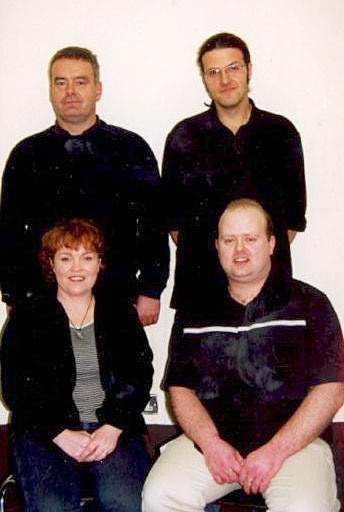 Production Crew for Castlebar Panto 2002 King Arthur
Finally on behalf of the committee a very special thank you to:

Jimmy Murphy - the Box Office Crew - Peadar Leonard - De La Salle - Patrick Durcan, Chapel Street - Pat & Mary Jennings and Staff, the Traveler's Friend Theatre - Gus Conroy - Mayo Arts Squad - Mr. & Mrs. Finnegan - Marian Deacy - Wendy Cotter - Coady's - APC - Davitt College - Jackie Loftus - Mayo Camcorder Club - Michael Brett - Michael Conway - Robert Gibbons, SmartArt - Brian Durcan - Mossie McLoughlin - Peadar & Marie Flynn and staff, Downtown Records - our ticket sellers, cast, crew - sponsors - patrons and advertisers. And an extra special thanks to the parents of all our junior members for their help, support and commitment to Panto 2002.
TICKETS:
Tickets are NOW on sale in Downtown Records, Main St., Castlebar, and can also be purchased at the door. Cost is Eur 6.35