IS COMING TO CASTLEBAR
The Castlebar Pantomime Group presents the first of eight shows ''Aladdin'' in the Travellers Friend Theatre, Castlebar commencing with a matinee performance on Sunday 14th January at 3 p.m., and running nightly at 8.30 p.m. through to Saturday 20th with two shows - one at 3pm and the final performance at 8.30pm.
'Aladdin' is a comedy-adventure pantomime with nineteen principal roles and was last staged in Castlebar in 1988. This action-packed show includes a Palace that flies to Egypt, adventures with a sinister Mummy, a Ghost, a haughty Spirit and a hint of Ali-Baba.

Chorus numbers are up to the usual high standard set by our very talented and professional Musical Director, Finola Higgins-Cosgrove, from Kiltimagh.
Dance routines created by Choreographer, Jason Guthrie.
The Show is Produced by Sharon Lavelle and Directed by Marina Rice.
The Cast of 'Aladdin' (Click on photographs to enlarge):
Click here to see the Characters in Costume
| | | |
| --- | --- | --- |
| | | Aladdin Twankey (Chinese Laundry Boy) - Sinead O'Donnell |
| | | Widow Twankey (Chinese Washerwoman, his mother) - Michael Rice |
| | | Wishee Washee Twankey (Laundry boy, his brother) - Michael Tolan |
| | | The Great Abanazar (the wicked Egyptian Magician) - Helen Fairbrother |
| | | Chopsuey the Twelfth (Emperor of China) - Brian Deacy and Dragona the Thirtheenth (his wife and Empress) - Mary McHale |
| | | Princess Say Wen (their daughter) - Laura Daly |
| | | So Shi (her Handmaiden) - Deborah McConway and Sing Hi (another Handmaiden) - Amanda Larkin |
| | | Chow Mien (Grand Vizier) - Stuart Fairbrother and Prince Pekoe (his son) - Karen Conway |
| | | Bamboo (Chinese Police) - Niamh Higgins and Typhoo (Chinese Police) - Denise Roddy |
| | | Rick Shaw (Taxidriver) - Mary Wier |
| | | Strong Pong (the Executioner) - Des Gilsenan |
| | | Madam Flash Bang (Royal Photographer) - Ann Melvin |
| | | Mazda (Genie of the Lamp) - Larry Davis |
| | | Mazawattee (Spirit of Ring) - Marion Deacy |
| | | The Egyptian Mummy - Des Gilsenan |
Click on photos to see enlarged images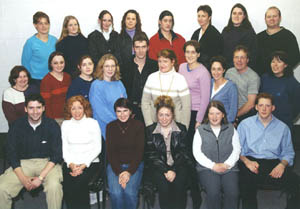 20. Senior Chorus:
Rowena Gillespie, Caroline Guthrie, Martina Tolan, Bernie Kelly, Deirdre Rice, Antoinette Dugdale, Catherine Healy, Jason Guthrie, Noelene Crowe, Pauline Walshe, Amanda Larkin, Niamh Higgins, John Tolan, Ursula McEntee, Mary Weir, Irene Curley, Des Gilsenen, Wendy Cotter, Brian Deacy, Michael Tolan, Marion Deacy, Anette Brosnihan, Anita Donoghue, Sinead Finnegan. Missing from photo: Karen Judge, Edel Curley, Triona McGinty, Ann Sweeney and Mary McLoughlin.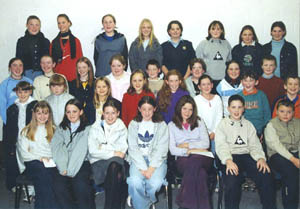 21. Junior Chorus:
Sheelagh McDonnell, Hilda Kelly, Clare Corcoran, Gabrielle Burke, Nicola Walsh, Tanya Flatley, Eleanor Grier-Gavin, Jane Healy, Brenda Murphy, Catherina Flynn, Lindsey Browne, Niamh Connor, Graham Moran, Edel Horan, Catherina Murphy, Aaron Chalke, Lisa Gilligan, Sarah Conway, Robyn Fairbrother, Charley Fairbrother, Deirdre Cahill, Rachel McGing, Jason Joyce, Eamon McEntee, Marita Conlon, Lynda Costello, Leona Corbett, Soibhan Brinklow, Natasha Cotter, David Concannon, Rory Grier-Gavin. Missing from photo: Leanne Rice.
Musicians:
Keyboards: Garry Wynne, Guitar & Banjo: Tom Lyons, Drums: Sean Burke, Guitar & Tin Whistle: Ollie Burke.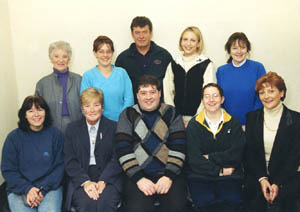 22.Castlebar Pantomime Committee:
Nan Monaghan, Rowena Gillespie, Michael Rice, Karen Conway, Clare Kenny. Front: Wendy Cotter, Secretary, Mary Hynes, Treasurer, Padraic Heneghan, Chairperson, Denise Roddy, Asst. Chairperson, and Ann Melvin, P.R.O.
SPONSORS:
Main Sponsor: APC Legendary Reliability, Breaffy Rd., Castlebar.
PANTO PATRONS:
This year for the first time the Panto has 'acquired' PATRONS and they will have the unique 'privilege' of mingling with the stars of 'Aladdin' at a function organised specially for them. Patrons are as follows:
Dr. Des Fahy, Ballindine. Adrian Gavin, Castlebar. Tony Hiney, Ballina. Paul Gavin, Castlebar. Joan McHale, Castlebar. Stephen & Brid Burns, Castlebar. Brian Murphy, Dublin. Darina Molloy, Castlebar. Order of Malta, John Cunningham, Castlebar. Frank & Mary Forde, Castlebar. Sean Lyons, Tralee. Beverly Cooper Flynn, Castlebar. Mr. & Mrs. Johnny Mee, Castlebar. Mr. & Mrs. Enda Kenny, Castlebar. Padraic & Dorothy Flynn, Castlebar. Sean Bourke, Castlebar. Eoin Garavan, Castlebar. Pat King, Castlebar. Frank & Toni Durcan, Castlebar. Michael Moran (Rocky's) Castlebar. Mrs. Evelyn McHugh, Galway. Mrs. Maureen McDonnell, Castlebar. Seamus & Maura Connor, Castlebar. Helen O'Donnell, Castlebar. Marie Beirne, Castlebar. Egan & Daughters, Castlebar. Paddy Murphy, Castlebar.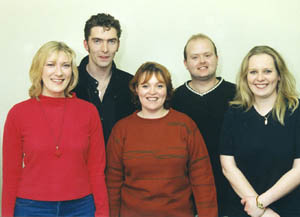 23. Production Team:
Marina Rice, Director, Sharon Lavelle, Producer, Finola Higgins-Cosgrove, Musical Director. Back: John Tolan, Stage Manager, and Jason Guthrie, Choreographer.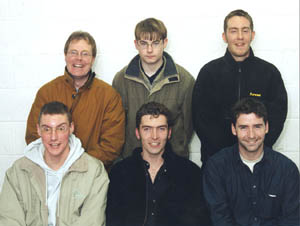 24. Back Stage Crew:
Mossey McLoughlin, John Tolan, Stage Manager, Michael Tolan. Back: Des Gilsenan, Peter Cotter and Garry Tolan. Missing from photo: Pat McKeown.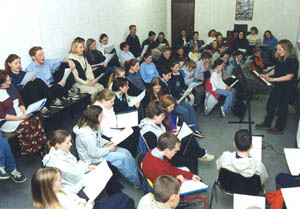 25. Finola Higgins-Cosgrove, Musical Director, with Chorus during rehearsals.
TICKETS:
Tickets are NOW on sale in Downtown Records, Main St., Castlebar, and can also be purchased at the door. Cost is £5 for adults; £3 for Children & O.A.P.s .
All tickets for Friday night 19th and Saturday night 20th (Adults, Children & O.A.P.s ) will be £5. Matinees on Sun. 14th and Sat. 20th will cost £5 for Adults and £3 for Children and O.A.P's.
The Crew:
| | |
| --- | --- |
| Producer: | Sharon Lavelle |
| Director: | Marina Rice |
| Musical Director: | Finola Higgins-Cosgrove |
| Choreographer: | Jason Guthrie |
| Floor Manager: | Padraic Heneghan. |
| Stage Manager: | John Tolan |
| Back Drops painted by: | Fergal Foley, Hugh Corley, Brian O'Malley, Shane Connolly, Keith Brennan, David Groarke, Mark Heneghan, Mark Tolster and David Gilmartin of St. Gerald's College, Castlebar, under the supervision of Teacher Jean Bourke. Also the Mayo Arts Group. |
| Stage Crew: | |
| Lighting & Special Effects: | Frank Heraghty |
| Sound: | Dervin Sound. |
| Costume Design: | Clare Kenny, Marina Rice, Jason Guthrie and Mary Hynes. |
| Dressmakers: | Marion Deacy, Eileen Tolan, Wendy Cotter, Carmel Larkin. |
| Programme Editor: | Ann Melvin |
| Posters & Programme Cover: | Robert Gibbons, Smart Art Designs. |
| Photographs: | |
| Make Up: | Derval Dunford, Denise Hynes, Pauline Walsh, Hillary Keane and Adrieanne Daly. |
| Prompting: | Clare Kenny and Robert Guthrie. |
| Curtains: | Conor Cresham. |
| Box Office: | Mary Hynes, Fiona Kilbane and Wendy Cotter. |
| Raffle: | |
| Ticket Sellers: | Sinead & Niamh Heneghan. |
| Shop: | Ann Walsh. |
| Parody: | Michael Rice. |
| Props: | Tracey O'Toole. |
| Runners: | Thomas Jennings, Peter Flatley and Therese Crowe. |
| Ushers: | Padraic Heneghan & Liam Coady. |
| M.C. | Nan Monaghan. |
| Hair Design: | Adrieanne Daly. |
MAIN SPONSORS OF THE SHOW:
APC Legendary Reliability, Breaffy Rd., Castlebar.
Sponsors of Shows:
Sun. 14th John Hanley

Mon. 15th Coady's Friendly Tavern

Tues. 16th Seamus O'Malley, Builders.

Wed. 17th T.B.C.

Thurs. 18th Castlebar Credit Union.

Fri. 19th Terry's Fine Foods.
Sat. 20st Matinee: McDermotts, Toymaster
Sat. Night 20th Togher Tyres.
The Pantomime Committee says a special thank THANK YOU to the following for their help during the year. Mix-Master, Andrew Monaghan, Eileen (Mammy) Tolan, Angelo Cioffi, Robert Gibbons, Peadar Leonard, Downtown Records, Coady's Friendly Tavern and Pat Jennings & Staff, Travellers Friend Theatre.