Castlebar Pantomime Committee wishes to invite anyone over 18 years to their adult auditions for their 2011 production. Auditions will be held from 8.00pm the 27th & 29th of September at TF Royal Hotel Castlebar.
If you are interested in acting, singing, dancing or prefer to work backstage, you are most welcome to join the cast & crew of Castlebar Pantomime. C'mon fella's don't be shy, don't let the girls out do you, there's plenty of roles for you too! You could be that hero or think of the fun you could have as the King or even the Dame!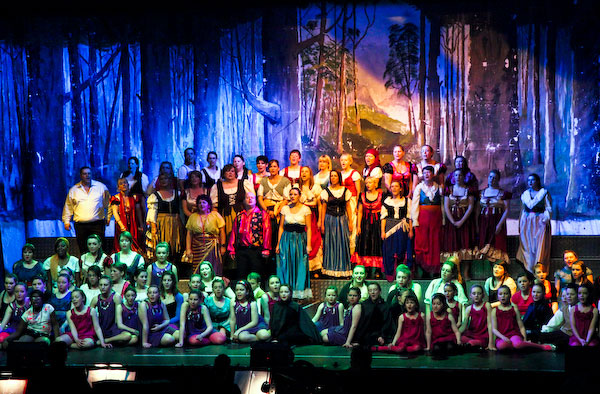 Castlebar Pantomime - Large Group On Stage. Photo Kate McKeon Photography.
Don't worry girls there is still loads of room for damsels in distress, comedy duos, budding artists & who says the Panto Dame has to be a man? Rehearsals will begin at 8:00 to 10.00 pm on Monday 4th October & will continue each Monday & Wednesday night (excluding Bank/Christmas Holidays) until the show is presented at the TF Royal Theatre in January 2011.
Remember you don't have to take a main part, most of the real fun can come from discovering that you are not the only one with two left feet & still manage to master a dance or even a song with new friends. Also there is much work you can help with backstage, little happens on stage without the help of the backstage crew. Anyone new to the area, new to Pantomime or old faces who enjoy a laugh are more than welcome to attend. Many hundreds have enjoyed their time with Castlebar Pantomime, over the past 26 years and good fun & good friends guaranteed.
For further details on Castlebar Pantomime, please contact (087) 9679828 after 6.00 pm.