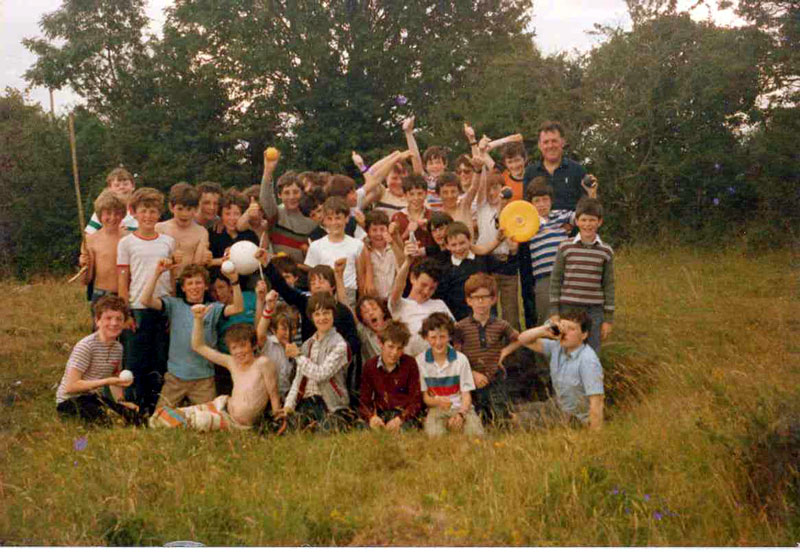 Here is my attempt at the names. O'Leary, Noone, Cunningham, King, Waldren, ?? McDonald, ??, ??, Fr. MCDonald, Mularkey, ??, Gallagher, ??, Patten, ??, Loftus, Durkan, Jennings, Moran,??, Healy, Coughlan, Geraghty, Mullaghy, Niland, Davoren, Moran, Doherty, Cawley, Clarke, McHale, Mongan, Waters, O'Brien, Gallery, Howley, McHale.
Twenty Four years a ago this month the Mass servers of the Castlebar Church of the Holy Rosary were brought on a day trip to the strip of land between Lough Mask and Lough Corrib, by one father Paddy Curran who was called by the spirit horse last week.
This picture was taken on one of my first cameras. Some of us didn't deserve the trip, I don't think I ever made an 8 am Mass, I used to swap them with a gentleman who is now a padre himself, and in fact he is in this picture too.
I can name most of the people in this picture I'm a bit dodgy on a few first names, so I'll attempt it in brother James fashion by addressing the vagrants by their surnames starting from the top right to the bottom left. Interesting thing is only a handfull of these gentlemen still live in Castlebar, some of them conquered foreign lands, in fact one of the snorkelers in the picture is the CFO of a national bank.
My definition of a legend is someone who has been jailed at least twice, played for Mayo on an all Ireland winning team, caught the first Salmon on the Moy and released it, been married more times than snow on Neiphin, (hopefully to a millionaire along the way) fathered an international soccer team, and still retain some of the important the qualities and values that brother Ailbe tried to beat into us, and Father Curran tried to teach us: then there are only a couple of legends in this photo.