I spent Sunday afternoon cookin' in the mid April sunshine in Páirc Uí Chaoimh watching a better than average Mayo senior football team outplay a less than average Cork team in their twenty ten league final clash. The final result was Mayo 16 Cork 11. They get to do it all again in two weeks time in Croke Park. Every dog on the street knew that if Dublin beat Tyrone and if Mayo lost to Cork then this would result in a league final clash between the capital and the real capital. Luck was west of the Shannon for a change and even though the Jackeens did well against the mid Ulster men, Mayo prevailed against a lack-luster Cork team.


How is this not a goal?
Páirc Uí Chaoimh was opened in 1976 it has a capacity of 45,600 on all occasions except for Michael Jackson concerts. In 1988 Jackson played two nights on lee side to 60,000 fans. He stayed in Jurys hotel on the Western Road. He insisted that they put a dance floor in his suite. Jury's was demolished and rebuilt in 2007/08 as part of Ireland's drive to build more hotels per head of population than any other country on earth. I know a man who was lucky enough to salvage the same said Jackson dancefloor. He put it into his kitchen. He says he can now cook, clean, and do a moon walk at the simultaneously. One drawback, however, is washing the dishes especially when the water is piping hot. He feels awkward wearing the two marigolds. He says "If the King of pop wore one glove tis good enough for me."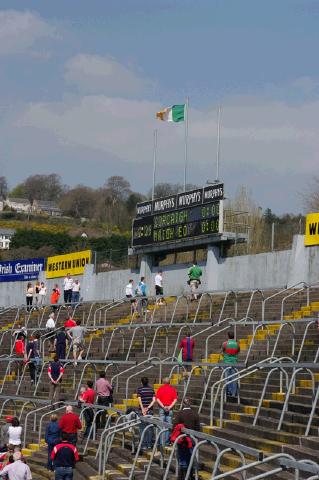 Standing for the Anthem.
The Mayo senior football team volunteers stand to attention for the national Anthem. There is an unwritten rule when Mayo is playing. The Amhran na Bhfiann plays like a man stretching a long string of elastic. Eventually before the song is over the band will snap, and some mans emotions will snap too with a roar " COME ON MAYO"
Sunday's match wasn't any different, no sooner had the crowd started chanting "Seo Libh Amhrán Na "COME ON MAYO !!!!!!" Bhfiann.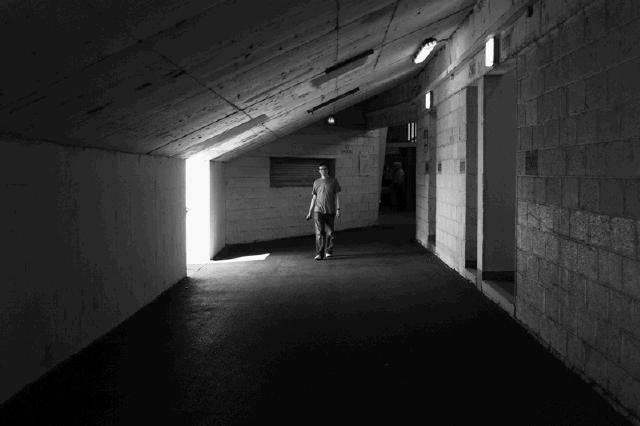 Retired legendary U10 Mitchell's full forward Anthony Cawley gets ready to line out and support the green and red of the elm tree county.
I've no idea how this ball didn't go into the back of the onion bag. Four Mayo men looking around as if they have nothing better to do, and Cork full back lying dead on top of the goalie. Ed Maroney would have been horrified.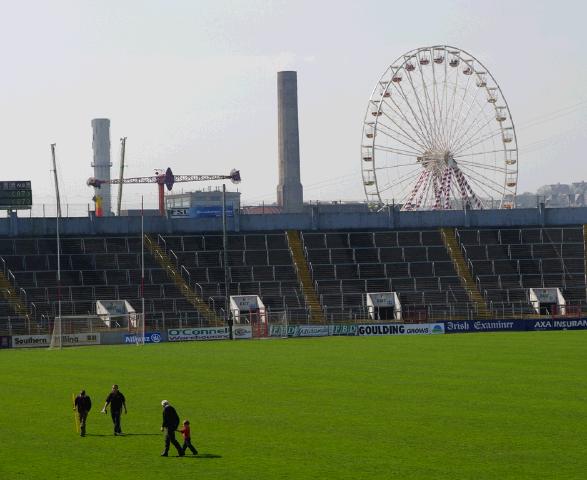 Legends of the past and future.
The half time's entertainment was provided by some underage teams playing what looked like dog of war against each other. Practising their skills, that might some day see them playing a return fixture in the same venue in a red O2 jersey. I was impressed by one rotund gentleman for Ballygarvan GAA. He was no more than 12 but if they could get that man off the Swiss rolls and onto the treadmill I'm confident he would make the senior team. He was deadly on front of goal. He wasn't the best man on the pitch however. If you take a closer look at this picture you will see a grandfather holding his grandsons hand walking off the pitch. I have no idea who either gentlemen is but the younger man will play for Cork. No doubt about it. He spent the half time interval hopping and kicking balls into the Atlantic pond end goal. The ball was certainly half his mass, and there is no way on earth that I would have been able to kick it as far and as accurate as he did. He scored one goal against the grandpa and the crowd cheered. It was like watching Tiger woods teeing off as a four year old. People could sense that this man will be the future. The only two bad things about it was he's going to play for Cork and not Mayo, and the current Mayo team were in listening to a Fine Gael pep talk in the dressing rooms when they should have been out watching this four year old showing them how to kick a ball into the back of the onion bag.

Oceans 15.
Back to the photography, this picture was taken under the terrace. The match kick off was 2.30pm but they didn't open gate until 2pm. There was a lot of tiered supporters waiting to get in and settle themselves after the long journey. I met a Rathbaun Rd league season ticket holder outside. "This is some sh1t hole he said" I said there are plans to redevelop it into a 60000 seater stadium. "Well he said they can develop it what ever way they want as long as its near a friggin pub and a small bit of life" The stadium is positioned about 2 Irish miles from Pana, on the affluent bank of the Lee estuary. It is a bit of a hike alright from City centre.
I got a text off a loyal Sligo fan who has recently switched his allegiances to the Dubs "Langers obviously decided, quite reasonably they'd rather play your boys instead of us in the league final at Croker"! Well we all know the League doesn't mean a whole lot, Mayo last one it in 2001, they got to the final again in 2007 but were bet by Donegal. Unfortunately whatever way it is Mayo don't do well in Croker. I think U2 had the Mayo fans in mind when they wrote "Sunday Bloody Sunday" This is not rebel song this is a song about the number of all Irelands that Mayo has lost in Croke park. Let's hope this year that the league final against Cork is a chance for the boys to rid themselves of the daemons and maybe, just maybe, get the real prize in September. A Cork man once asked me what would it mean to you if Mayo win an all Ireland. Well I said you know the way the Jews believe in the second coming of the messiah.? I do he said!, Well, I said my friend, that would be a small party compared to the night Mayo brings home the Sam Maguire. Where there is hope there is glory. He said "earaa sure we win it too often boy, I hope De Messiah or whoever he is comes soon."