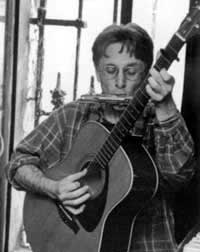 Chad Dughi


Guitarist, harmonica player, singer and songwriter, Chad Dughi has been immersed in archive recordings of American roots music since his youth. His extensive repertoire encompasses a diverse range of styles that were popular in the United States during the 1920s, 30s and 40s, including such legendary figures as Woody Guthrie, the Carter Family and Mississippi John Hurt. Born in Honolulu, Chad has toured in the States, Canada, England, Scotland, Ireland, and performed with the likes of Andy Irvine, Mick Hanley and John Faulkner and Arty McGlynn. Chad is currently working on a third album. As John Prine observed, "Catch this guy now - he's going places."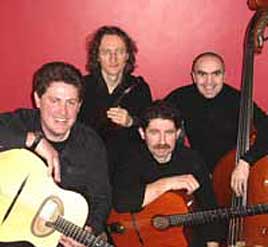 Gypsy Jazz Quartet


From its roots in the clubs of 1930s Paris, Gypsy jazz is the style of music immortalised by Django Reinhardt and Stephane Grappelli, a style that continues to gain in popularity both with the general public and musicians. In this instance the musicians in question are the Gypsy Jazz Quartet, led by Castlebar native Frank Kilkelly, a highly regarded guitarist who has toured extensively with a string of well-respected acoustic groups and artists including Sharon Shannon, Mairtín O'Connor, Finbar Furey and the Café Orchestra. The Quartet digs into the ever-broadening repertoire now flourishing in today's gypsy jazz players. The Quartet line-up features Paul O'Driscoll (double bass) well known for his work with Deiseal and Josephine Marsh, Ivor Ottley (fiddle) fresh from the vibrant English acoustic scene on hot fiddle, and Damian Gilligan (rhythm guitar) from The Hot Club of Dublin.
People say jazz is cool. But remember, some like it hot.