3rd Mayo International Choral Festival
The 3rd Mayo International Choral Festival came to a most successful close on Sunday, May 18th after six days of concerts, competitions and choral capers!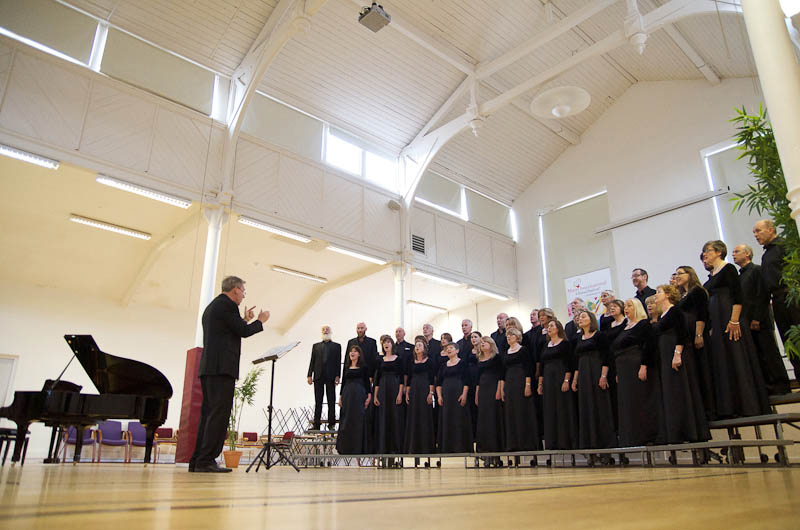 Cór Mhaigh Eo performs in competition in St. Mary's Hall at the GMIT, Castlebar, during the Mayo International Choral Festival, 2014. Pic Alison Laredo.
The people of Mayo welcomed 33 competing and non-competing choirs to the county in what proved to be the most successful festival to date. The standard of choral singing enjoyed by audiences at the community concerts in Ballina, Ballintubber Abbey, Claremorris, Swinford and Westport was second to none. Locals enjoyed many choirs singing around Castlebar on both The Songway Choral Trail and The Sacred Trail at church services. The standard of the winning choirs at the competitions on Saturday resulted in eight exceptional choirs competing against each other in the stunning Gala Concert on Saturday night in the Royal Theatre, Castlebar, during which the premier choir of the festival was crowned. The night was compèred by Tommy Marron and the delighted Morehead State University Chamber Singers from the USA, under the direction of Dr. Greg Dettweiller, won the bespoke Mayo International Choral Festival trophy. It is estimated that the festival, supported by Mayo County Council and Failte Ireland, has brought a similar level of economic benefit to Mayo as last year, which saw 1056 bednights in Mayo, realising just under a quarter of a million euro after costs to the local economy. Many local business owners expressed their support, citing a noted increase in sales, particularly in the hospitality sectors. Feedback from participating choirs, the highly esteemed international adjudicators and audience members has been overwhelmingly positive and the committee are already focusing on next year's festival, with some choirs having already booked accommodation for 2015, 2016 and 2018! The 4th Mayo International Choral Festival will take place in and around Mayo from May 20th - 24th 2015. We hope to see you there! For further details, log onto www.mayochoral.com or facebook.com/mayochoral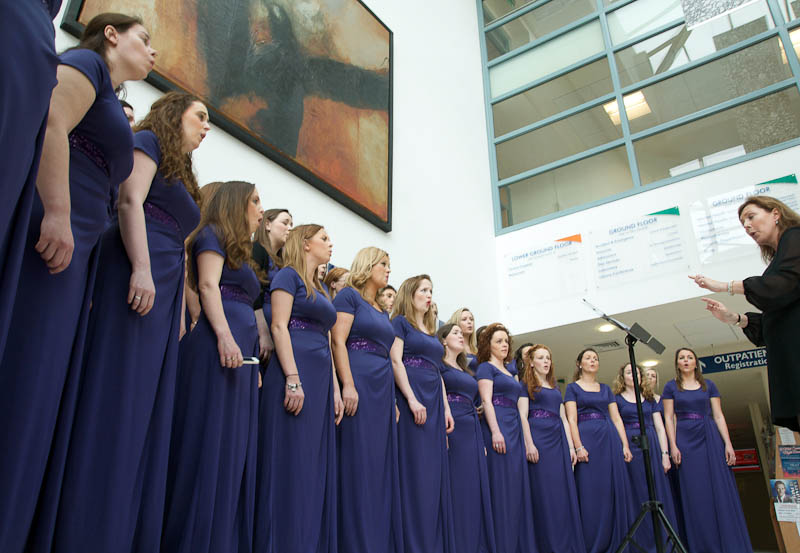 The Park Singers, Dublin, perform as part of the Songway Choral Trail in the foyer of Mayo General Hospital, during the Mayo International Choral Festival, May 2014. Pic. Alison Laredo.
The winners in each category were as follows:
Premier Competition - 1st place: Morehead State University Chamber Singers. Runners Up: Enchiriadis
Four Part Choirs - 1st place: Park Singers, Dublin. Runners Up: Morehead State Uni. Chamber Singers
Choirs from Ireland - 1st place: Enchiriadis. Runners Up: Cantóirí
Female Voices - 1st place: Park Singers. Runners Up: Bangor Ladies
Male Voice - 1st Place: Mayo male Voice Choir. Runners Up: Huntingdon MVC, UK
Sacred Music - 1st place: Morehead State University Concert Choir, USA. Runners Up: Enchiriadis
Gospel Music - 1st place: Castlebar Gospel Choir. Runners Up: North Dublin Community Gospel Choir
Gaelic/Celtic Language - 1st place: Rudsambee Company of Singers, Scotland. Runners Up: Ballina Chamber Choir
Barbershop Chorus - 1st place: Athlone A Capella. Runners Up: No Half Measures
First Time Competitors - 1st place: Marine Institute Singers. Runners Up: Cór Meibion Talgarth