Major William Bruen, O.B.E., D.C.M., M.C. with an address at Clontarf, County Dublin died on 5th August 1961. A native of Collooney, Sligo, he spent his childhood and early education in Castlebar and later returned to marry Agnes Mulvey, daughter of Jeremiah Mulvey, a Clothier and Outfitter from Rush Street. His brother-in-law Thomas Mulvey was a member of Castlebar Mitchels first hurling team and played in many County games. A nephew of his wife was Harry Latter, also from Rush Street who died in 1956. During the War of Independence period, he campaigned with others at Castlebar Courthouse against the trial of local political prisoners and was severely beaten by the R.I.C. and the Black and Tans, when they baton charged the crowds gathered on the Mall.
When the Great War started, Bruen joined the 2nd Battalion of the Connaught Rangers and as a Sergeant-Major took part in the Battles of Mons and of the Aisne. He received the Legion of Honour from French General Marshal Joffre and received his commission after performing many deeds of valour. Seriously wounded (a bullet passed through his jaw and exited through the back of his neck), the then Lieutenant Bruen returned home to Castlebar to a hero's welcome and recuperated with his wife's family.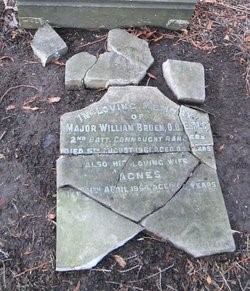 Headstone of Major William Bruen
After a period of time, he returned to the Front and for conspicuous bravery on the battlefield, he received the Distinguished Conduct Medal and later, the Military Cross personally from King George V in Buckingham Palace. Other awards received included the Croix-de-Guerre Honours for general bravery in conducting the retreat from Mons. Promoted to Captain and as a result of his injuries (partial paralysis of his right arm) he spent the rest of the War in an administrative role as Chief Transport Officer at Dublin Port. His duties included attending to the departure and arrival of troops and supervising the various hospital ships bringing home the wounded. He also had the role of Clerk of the Dundrum Petty Sessions (District Court).
After the War, he joined the Irish Army with the rank of Captain in 1922 and spent most of his six years service in the Curragh as Aide-de-Camp to General Sean MacEoin.
When he retired from the Army, he was one of the first officials of the Irish Racing Board until he retired in 1957. He made annual visits to Castlebar to visit his friends and in-laws and died in 1961. His wife Agnes died in April 1964 and both are buried in Grangegorman Military Cemetery, Dublin.