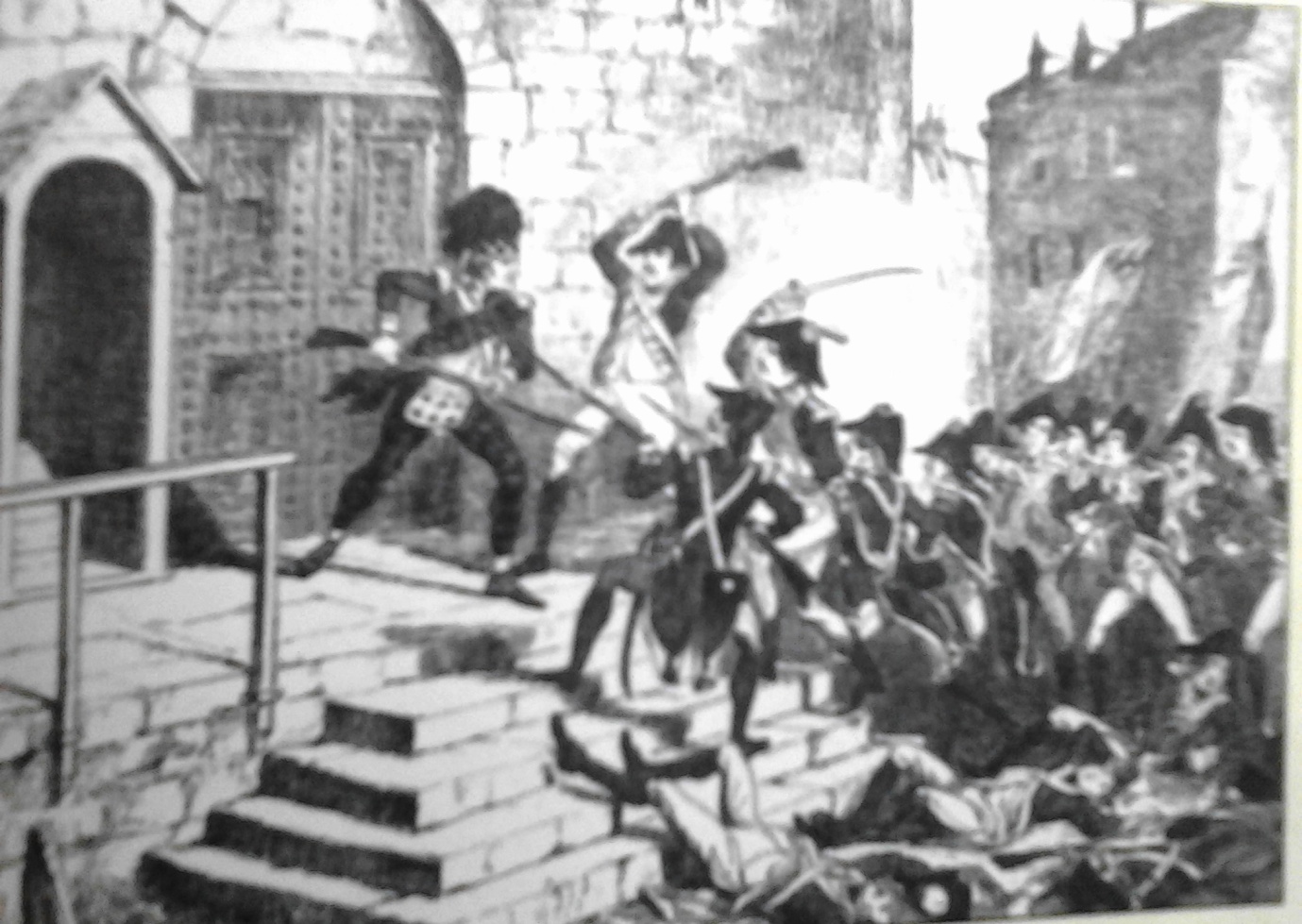 During the battle known as the 'Races of Castlebar', most people are aware of the fierce fighting that took place on Staball Hill, the Bridge at Main Street and finally at Christ Church. What is not well known is that at the then new Gaol (now Motor Tax Office) at the Green, a soldier from the Fraser Highlander's Regiment put up a brave fight.
One of the earliest books written about the 'Races' and 1798 was titled 'Memoirs of the different Rebellions in Ireland' by a Sir Richard Musgrave, Bart, dated 1802. He describes in detail of when the French soldiers reached the gaol, it was solely guarded by a Highland Fraser who refused to quit his post. All his colleagues had deserted but he managed to kill five French soldiers before he was overpowered and killed. An illustration of this act was done some years by a celebrated artist George Cruikshank who illustrated the majority of characters for the books of Charles Dickens. In the illustration titled "Heroic conduct of the Highland Sentinel", there is a flight of five steps up to the building, with a sentry box next to the large front door.
Musgrave also claimed that that a Dr. Crump, a popish physician went to Humbert and implored him to give the Roman Catholics one hour's revenge against the Protestants, for a hundred years of cruelty and oppression but Humbert and his staff refused.
He also describes how a Catholic priest, Michael Gannon constantly attended General Humbert and his staff and had been a domestic Chaplain to the Duke of Crillon in France. He stated that Gannon had a fantastic appearance in which he wore a large fierce military styled cocked hat with silk clothes which belonged to the late Duke. From the window of Humbert's lodgings (Greevys' Hotel in Main St., where Paddy Fahey's is now?), Fr Gannon would address and terrify the crowds below, with fiery sermons.