Special Classes
These are some of the lads in front of our brand new collage on Spring - we haven't it finished yet but soon we will have lambs and ducks and geese and baby birds all over the place!!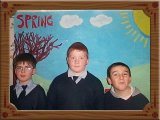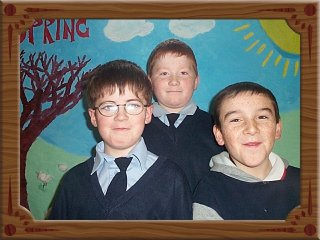 The lads love having their photo taken!
Our Visit to Germany
We went to Germany by plane from Dublin to London to Stuttgart. The whole family went except my sister who was there before last year. My dad's German friends were waiting in the airport. They lived in a small town outside Stuttgart. We stayed with another of Dad's friends. He will be coming to stay with us soon.
In Germany, l learnt that they recycle everything. Nobody throws out rubbish at all. They have recycling bins everywhere. Each bin is a different colour.
I fed the deers in a park in Germany. I gave them leaves and grass. While we were there we went to shop, bought clothes and presents. I bought a remote control truck and my brother bought a remote control boat. My other brother bought a remote control car. My father bought a real car which my dad's friend is bringing over with him.
I was working in a pub with my brother for a while. The pub was close to where I was staying. We cleaned glasses and pulled beer and we stayed until it was closed. We played darts there and everything. The dartboard was a plug in one with the scores being counted on their own. We played pool at a festival. We went roller blading every day. It was good fun.
When we were coming home we bought Tic-Tacs for the plane so that our ears wouldn't be sore.
We had a great time in Germany.
Stephen M.
Last Weekend by Patrick
My cousins came to visit for the weekend. My cousins Peter and John came to our house for the weekend they loved playing the Sega Mega games they brought their bicycles with them we went for a cycle on Saturday. On Sunday we went to mass. After mass we went to McDonalds for chips and hamburgers. Sunday evening they had to go home for school on Monday morning.
My STORY
About three weeks ago I fell down the stairs. I had to go to the Hospital. I found that I broke my shoulder I had to go to Galway to see a specialist and he sent me to get an x-ray. After the x-ray I found that my
shoulder broke in an awkward place. I am lucky that I didn't have to have an operation. He gave me a sling and he sent me home.
On Tuesday I have to go back to the hospital.
by Darren
My Father
My father is a good Dad. He drives a Citroen car. It is silver. He is good at working at cars or vans. He always helps my brothers when their car breaks down. He is also good fitting in stoves and making buckets. I love my Dad and he is the best father.
Last year my father and brother flew to Liverpool. They flew from Dublin to Liverpool. I have a dog. His name is Fly. He hunts for rats and mice. One day I saw him killing a fox. He is small but he is good. He has two big ears. He is a lovely colour black, tan, and white.
by Owen
My Mother
My Mother is my friend. She is kind to me. She gives me pocket money every week. She cooks my dinner and washes the dishes. My sisters Annie and Teresa sit down and watch my mother wash the dishes. I help my mother by shaking the mats and tidying the shed up.
A beautiful tree grows near our home. In Winter it loses its leaves and turns yellow.
Horse chestnuts grow on this tree. Every year I collect "conkers" from the tree.
Animals
I saw a parrot. He is red, green and yellow. I saw him in a pet shop. I also saw an elephant in a circus. He was grey and he had two big tusks.
by Owen TOP