Inf.
Snr.Infants
1st*
2nd
3rd*
3rd*
4th*
4th*
5th
6th*
6th*
Special
Classes
Lang.U
SipPrj
Archives*
Email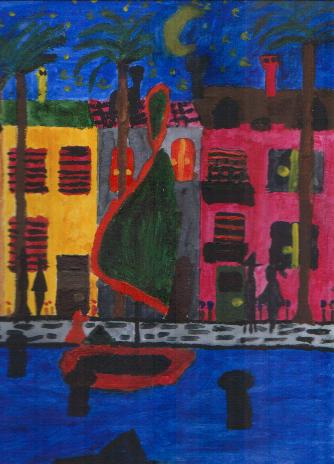 Andrew Butler's Watercolour - for many more click on image
Instructions to Create a Masterpiece!
Hello we are Michael and Darren and today we are going
To show you how to paint a truly amazing painting of a bright
Mediterranean scenes.
The first thing you have to do is get your pencil and
Sketch two parallel lines in the lines in the middle of your A4 page.
To separate your sky line and water line. After you have done this
Grab a rubber, ruler and a pencil. And start with one mark about 3cm
In from the left side and only make it two stores high and only one
Side then two houses that are 7cm wide beached each other and then make
An 8cm line from the horizon and make it go through the first mark
And then make two 10cm line go through your two second marks mow you
Have your houses
Now with the widows and doors which must be symmetric
An optional sky light. Now draw a shoe like shape for a boat and a
Triangular for a sail but make all of your sides disserted
David Joyce

It was a lovely day in the middle of May. I was back from another day at school. The teacher had given us no homework so I decided to go to my friends house. His name was Peter. I wrote a note and placed it on the table. It said ''Gone to Peter's house, back at half seven.
As I was walking down the street a black car with blocked out windows pulled up along the footpath. Slowly the window opened and this man asked me if I wanted a lift. I couldn't see his face. Apprehensively I said no and increased my pace as I moved down the street without it looking obvious. The car pulled up again, two men wearing balaclavas got out and hit me on the Head wit something hard. I was knocked unconscious.
When I awoke I discovered that it was early next morning. I was in a dirty room in an old house. The windows were all blocked up with pieces of wood. There was no way out!
I tried to kick down the door but that didn't work. As I sat there I started thinking about what was going to happen to me and wondered what was happening at home.
Later on that day one of the kidnappers burst through the door and handed me a bowl of leftover porridge. Every now and then the same man came through the door and gave me food that tasted like dog food.
Three days later just as the man came in there was a shout from downstairs, ''Cops, get the boy. Anxiously the man grabbed me by the waist and carried me downstairs muttering words under his breath. Then the men grabbed a bag full of money and brought it out with them.
As we were speeding down the road I was bouncing up and down in the back seat. When we got to a junction I jumped up, grabbed the steering wheel and manoeuvred the car into a pillar. As the car came to a halt I dived out and ran across the field dodging cows and jumping over fences. The men were still behind me. They caught up with me when I reached the road. As they pinned me to the ground, little did they know that the cops were right there behind them. They made a run for it but the tracker dogs soon had them rounded up like a flock of sheep. For me it was a great escape but for them it was no escape.

Last September we started our senior league. Eight teams were chosen - Ballina, Dunmore Mc Hales, Charlestown, Roscommon Gaels, Cavan Gaels, Austin Stacks, Nemo Rangers and Tuam Stars .We are into round 5 of the league and shall be resuming battle on Monday week 24th with the eagerly awaited contest between the majestic Stars and the ever improving Cavan Gaels.
To date the Stars from Tuam are setting the pace, while Austin Stacks need to rethink their game performances to date, notably from Dean, Kevin, Maccie, Frankie and Michael.This year the winning team and captain will receive the Thomas Guthnie memorial trophy. So roll on the dry pitch and the fast ball.