We are delighted to report that The new Engineering Building at NUI Galway designed by Taylor Architects /RMJM, which had been shortlisted for the RIAI Irish Architecture Awards 2012 was judged the overall winner 

The building has been shortlisted in both the "Best Educational Building" and "Public Choice" shortlist.
The Citation was as follows:
The New Engineering Building acting as a beacon to the riverside flank of the campus, brings together all the strands of engineering education in an heroic demonstration of the workings of the building for both staff and students to see, and carefully planned passive measures result in over 50% reductions in Energy usage.

Voting for the "Public Choice Award" opened on 6 June 2012 and the public voted for the project as one of a number of buildings shortlisted.

You can go to the RIAI website www.riai.ie or go directly to  ArchitectureAwards.ie to see the winning projects.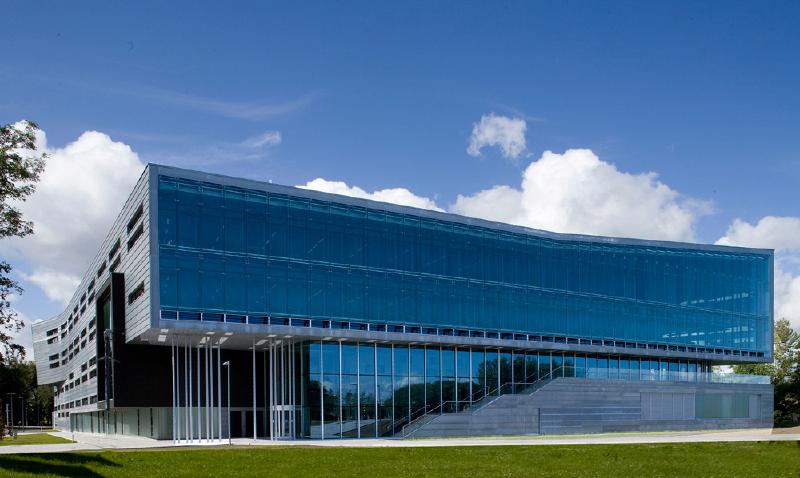 ---
Taylor Architects were the first private architectural practice in County Mayo and was established by the late Sean Taylor on Main Street Castlebar in 1966.

The practice has been involved in some of the largest building projects in the West of Ireland. In Castlebar our office have been design team leaders on Mayo General Hospital, GMIT, Volex, Baxter Healtcare, and others. More recent projects in the town include Davitt College extension and Sports Hall, Mayo Education centre, Business Innovation unit GMIT, Mayo county Library HQ, commercial developments at Hopkins Road (Argos), Lannagh Road (NEXT), Spencer street (Old Cinema site, McDermotts), Rush St (old Kingsbridge site) and Shamble street.

Taylor Architects were the first Carbon Neutral Architectural practice in the Republic of Ireland.

We also led the profession in achieving ISO accreditation in 1996 and are a RIAI accredited conservation practice.

The practice currently employs 25 people and continues to develop with projects such as a €45 million euro expansion at St Patricks teacher training college, Drumcondra,, a new research building at Institute of Technology Tallaght and clients such as Hollister and Allergan Pharmaceuticals. We have recently been appointed as consultants on two large school projects for County Cork VEC in conjunction with Wilson Architecture and will commence on site with a number of multi million euro school projects in Mayo and Galway in 2012.

As is the history of the practice we carry out work at all levels and scale, and we have also just completed projects such as a two classroom extension to Scoil Raifteri, Castlebar, a three classroom extension to St Geralds College Castlebar and a single classroom extension to Parke National School as well as private and one off private projects.
---