Women Entrepreneurs growing real opportunities in Mayo
A large number of people attended the GROW Business Enterprise seminar which took place recently in Castlebar Tennis Club. Budding enterpreneurs had the opportunity to hear more about the opportunities and supports that are available for people setting up their own businesses here in Mayo.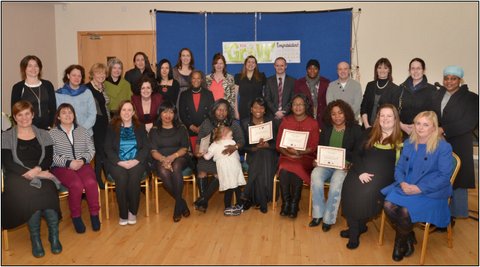 GROW participants, mentors at the seminar held in the tennis club recently. Photo: Alison Laredo.




The GROW programme - Growing Real Opportunities for Women is an EU funded programme run by Mayo Intercultural Action, providing supports for women to set up their own businesses. Over the past two years, 57 women from throughout Mayo have availed of training, mentoring and advice to support them to develop successful enterprises.

At the seminar, Helena Deane, committed promoter of female entrepreneurship and owner and senior consultant for Business Connection Ireland shared her invaluable knowledge and experience of entrepreneurship with the group. Abimbola Anjorin, owner of Afro-Caribbean Food Shop in Castlebar spoke about the challenges and benefits of running a successful business and offered hope and encouragement to all budding female enterpreneurs.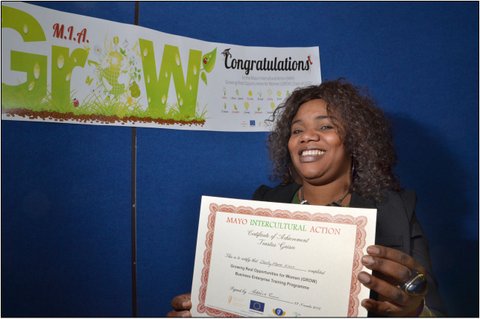 Chanty Ntema Kisima, GROW participant proudly shows her certificate of completion. Photo: Alison Laredo.




Other speakers at the seminar included John Magee from Mayo County Enterpise Board and Breda Murray from South West Mayo Development Company who both informed people of available supports and encouraged people to avail help and supports that is available to enterpreneurs while two GROW participants, Siobhan Foody, and Jennifer Awodibu highlighted the value and benefits to their own start-up businesses of participating on the GROW programme encouraging other women to come forward and participate on future enterprise programmes.

Certificates were presented to the GROW participants who recently completed the programme.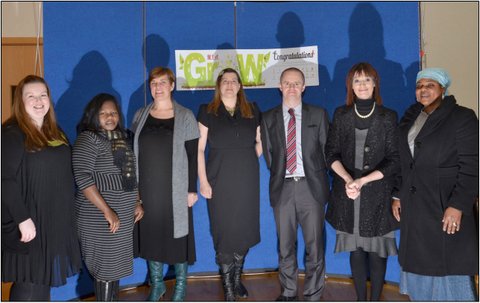 Speakers at the GROW seminar, course participants, Siobhan Foody, Jennifer Awodibu, Therese Ruane, GROW Programme Coordinator, Helena Deane, Business Connection Ireland, John Magee, acting CEO Mayo Enterprise Board, Breda Murray, South West Development Company and Abimbola Anjorin, Business Woman and owner of Afro-Carribean Food Shop. Photo: Alison Laredo.
GROW Programme Coordinator, Thérèse Ruane, thanked the speakers for their contributions and wished the participants well in their new businesses. Speaking about the GROW programme and female enterpreneurship, she said:
"Over the past two years, our work with women participating on the GROW programme has proved hugely successful in supporting women setting up businesses here in Mayo. Many new businesses are now up and running and span a broad range of areas and sectors such as: IT and internet businesses; tourism ventures; hairdressing and beauty; craft sector; agri-food businesses; retail shops; clothes and alterations businesses; health and life coaching; health-care industry, etc. Others on the programme are well on their way to establishing their enterprise and growing their business idea. It's small and medium enterprises like these that will put Ireland and Mayo back on its feet again and that will provide much needed sustainable employment into the future. Every effort and support must be in place to foster female entrepreneurship and it's programmes like GROW that is making a real difference.
"We are really appreciative of the continued support from Mayo County Enterprise Board, GMIT Innovation Centre, South West Mayo Development Co; Mayo North East Leader Partnership Co and the EU Equality for Women Programme. I'd also like to acknowledge the hard work, commitment and enthusiasm of the business mentors and tutors who worked on the programme."
"Women's contribution to the economy and female entrepreneurship is often overlooked. Women who participated on this programme are highly motivated, talented, creative people with a wealth of knowledge, ideas, and experience and have so much to offer to get the economy going again here in Mayo. I wish them continued success in their enterprises into the future."