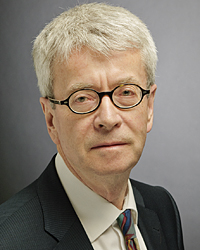 Paul McNulty

Emeritus Professor Paul B McNulty of UCD has been selected to receive an "Outstanding Manuscript Reviewer Recognition" from the American Society of Agricultural and Biological Engineers. Chosen as one of 11 awardees out of more than 900 reviewers, the award will be presented at the ASABE international meeting in Montreal next July.

This is the second award McNulty has received from ASABE having been the recipient of a "Paper Award" in 1981 in recognition of authorship of a contribution to agricultural engineering literature of exceptional merit.

Born in Tuam, Co Galway and raised in Castlebar, Co Mayo, Paul now lives in Dublin with his wife, Treasa Ní Chonaola of Lettermullen, Co Galway. He has three children, Dara, Nora and Meabh, and a grandchild, Lily Marie.



---
OUTSTANDING REVIEWERS
RECOGNITION
The high quality of ASABE'S peer-reviewed journals could not be maintained without reviewers willing to spend hours evaluating author manuscripts and making suggestions for improvements.
The Reviewer Recognition program developed by the Refereed Publications Committee honors 10 to 11 outstanding reviewers each year. For the 2013 publication year, more than 900 reviewers participated in the review process. During the year, associate editors ranked reviewer timeliness and review quality. Each division then selected an allotted number of reviewers based on the number of manuscripts reviewed.
Outstanding Reviewers
for 2013 Publication Year
Biological Engineering Division
Paul B. McNulty, II
Ergonomics, Safety and Health Division
Michael L. Pate
Information and Electrical Technologies Division
James A. Hardin
Food and Process Engineering Division
Jason K. Ward
Jaya Shankar Tumuluru
Power and Machinery Division
Daniel K. Fisher
Paul H. Heinemann
Soil and Water Division
Daniel S. Andersen
Freddie Lamm
Brian L. Benham
Structures and Environment Division
Morgan D. Hayes