Inf.
Snr.Infants
1st*
2nd
3rd*
3rd*
4th*
4th*
5th
6th*
6th*
Special
Classes
Lang.U
SipPrj
Archives*
Email

WWF stands for world wrestling federation. My top 11 wrestlers are Mr. Ass, Kane Undertaker, Jeff Hardy, Matt Hardy, the rock, HHH, X~pac, Stone Cold Steve Austin, Y2J. Wrestler's climb ladders jump over to the other side and land on people other people put people through tables other people just hit people with different weapons
Darragh H.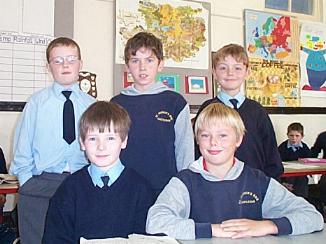 Some more of the hard working third class boys
One Monday night last June Vince McMahon made a triple threat match for the three No.1 contenders for HHH's WWF championship. The Rock came out. When Kane and The Undertaker came out he was ready for them. They both helped each other beat the Rock up so they could fight it out together. But then Rock countered and sent Undertaker outside the ring. Then HHH came from the ringside and hit Undertaker with a steal chair. Then the Rock done the rock bottom on Kane and pinned him to win the match. Then HHH came into the ring and hit the Rock with a steal chair and the rock was out for about five minutes.
James C.
One day the Rock and Kane wear fighting in the ring. Rock done a Rockbottom on Kane and Kane was on the ground. When Rock was looking at the crowed Kane got up when Rock turned around Kane done a choke slam on Rock. Rock was in pain he tried to get up when Rock was up Kane was on the top rope and he jumped of the top rope on to Rock and that's how Kane won the match.
Philip R.