Another Hugely Successful Production For
Parke Arts & Drama Group
The Parke Arts & Drama Group have just completed a hugely successful four night run of the wonderful 3 Act Comedy - Fortunes & Misfortunes in Parke Community Centre.  During the four night run well over 500 people attended the production and were treated to a fantastic show.  On Friday night, the playwright, Jimmy Keary was in attendance and he was suitably impressed by the performance of all involved saying: "I just want to thank you all for choosing my play, for all the hard work you put into it over the past number of months and for the great performances you all gave tonight. It's great to see my work come to life like that.  It made me laugh a lot - and I wrote the play - so it must have been good.  It would be unfair to single out any member of the cast for mention as everyone gave it 110%."  Other audience members were equally impressed with the production and those who had attended past productions commented on the continued rising standards that the group are achieving year-on-year.
Vincent McHale, Director, paid tribute to all the Cast members who have committed an enormous amount of time to the since last September, he said "all that hard work really paid off over the last four night, you could see the cast growing in confidence each night".  He also paid tribute to the sizeable backstage crew and technical personnel involved saying: "Often people don't realise how much work goes on behind the scenes, these guys are the ones who pull everything together and keep the show running smoothly", he paid special tribute to Breda Morris who is the ultimate multi-tasker, from assisting the director, to producing the show, to set design and construction and wardrobe and make-up.  Breda was responsible for the set design this year with her Cafe scene really catching the eye.
The Group would like to thank everyone who attended the production over the four night run and all the sponsors who gave generously as always.  The Group is also grateful to Parke Community Centre and the Committee for the use of the premises for both rehearsal and the show itself, without their support the show would not be possible.  Proceeds from the production will go towards Mayo Autism Action who help children with Autism in Mayo.  The Group will now take a break over the summer during which time they will be researching new plays for next year; they will return in September for auditions and then straight into rehearsals.  If anyone would like to join the Group they would be delighted to invite you along as they are always looking to grow their numbers and bring new talent to the stage - both front and back.  For more information visit: www.parkedrama.com or email: info@parkedrama.com you can also call Vincent on 087 4106496.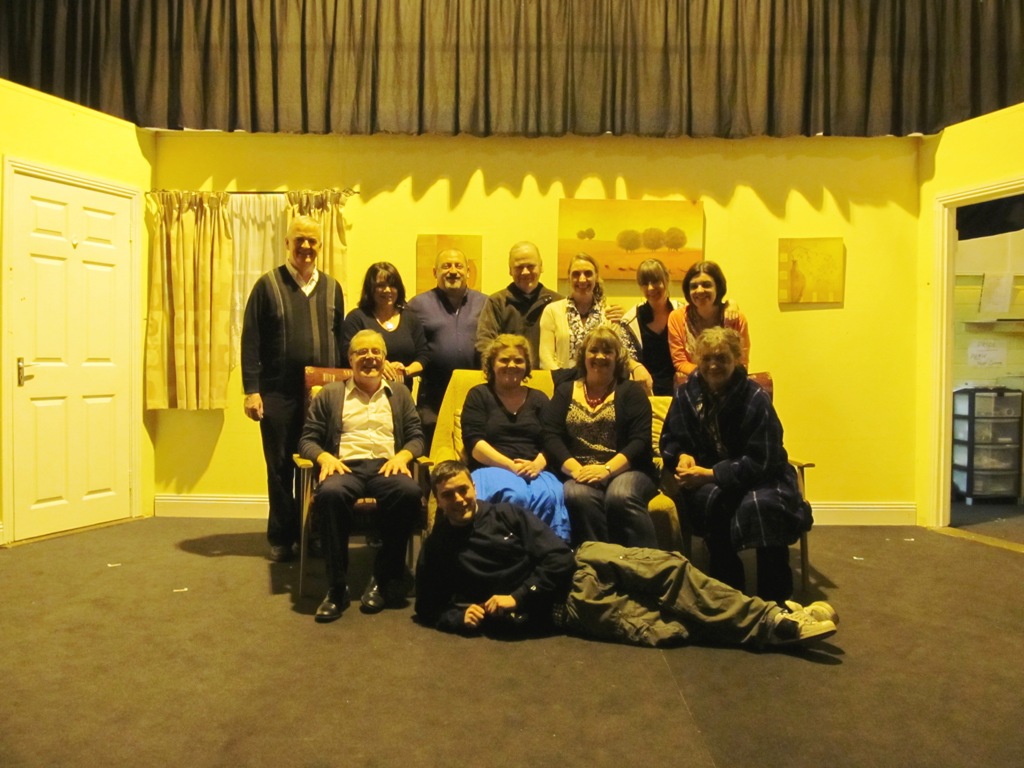 The Cast of Fortunes with the Playwright Jimmy Keary (Centre Back)