We need to include asylum seekers to our communities from day one
Mayo Intercultural Action, project of South West Mayo Development Company, welcomes its volunteer and Steering Group member Kany Kazadi participation at the seminar 'Ireland's Response to the Global Refugee and Migration Crisis: From International Protection to National Integration' organised by the Irish Human Rights and Equality Commission on the 1st February in Dublin.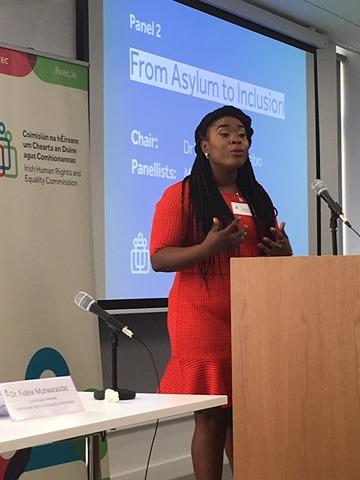 Kany Kazadi speaking at the seminar

Speaking at the panel 'From Asylum to Inclusion' Kany raised the importance of integration for asylum seekers from day one: 'People live in limbo for too many years and leave Direct Provision broken and disempowered. It is not fair to penalise us for seeking protection from war and conflict by locking inside the institutions for an unpredictable length of time. The opportunity to provide for one's family is crucial for everyone and people should not be forced to sit idle for years. Participation and visibility are crucial for including asylum seekers to our communities and that is where the projects like MIA are important.'


Originally from the Democratic Republic of Congo and after herself spending 4 years in direct provision in Ballyhaunis, Kany now lives in Castlebar and is a passionate advocate of the need for support for integration particularly in rural areas. Kany has spoken widely in the local and national media about her involvement in her local community, her support for Mayo GAA, and the need to end the current system of Direct Provision.