Trying new things is essential if the fight for rural Ireland is to be won.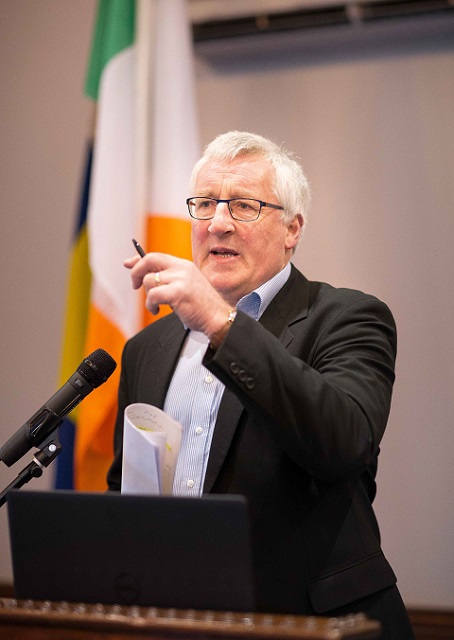 Pat Spillane

Rural Ireland champion Pat Spillane has said that arresting decline outside urban areas will only happen if the fight-back is led by the communities themselves.

Speaking ahead of the 'Building Rural Community - Lessons from Sport' conference on Wednesday (March 29th) at MIC, St. Patrick's Campus, Thurles, Chairman of the Commission for the Economic Development of Rural Areas (CEDRA) Pat Spillane said that rural communities need to be more creative than they have ever been before but that the fight can be won.

"The harsh reality is that the world we live in today is putting a squeeze on many parts of rural Ireland like never before and many areas are having to fight very hard to stay alive. They will continue to feel that grip unless they change," he warned.

"Quite simply, we need to envisage rural communities differently. We need to be more innovative perhaps than we've ever been before as doing the same thing is not going to work. We need to reimagine rural communities, look at everything differently, explore new opportunities. We need to challenge ourselves to find new ways of making things work and not to be afraid to try new things.

"We will do nothing either without adopting the old spirit of the 'Meitheal'. In some areas, that has been lost to a degree because parishes are losing their lifeblood - their people. We need leaders, need new thinking but we need the community coming in behind them. We also need the supports that are out there to be as simple as possible to access. Once all that energy, creativity and structure comes together, anything is possible. The battle can be won and it is definitely worth fighting."

Also speaking ahead of the conference, organiser Fr. Eamonn Fitzgibbon, Head of the Institute for Pastoral Studies at MIC, said that the response to the event has been very encouraging. "We are getting a lot of feedback, a lot of people saying they are going to go. The reality is that people care about rural Ireland and that's half the battle. We just need to mobilise ourselves a lot better than we have in the past but with new thinking, we can get there. But we are going to have to be courageous and do things that we haven't done before.

"What we want from the conference is essentially to get people thinking differently, looking at things in a new way. Our speakers are all synonymous with success and none of them would have succeeded without trying something new. So if we can get inspiration from them, then we have a start for sure."

Interest in the event is already strong, with tickets, which cost just €10 and can be booked at www.buildingruralcommunities.com or by contacting MIC, St. Patrick's Campus, Thurles at 0504-21201, selling quickly. The event commences at 7 p.m. and concludes at 9:30 p.m.