Last Updated:

2, Apr 2018 - 10:02
---
The Baxter International Foundation has donated US$230,000 to Hope House in County Mayo and The Irish Hospice Foundation in Dublin.



The grants, provided by the philanthropic arm of Baxter Healthcare, a global healthcare company, will support access to healthcare across the Irish Region. The grant of US$109,000 to the Irish Hospice Foundation will support a pilot programme to train healthcare specialists in palliative care to expand access to non-cancer patients in Dublin. The grant of US$120,000 to Hope House will support in expanding substance abuse counseling by funding a new Addictions Counsellor post.



Speaking at the cheque presentation ceremony today, Alton Shader, Managing Director, Baxter Ireland said, "We are delighted that The Baxter International Foundation has made these grants to support these valuable services in Ireland. It is a true recognition of the excellent level of services that both these organisations offer." The event was also attended by Christian Joergensen. Baxter General Manager for Western Europe.


Celene Peurye, Executive Director of The Baxter International Foundation added, "The ethos behind the Foundation is that we wish to help expand access to healthcare services around the world, particularly in areas that are underserved. Both of these organisations show a dedication and commitment to the causes they serve and we hope that the funding builds on the already excellent services that they offer to the community in Ireland."


Dolores Duggan, Co-Director of Hope House said, "We are delighted to be the recipients of the Baxter grant and very grateful to the Baxter Foundation. This grant has afforded us the opportunity to expand and enhance our services to addicted people and their families."


Mary Millea, Business Development Manager for The Irish Hospice Foundation said, "The Baxter Foundation grant is hugely important to the Irish Hospice Foundation. This grant is very much welcomed as it has enabled a very important programme to be initiated by the Foundation. The initiation of this 'Extending Access Programme' means that people with life-limiting conditions other than cancer will have their palliative care needs recognized and responded to in acute and primary care settings."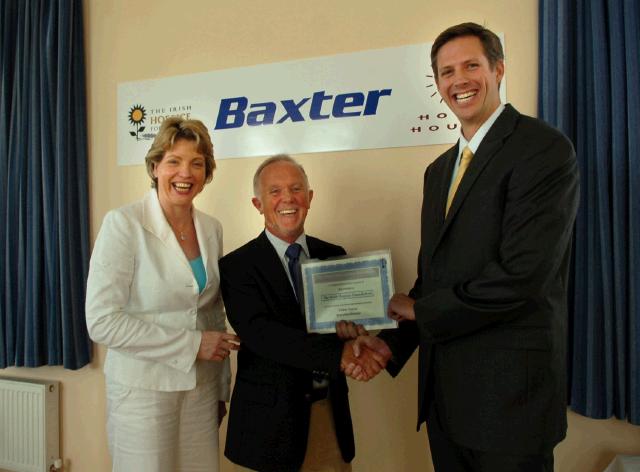 The Foundation has made a number of high-profile grants to organizations in Ireland over the past 10 years. The Family Centre, Castlebar, Co Mayo, Ireland, has received two grants from the Foundation. In 1994, the Foundation made a grant to the Paul Newman "Hole in the Wall" Barretstown Gang Camp in Co. Kildare for terminally ill children and continues to support the project. Other former recipients of a grant from the Foundation in Ireland include Mayo Roscommon Hospice Foundation, Mayo Women's Refuge Centre, and the Western Health Board.


---




The Baxter International Foundation


The Baxter International Foundation, the philanthropic arm of Baxter International Inc., helps organizations expand access to healthcare in the United States and around the world. The foundation, established in 1981, began to focus exclusively on increasing access to healthcare in 2002 - particularly for the disadvantaged and underserved - in communities where Baxter employees live and work.

Beyond its charitable giving, Baxter's commitment to advancing environmental stewardship and social responsibility spans three decades. The company is included in the Dow Jones Sustainability Index and has been recognized by Innovest Strategic Value Advisors as one of the Global 100 Most Sustainable Corporations in the World and by Corporate Responsibility Officer magazine as one of the 100 Best Corporate Citizens. Baxter is a member of the Center for Corporate Citizenship at Boston College, the Business Environmental Leadership Council of the Pew Center on Global Climate Change, the Chicago Climate Exchange, the U.S. EPA's Climate Leaders and the Ethics & Compliance Officer Association. Baxter endorses the Ceres principles and is an organizational stakeholder of the Global Reporting Initiative. To learn more about Baxter's sustainability initiatives, please visit www.baxter.com/sustainability.



About Baxter


Baxter Healthcare Ltd. is the primary domestic operating subsidiary of Baxter International Inc. (NYSE: BAX). Baxter is a global, diversified healthcare company that develops products and therapies to make a meaningful difference in the lives of people with life-threatening conditions such as haemophilia, kidney disease, immune disorders and other chronic and acute conditions.



Baxter in Ireland


Baxter Ireland has been established for over 40 years. Facilities include business centres in Dublin and Belfast, a state-of-the-art compounding facility in Dublin and Belfast and renal care centres in Antrim and Dublin. Manufacturing facilities are located in Castlebar and Swinford. In total, Baxter Ireland employs in excess of 1300 people.



About Hope House


Hope House is a Rehabilitation Centre specialising in the treatment of alcohol, drugs, gambling and other dependencies. The environment of Hope House is reflective, respectful, warm and welcoming. The programme at Hope House is designed so that residents learn to become responsible for their own recovery.



About The Irish Hospice Foundation


The Irish Hospice Foundation is a not-for-profit organisation that promotes the hospice philosophy and supports the development of hospice/palliative care. The vision of the Irish Hospice Foundation is that no one should have to face death or bereavement without appropriate care and support. Its aim is to facilitate the practice of hospice care in all its aspects by working independently as well as in partnership with the statutory, voluntary and professional bodies concerned with hospice and palliative care in Ireland.






© Copyright 2009 by © Contributor(s) and Castlebar Web Pages 1997 - 2018

.. Top of Page



---