Saturday 9th of October will see the 4th annual music fundraiser for CARI (Children At Risk In Ireland). This will take place at Mulroy's, Bar Ritz, Castlebar from 9pm on. Previously known as the CARI Rock Ball, this was held alongside a charity Cream Cracker Challenge.
This year it was thought that it would be an idea to take this a step further and it has been renamed the CARI Chocolate Challenge. We have approached the Guinness Book of Records to use an Irish chocolate to record a chocolate eating record. However this year's fundraiser has gone a little further than a charity event & has become a little show of solidarity by local people in times of doom & gloom in sacrificing a moment of potential Guinness World Record fame!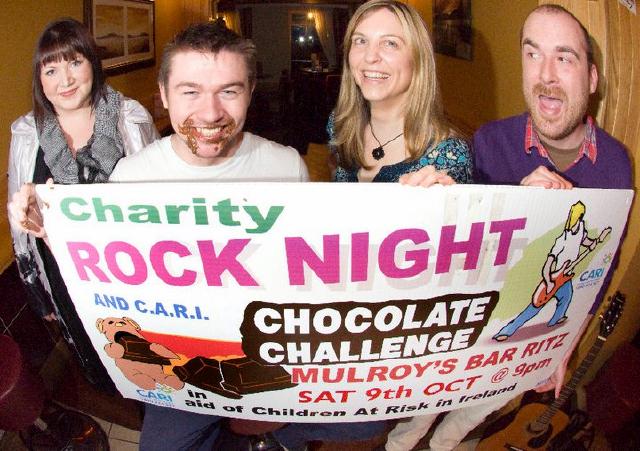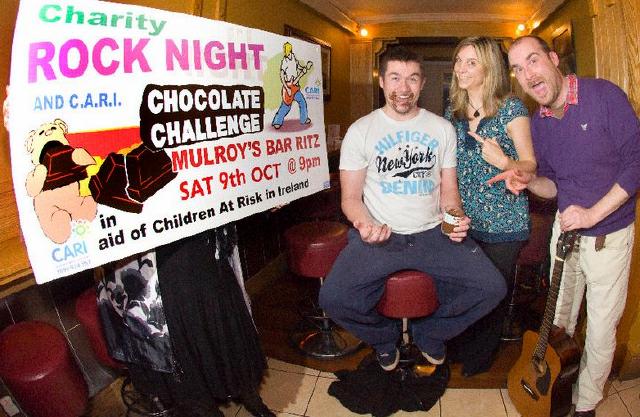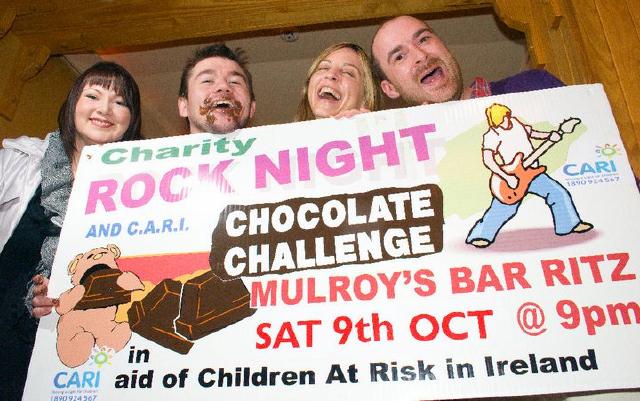 Although the Guinness Book of Records officially accepted the plan to run a challenge albeit on their suggestion of on an alternative foreign product, the contestants were unanimous that they would prefer to hold an Irish Record attempt using an Irish product rather than achieve potential fame at a World Record event! They all wished to stay by original proposal, with an Irish company of whom they have absolutely no connection to other than fond childhood memories & possibly a few lost teeth for charity! The event will still be held to Guinness Book of Records standards & as part of previous CARI charity challenges, those taking part includes previous & new contestants as well as local politicians & journalists on Saturday 9th October from 9pm.
In association with Finbar Hoban Presents, further to playing commendable support to Dolorentos earlier in August, Kildare Band Miracle Bell have generously agreed to return to Bar Ritz to headline the CARI (Children At Risk In Ireland) fundraiser. Not only are Miracle Bell fine musicians, but they are wonderful people as well! Having kindly forgone their usual fee & are travelling to Castlebar all the way from Kildare solely to give their support to the CARI fundraising event! Many enjoyed their last Bar Ritz appearance & eagerly sought Miracle Bell's debut album "Light Shape Sound". For a taster of the talents of Miracle Bell, their current single "Love Sounds" is available to download from iTunes their full, accomplished performances have been perfected through their love of music & a long term commitment to their Indie, pop, electronic sound. The second band announced for the night are Sligo Band Odd Socks Revival who recently played support to Director at Bar Ritzm, again these lads are playing free for charity. Any one who saw them recently can vouch for their fun loving eclectic performance style, while delivering top class musical entertainment with their powerful four part vocal harmonies.
The fundraising event planned is as much to spread information on CARI for those families who need it, as well as raising much needed funds for CARI which provides nationwide counselling & support services for sexually abused children & their non-abusing family members. More information on CARI can be obtained on www.cari.ie.