Immerse yourself in Mayo's pre-historic culture, and come and view the Boheh Stone, a unique Neolithic feature.
Come on this guided walk and join local archaeologists to hear about this site and (weather permitting!) experience the amazing "Rolling Sun" phenomenon for yourself.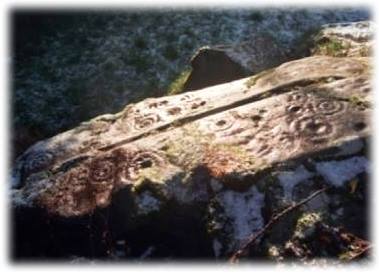 Neolithic Rock Art.


Guest speaker Mr. Leo Morahan, Archaeologist has been confirmed for the evening.
---
WHEN THE SUN ROLLS DOWN THE MOUNTAIN
For two days every year you can see what is known as the 'Rolling Sun' when you look at the mountain from St Patrick's chair. The Rolling Sun is when the sun sets at such an angle that it appears to be rolling down the mountain rather than disappearing behind it. You can see the Rolling Sun on April 18th and August 24th.
---
Meeting at Brackloon Community Centre
Saturday April 18th at 7.30p.m.
Walk distance: 1km - rated "easy", no specialised gear required.
Refreshments served afterwards.
Cover charge of €5 requested
For info: Call Greg / William at 094 9030687