New opportunities for start-ups and existing businesses in Mayo and the west region were outlined at the annual Spirit of Entrepreneurship event in GMIT Castlebar last evening (Mon 17 Sept).
Among the supports are the new Enterprise Ireland €200,000 Competitive Feasibility Fund announced by the Taoiseach Enda Kenny, a new enterprise acceleration programme operated in GMIT's Innovation in Business Centres, the Graduate Entrepreneurship Programme (GEP), the EI Innovation Voucher scheme, and other supports available in GMIT's two Innovation Centre in Castlebar and Galway.
The new EI Competitive Feasibility Fund is earmarked for start-ups in the west region and provide up €25,000 per project, with the aim of creating jobs and growth in the west. The fund is now open for applications from entrepreneurs in counties Galway, Mayo and Roscommon.
Full details of the Fund including the application form are available on the Enterprise Ireland web site: www.enterprise-ireland.com/cffwest
GMIT runs a number of programmes in its two Innovation in Business Centres (IiBCs); the new Enterprise Acceleration Programme (EAP) funded by South West Mayo Development Company, New Frontiers Programme funded by Enterprise Ireland and the Graduate Entrepreneurship Programme (GEP).
The EI Innovation Voucher scheme which has been running for several years provides funding for companies to carry out research with third level colleges including GMIT, with the aim of helping grow their business.
Opening the event, GMIT President Michael Carmody said that the development and support for entrepreneurship and new and innovative businesses and industries has become a key focus of GMIT in recent years and forms one of the five pillars of the Institute's Strategic Plan.
"In the current economic climate it is even more important that the expertise of staff in the institute and the facilities available are mobilized to a far greater extent to support the development of new and innovative market-led, high-growth indigenous industries and in particular to identify and grow those which have the potential to operate in a global marketplace," he said.
Some three hundred people attended the "Spirit of Entrepreneurship" event in GMIT Castlebar last evening, which was sponsored by Lionbridge Technoloiges. Two leading entrepreneur businessmen, Terry Clune, founder of Taxback.com and Michael Dwyer, founder of pigsback.com, told of their start-up experiences while client companies in the GMIT Innovation Centres also pitched their business ideas to a panel of Dragon's Den experts.
The winner of the Dragon's Den pitch was Alan Dowling from VBC for his artificially intelligent holographic presenter which is currently on show in Dublin Airport. He pitched his business along with two others, Stephanie O'Malley of Education Desty and Colm Rochford of Powersavvy. AIB presented a cheque for €1,500 to the winner.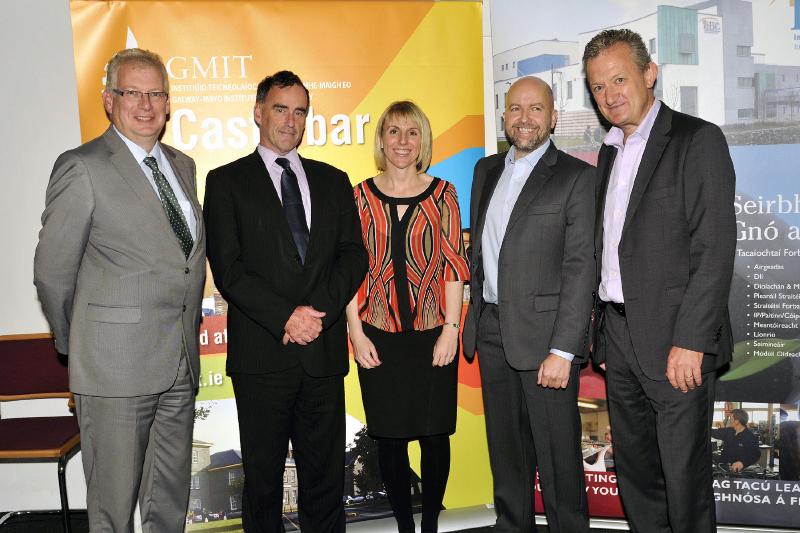 GMIT/IiBC Spirit of Entrepreneurship Event held in GMIT Castlebar.
Maria Staunton Centre Manager of the IiBC GMIT Castlebar says attendees were very happy with the information and knowledge they acquired at the event. "There is a real appetite in the region for start-ups and supports. Many guests learned for the first time about the Innovation Voucher scheme funded by Enterprise Ireland."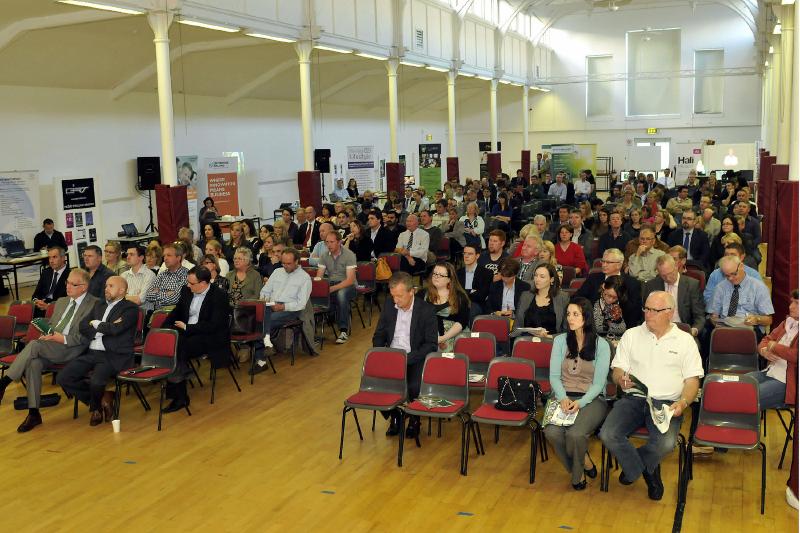 GMIT/IiBC Spirit of Entrepreneurship Event held in GMIT Castlebar. Photo © Ken Wright Photography 2012.
"So far only eight businesses in Mayo have accessed the scheme which provides €5,000 worth of support to companies with less than 50 employees. The application deadline for this scheme is 30 September. Companies can approach any college in Ireland to use this voucher. GMIT's Innovation in Business Centres to-date have carried out €1m in research with client companies."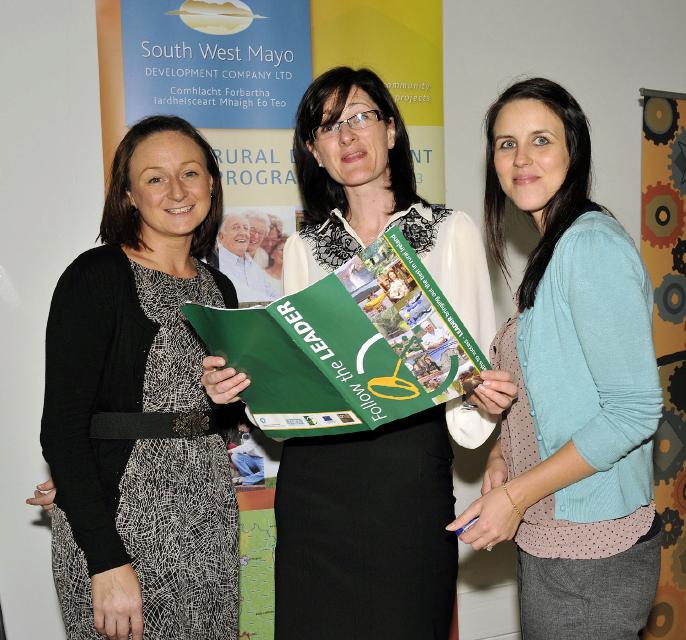 GMIT/IiBC Spirit of Entrepreneurship Event held in GMIT Castlebar. l-r; Lorraine Toner and Sabina Trench from the South West Development Company chatting to Stephanie Columbanie. Photo © Ken Wright Photography 2012.
GMIT's two Innovation in Business Centres, at the Castlebar and Galway campuses provide excellent supports to entrepreneurs and start-ups in the region, offering space, entrepreneurship programmes, mentoring, specialised clinics, networking for clients within the centre and access to GMIT research.