"Spurring on Innovation in Mayo & West Roscommon"
The new Innovation in Business Centre (IiBC) at GMIT Castlebar is officially open for business. The 485sq metre centre is located on campus at GMIT Castlebar has been built to stimulate high-tech innovation in various sectors such as ICT (Information & Communication Technology), Chemical & Pharmaceutical, Medical Devices, Biotechnology, Aquaculture & Marine Sciences, Environmental Technology, Construction, and Manufacturing.
The National Development Plan (NDP) 2000-2006 committed to spend €2.48 billion for research, technological development and innovation as part of its policy to ensure that Ireland will be one of the foremost knowledge-based economies with world leading centres of excellence in fields such as life sciences, medical technologies, software and IT.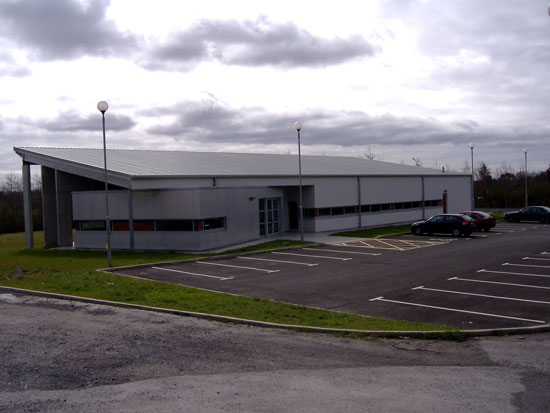 The aspiration of the NDP is to have balanced regional development. Improving the access infrastructure, developing enterprise support systems and building regional networks are key elements to achieving this development. Enterprise support will involved the development of a network of centres in partnership with industries, third level collages and communities to ensure that start up companies have access to incubator space. This is especially important in helping to induce and attract industry to cater for a population with relatively high educational attainment with new technology start-ups. Future employment strategy will need calls for the creation of intellectually based enterprises. Such enterprises will, in global terms, have a competitive market advantage and will be export oriented. The Government recognises the importance of a local dimension to enterprise and employment creation and the importance of developing the capabilities of local communities to tackling unemployment and pursuing local and regional development.
Enterprise Ireland has invested €40 million for business incubation granted to 16 Institutes of Technology. The aspiration of the NDP is to have balanced regional development. €1.35 million of this money has been allocated to the IiBC Mayo at GMIT Castlebar. The new centre has the potential to be the focal point for technology transfer and commercialisation of research in the region. The centre will provide the ideal environment for the Institute and business to collaborate in bringing new ideas to the manufacturing stage. Maria Staunton (Head of the Iibc Mayo) sees the need in developing an "enterprise culture" in both Mayo and West Roscommon "the centre will encourage future generations of school-leavers to follow an educational path leading to enterprise start-up. There is a huge need for entrepreneurial activity in this region or otherwise the 'brain drain' of undergraduates and postgraduates to the East of Ireland will continue". A small percentage of graduates with primary degrees and even fewer with higher degrees can find their employment in the Western Region.
The centre is located on the campus at GMIT Castlebar and has seven units varying in size from a number of small units approximately 19 square metres up to a larger unit of 75square meteres. Concept Space (desk space) will also be available to individuals who are at the early stages of business start-up. The Concept Desk Space allows individuals to examine the feasibility of their venture, which may in time develop into a project for incubation space. There are also two units for applied research.
The potential start-up companies will have innovative, technology based ideas across a range of sectors and will be drawn from Industry (either employees / management wanting to set up their own business or wishing to establish a new entity through introducing a new product/service range), College Graduates, EDP Program (Enterprise Development Program), Agency Referrals, expatriates etc. It will provide clients with a modern fully equipped, fully serviced and secure facility at competitive prices and will provide an array of supports services including space, business advice, funding opportunities, training and mentoring, linkages to business networks and access to a community of peers. It will house like minded individuals and companies with similar goals. The major advantage for clients will be availability to access resources at the GMIT in Castlebar and Galway. "You may have an innovative idea but do not have the adequate resources (such as time, money or knowledge in specific areas) to develop this idea. This may involve producing prototypes, test-marketing, analysis of marketing plans and sales projections, cost studies, and more. The research and development stage is the critical stage for any entrepreneur".
The centre will establish the appropriate links with the college. The GMIT have developed research centres such as the Aquatics Research Centre, The Centre for Product Design and Innovation, West or Ireland Centre for Tourism and Hospitality Research, The Centre for Research into Natural Resources and the Built Environment and a Software and Multi-Media Research Centre. Such links will allow a "win-win" relationship for both the GMIT and Industries in the region.
IiBC Mayo is not just about providing physical space at subsidised rates, it's the 'value added' that such a premises can provide through a range of business support services. These services can enhance survival rates and success of the business and increase entrepreneurial activity in the region.
For further information on the centre contact Maria Staunton at 094-9027492