GMIT Mayo recently launched a new honours degree in History and Geography (CAO code GA887), commencing September 2016. As part of this, the campus has commenced a process of establishing new links with international colleges, with a view to enhancing learning experiences for GMIT students on new and existing courses, while also increasing opportunities to study abroad.
Students from Berea College, Kentucky, US, visited the campus this month (June), accompanied by faculty member Prof Broughton Anderson from the Art History programme, and were taken on a tour of Moore Hall, Co Mayo by lecturer Fiona White, Chair of the History and Geography programme. Ms White is currently in the process of completing doctoral research on the Moore Hall estate, exploring the history and heritage of the family and estate.
During the tour the group considered the impact of the landed estates on the landscape in Ireland. Ms White said: "We were delighted to have this opportunity to showcase GMIT, share our research and give the Berea College students the opportunity to consider the Irish historic landscape with reference to the case study of Moore Hall".
GMIT Mayo Head of Campus, Dr Deirdre Garvey, noted the importance of fostering international links, adding; "Such interactions are beneficial for both GMIT and Berea College and demonstrate the quality of the research being undertaken at GMIT Mayo. Students on our new honours degree in History and Geography will benefit from this insight and experience".
Dr Deb Rotman of the University of Notre Dame, who has been serving as a Fulbright Scholar at GMIT Mayo this year and co-ordinated the Berea College link with GMIT Mayo, says: "Collaboration is the cornerstone of exceptional research. Dr Anderson's work on the clearances in Scotland is relevant to Ms White's historical investigations of Moorehall as well as my own project on tenant settlements and landed estates in Erris Barony."
"The visit by Berea College facilitated a robust exchange of ideas that benefited faculty and students alike and has paved the way for future engagement among our educational institutions".
For further details on the Level 8 BA (Hons) in History and Geography (GA887), please contact Ms Fiona White fiona.white@gmit.ie or visit http://www.gmit.ie/heritage/bachelor-arts-honours-history-and-geography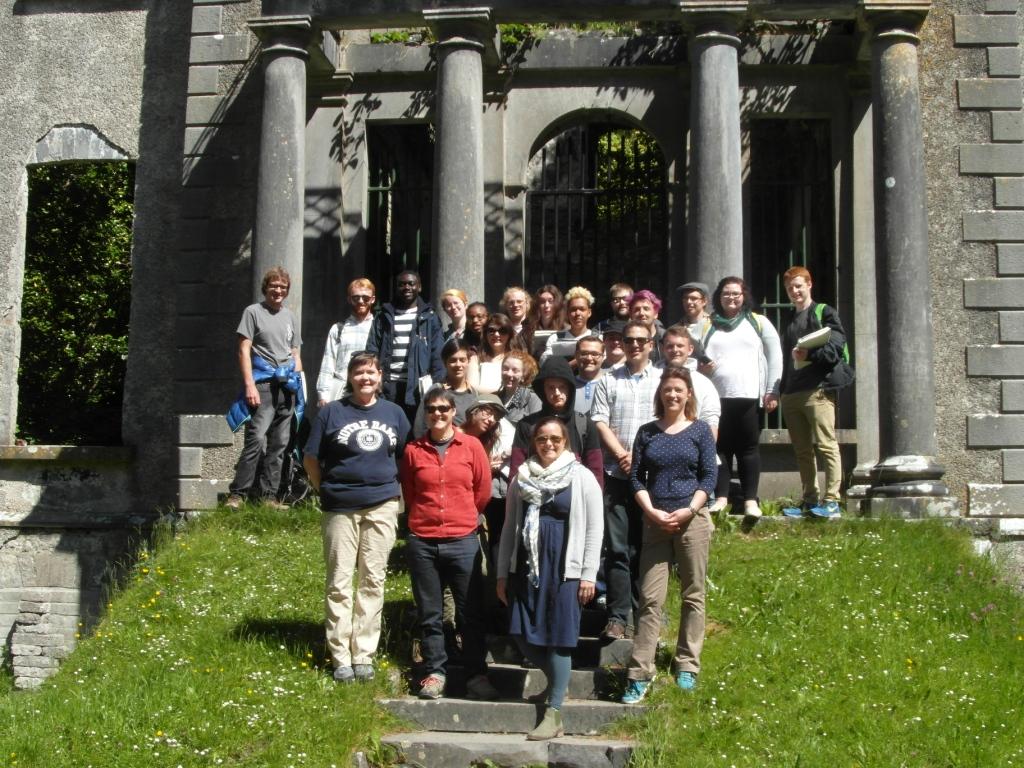 Pictured outside Moore Hall are students and staff of Berea College, Kentucky, USA, including Prof Broughton Anderson, GMIT Fulbright Scholar Dr Deb Rotman of the University of Notre Dame and GMIT lecturer Ms Fiona White from the new History and Geography course (CAO code GA887).