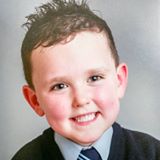 Jake Brennan

Did you know Speed limits in housing estates in Ireland is currently 50km/h? However these speed limits in housing estates and residential areas across the country are to be reviewed thanks to the pressure and awareness Jake's Legacy have put on the Government. ('Jakes Legacy' was set up in memory of little Jake Brenann who was six years old when he was knocked down and killed by a car in a housing estate in Kilkenny. The Mayo facebook page is at: Mind Our Children)

Transport Minister Paschal Donohoe issued a circular to city and county councils calling for an examination of speed limits in residential areas and housing estates to improve road safety for cyclists and pedestrians, especially children it acknowledges the work Jake's Legacy has done thus far.

The circular sets out the results of a recent survey carried out by the department. It found that 14% of housing estates have ramps, 1.5% of estates have 30km/h speed limits and that €3,200 is the average cost to install an individual speed ramp.

The department has proposed a process for local authorities to tackle speed in traffic estates. It includes:

- Consultation with local residents to determine if they believe speed limits are too high in their area; Bye-laws for the new 30 km/h limits for the selected estates and zones to be adopted where needed;

- The use of a combination 30 km/h speed limit sign in conjunction with a yellow warning sign showing "children at play" at the entry to a housing estate;

- The consideration of other traffic calming measures, including the use of ramps;

- Monitoring of the new speed limits to ensure that the measures put in place are effective.

Councils have been requested to draw up a timeline for completion of the process and to submit the proposed timeline to the department by the November 7.

Jake's Legacy are now calling on your help, They want Ireland to Unite to put pressure on the relevant local authorities to take action, if we dont keep the pressure on this issue will be ignored and how many more will die.

Stand up take action and help us create Jake's Legacy.