Almost 200 schoolchildren will pedal their way through the streets of Castlebar on Thursday 28th May 2015 in a novel road safety campaign.
Specially-trained Garda cyclists and cycle instructors will pass on road safety skills that could help to keep the children save and alive on the nation's roads.
Each team was accompanied by a judge at the event in Castlebar and tested on a wide range of cycling abilities, as part of an initiative by Mayo County Council and Mayo Garda Siochana.
"It is crucial that people learn how to cycle safely on our roads from a young age, and we aim to show them some of the key aspects of road safety and it is also a great way of showing pupils that there are very real, much healthier and environmentally friendly alternatives to using the car," said Mr Noel Gibbons Road Safety Officer.
Participants in the school cycle safety competition Westport
Miss Eva Gannon Green Schools Travel Education Officer, An Taisce stressed the importance of cycling safely: "Cyclists don't have steel armour round them like drivers do, but when cyclists receive cycle training there is no smarter form of travel than the bike."
The teams consisted of three students over the age of ten. Complete with bicycle and helmet, they manoeuvre their way through the traffic and utilised the lessons they have learned during cycling proficiency courses in their schools over the past year.
"The cycle safety competition is a fantastic initiative and most of us that commute in urban areas know the risks and the safety issues".
The event is being organised in association with the Mayo Garda Siochana, RSA, Mayo County Council, Bus Eireann and Mayo Civil Defence.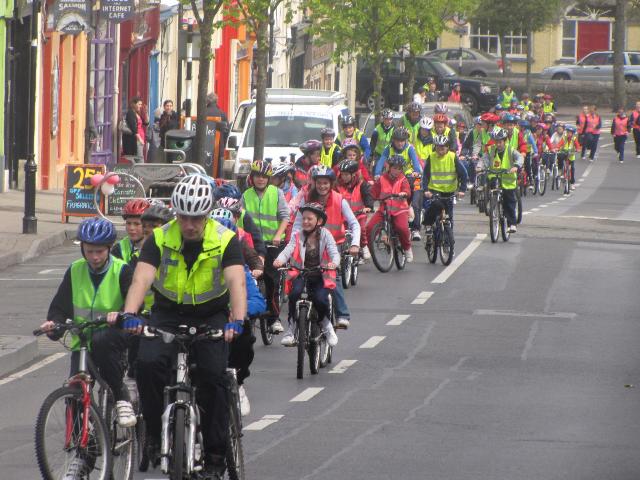 Participants in the school cycle safety competition Westport.
"This great competition gets children to think about their own welfare when cycling. And getting children to be aware of safety issues will help improve the image of cycling - and so increase its popularity, during the competition the children learn vital lessons on how to cycle in a safe and responsible manner. I hope that this competition spurs on more children to get on their bike and get active said Ins Mandy Ganyor Castlebar Garda Station ."