18 November 2009

Just 43 days left in 2009
Today's Featured Photo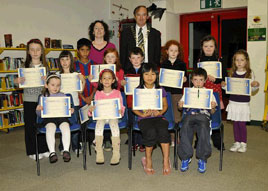 Ken Wright has photos of some young achievers who took part in the Castlebar Library Summer Reading Challenge. Click on photo for more.



---
Latest Headlines
Monster Christmas Quiz

-

17, Nov 2009

Table Quiz to be hosted by The Castlebar Chamber of Commerce in The Welcome Inn on the 10th of December.
Chelsea Market

-

17, Nov 2009

Castlebar visits NYC - some photos from Chelsea Market and environs
Psycho Spaghetti

-

16, Nov 2009

Armed Eye Film & Theatre Co. - Psycho Spaghetti - CHILDREN'S THEATRE Wednesday 18th November @ 11.30am & 2.00pm

Castlebar Tidy Town Awards

-

13, Nov 2009

Castlebar Tidy Town Committee held their annual awards ceremony in the TF Hotel last Friday











Try Our Newsfeed - updated 365 days a year
The Pulldown Menus