Local Motor-Sport Update:

The 2009, TF Royal Hotel Mayo Stages Rally, 8th of March 2009, first car away 8:30am

Our Local drivers: Tom Muldoon in the Evo 8, David Carney in a Citroen C2, Gerry Casey, James Culliney, Colin Loughney and Adrian Fahy makes up the Mk2 charge, while other local drivers include, Sean Mc Hugh in the M3-BMW, Shane Buckley in the Fiesta, Ciaran Walsh, Marcus Molloy, Ciaran Kennedy and Brendan Corcoran in their Civic's, Kenneth Mc Hale in the Yaris, Keith Mc Fadden in an Impreza, John Duffy in his Astra, Ambrose Gaughan in the 205, Fergal Loughney in a Swift and Otto Gropler in his Ford Ka make up the local Mayo drivers in the main field so far this year.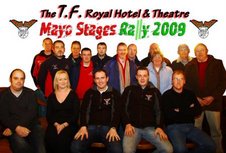 Mayo Stages Rally 2009 is Ready To Roll
High speed action and drama will be the order of the day this week-end, as many of the best drivers and co-drivers in the country head westwards to battle for glory on the 2009 TF Royal Hotel & Theatre Mayo Stages Rally.

Despite these recessionary times, the rally has attracted a near capacity entry, with in excess of 130 competitors due to take the start. The Mayo Stages Rally is once again part of three major series - the Dunlop National Rally Championship, the Border Rally Championship - which this year welcomes a new title sponsor in the form of Donegal based Henderson Auto Sport & Spares (HASS), and the 205 Challenge.

Clerk of the Course Jonathan Rice and his experienced team of officials have spent the last number of months hard at work preparing for this major sporting occasion. The result is a mouth-watering selection of stages that will test competitors to the limits, while showcasing some of the most beautiful scenery in the country. Using roads over the Sheeffry Hills and Partry Mountains in the south of the county, a total of eight stages run over three tests provide a total of 118 km stage mileage, enough to ensure plenty of thrills and spills before a winner is declared back at rally headquarters on Sunday evening.


Leading Runners
2008 saw local success with Mayo & District Motorsport Club members Aaron MacHale and Killian Duffy recording a memorable victory. They are not competing this year, however much interest will focus on Aaron's brother and number one seed Gareth MacHale, who debuts a new Opel Corsa Super 2000 in Mayo. This fabulous sounding machine, which competes in the Group N Showroom category, is the latest of a new breed of rally car, a variation of which is tipped to take over from the current World Rally Cars in 2010. He may find it difficult to challenge for overall victory but you can be sure Gareth will be pushing the little Opel to the limit over the Mayo stages.

Behind Gareth are a trio of Subaru WRC drivers who look set to fight it out for championship honours this year. Leading the challenge will be reigning National Rally Champion Patrick Elliott. The Cavan man has never won in Mayo but in the past year has become the man to beat at National level. Victory on the opening round of the championship in Birr two weeks ago underlines his determination to claim back-to-back championships.

Running at three is former multiple champion Niall Maguire. The popular Monaghan driver has already won in Mayo in 2002 and 2004, and would dearly love to claim a hat-trick of victories. Behind Niall is Kildare's Kevin Barrett, sure to be close by to pick up the challenge for victory should the leading drivers falter.

The Group N battle for showroom specification cars also promises plenty of action with Anthony O'Halloran from Clare hoping to build on his recent strong result in Birr. He faces strong opposition from the likes of Gary Jennings, Sean Flanagan and last year's winner Danny McBride. Meanwhile the Modified runners will be putting on a show as always, with the Escorts of Trevor Mulligan and Russell Woods leading the fray.



See http://www.themayostages.com for more details.