Supporting our Castlebar Olympic Swimmer, Nicholas Quinn, Rio de Janeiro August 2016.
Nicholas Quinn came fourth in his Olympic heat in the 100 m breastroke on 6th August. On Tuesday 9th August he swims in the 200m breaststroke, which is his favoured distance.
You can follow Nicholas on Twitter on his Olympic quest. On Monday he says: "Thanks for the support everyone, the 100 was a good warm up swim & now looking forward to getting in & racing the 200 tomorrow!"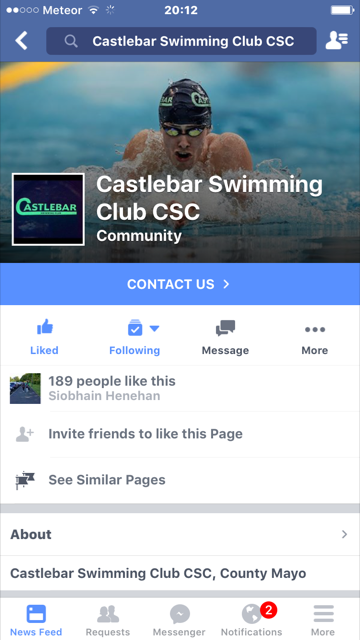 Download or listen to RTE's Morning Ireland podcast interview with Nicholas and his parents - "Proud family cheer on Mayo Swimmer" as interviewed by Des Cahill.
Last April a local swimmer, 23 year old Nicholas Quinn (from Sarnaught and previously The Turlough Road) qualified to represent Ireland at the Olympic Games in Rio de Janeiro in August 2016. Nicholas is the son of John & Mary Quinn (nee Sheridan) and younger brother to Darragh & Fionnuala. Mary was the owner of "Beanstalk" a popular craft/gift shop, on Market Square and New Antrim St, prior to moving abroad a couple of years ago. Nicholas is a past pupil of Scoil Raifteirí & St Gerald's College, Castlebar.
Nicholas learned to swim in Castlebar Swimming Club and progressed through the various levels under the expert guidance of his Coaches Marian English & Joe Moran, to reach his ultimate goal of qualifying to swim for Ireland at the Olympic Games.
To mark this wonderful achievement for a member of the Club, we are asking all local businesses, sporting organisations, community groups and the people of Castlebar to show your support for Nicholas during the games themselves.
Castlebar Swimming Club would be delighted if you could lend your support for Nicholas by decorating the town (streets, shopfronts, windows, roads, roundabouts, club facilities) with flags, bunting, good luck signs and messages of support.
The Olympic Games commenced on Friday August 5th with Nicholas as one of three Irish swimmers and a member of the elite 77 athletes making up the Irish Olympic team at the game's Opening Ceremony.
Nicholas swims his Breastroke events in the "Olympic Aquatic Stadium" on Saturday August 6th (in the 100m heats) & Tuesday August 9th in the 200m event - and hopefully in the subsequent days also.