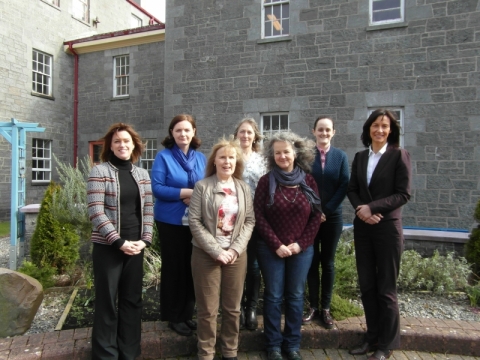 L to R: Fiona White, lecturer, Olive Greaney, Olivia Martin, Lynda Huxley, Barbara Barclay, Dr Yvonne McDermott lecturer, Dr Deirdre Garvey, Head of Campus, GMIT Mayo.

To celebrate International Women's Day, staff and graduates of GMIT Mayo recently held a women's history seminar in association with the National Museum of Ireland - Country Life. The seminar was chaired by Dr Deirdre Garvey, GMIT Mayo Head of campus, and it was designed to showcase research on women's history that is on-going in GMIT Mayo.

The seminar included a diverse range of topics from the experiences of female migrants and lesser gentry women to medieval women and their involvement with the Church. GMIT Mayo Culture and Environment programme chair, Fiona White, says: "The seminar provided a valuable opportunity to increase the linkages between GMIT and the National Museum. In addition, it allows us a platform from which to share our research with members of the general public who share our enthusiasm for history".

The day began with a talk by GMIT staff members Olive Greaney and Lynda Huxley on their research into west of Ireland writer Stella Garvey who, though successful in her own time, has subsequently been largely forgotten. They addressed the avenues of research they explored in pursuit of Stella, analysed her work on Lough Carra, Co Mayo, and outlined their plans to republish some of Stella's work later this year.

GMIT Mayo graduate Barbara Barclay discussed her research on the Mayo Orphan Girls who emigrated to Australia during the Great Famine, a topic she had researched for her final year dissertation. This was followed by a talk by Rosa Meehan, Curator in the Irish Folklife Division of the National Museum of Ireland, on the Migrant Women exhibition.

The afternoon session began with a talk by GMIT Mayo lecturer, Dr Yvonne McDermott, on women's role as patrons and benefactors of the friars in Connacht in the late medieval period. Lecturer Fiona White discussed the life of Louisa Moore of Moore Hall, drawing on her on-going doctoral research on Moore Hall. Olivia Martin, GMIT Mayo graduate and current PhD candidate presented the findings of her research on the lesser gentry families of east Mayo.

GMIT Mayo Head of Campus, Dr Deirdre Garvey, says: "On International Women's Day, it was a fascinating insight into the role of these women in the context of their time. It was also an opportunity to share the research of staff and graduates of GMIT at the Mayo Campus, women of our time".

GMIT Mayo offers a newly validated BA (Hons) in History and Geography (GA887) at Level 8 and a BA in Culture and Environment (GA872) at Level 7. For more information on these programmes, contact Programme Chair Ms Fiona White, email fiona.white@gmit.ie or Tel. 094 904 3216.