NATIONAL MUSEUM OF IRELAND - COUNTRY LIFE
TURLOUGH PARK, CASTLEBAR, CO. MAYO
PUBLIC PROGRAMME 12-27 OCTOBER 2013
Contents:
* Christmas Memorabilia * Programme of events * School programme
* Temporary Exhibitions * Museum Shop & Café * On-line Resources * Other Details
01. CHRISTMAS MEMORABILIA - HAVE YOU A SPECIAL CHRISTMAS MEMORY/OBJECT YOU WOULD LIKE TO TELL US ABOUT?
Deadline for submissions: Friday 15 November
Do you have an item at home that has a special place in your heart and reminds you of Christmases past? We invite you to email your story (350 words max) and a photo of the item to ouririshheritage@gmail.com by Friday 15 November. These stories will be assessed and those selected will have their objects included in a unique public display in the Museum during December and online. For more information incl. Terms & Conditions visit www.ouririshheritage.org.
02. PROGRAMME OF EVENTS
Visit www.ouririshheritage.org to find out about local Irish history & heritage and to contribute photos and stories about your locality.


Saturday 12 October: 11am-5pm. Open Day. Mayo Genealogy Group 'Gathering' Day 2013. Adults and children 7yrs+
Join the Mayo Genealogy Group and celebrate finding out about your past. A full day of events, talks, tours, workshops and much more in the Museum and later in Turlough village from 5-8pm. Check out www.mayogenealogyblogspot.com for a full list of the day's events. No booking required.

Friday 18 October: 11am-1pm. Drop-in Activity. Knitting Circle: Christmas Socks and Stockings Adults and children 7yrs+
Why not take up the challenge of knitting a pair of woolly socks or a Christmas stocking for the hearth? Join the museum knitters to make your winter woollies. Bring along your knitting or crochet. Beginners welcome. No booking required.

Thursday 24 October: 3-4pm. Talk. The Conservation of Mesolithic Fish Traps. Adults and children 14yrs+
Join Museum conservator Dr. Karena Morton to find out about the conservation processes involved in the preservation of Mesolithic fish traps made from finely constructed basketry. The traps were discovered in a bog at Clowanstown, Co. Meath. Check out object No. 1 www.100objects.ie . Booking required.

Sunday 27 October: 2.30-4pm. Workshop. Tales from the Bog. Adults and children 7yrs+
How does the bog preserve objects from long ago? How is modern forensic science used to uncover our buried past? Join Brid Colhoun from Ballycroy National Park to learn more. Discover bog finds in the Hair Hurling Balls exhibition. Booking required.



03. SCHOOLS PROGRAMME

POST-PRIMARY SPECIAL EVENTS

Thursday 17 October: 12.00-1.30pm. Workshop. Tales from the Bog. Adults and children 7yrs+
How does the bog preserve objects from long ago? How is modern forensic science used to uncover our buried past? Join Brid Colhoun from Ballycroy National Park to learn more. Discover bog finds in the Hair Hurling Balls exhibition. Booking required. Relevant to Junior Cycle: History, Science & Geography and Senior Cycle: Biology & Geography.
04. TEMPORARY EXHIBITIONS
HAIR HURLING BALLS: Earliest Artefacts of Our National Game
This exciting new exhibition firmly establishes the antiquity of our national game of Hurling with radio-carbon dated hurling balls from 800 years ago! The hair hurling ball collection of the National Museum of Ireland is displayed with an ancient hurling stick. These hurling balls are of matted cow-hair with a plaited horse-hair covering. This exhibition looks at these bog finds in relation to where in the country they were discovered, how they were made and the scientific analysis undertaken by the Museum. This revealed so much more than the naked eye could see... The exhibition runs until May 2014.

Other exhibitions include:
· 100 OBJECTS MUSEUM TRAIL
In a partnership between the National Museum of Ireland (NMI), the Irish Times and the Royal Irish Academy, 100 objects have been chosen by journalist Fintan O'Toole to take us through the history of people in Ireland over 7,000 years. 4 of these objects can be seen in the NMI-Country Life, Turlough Park.
· No. 81 EMPTY COOKING POT, 1845-9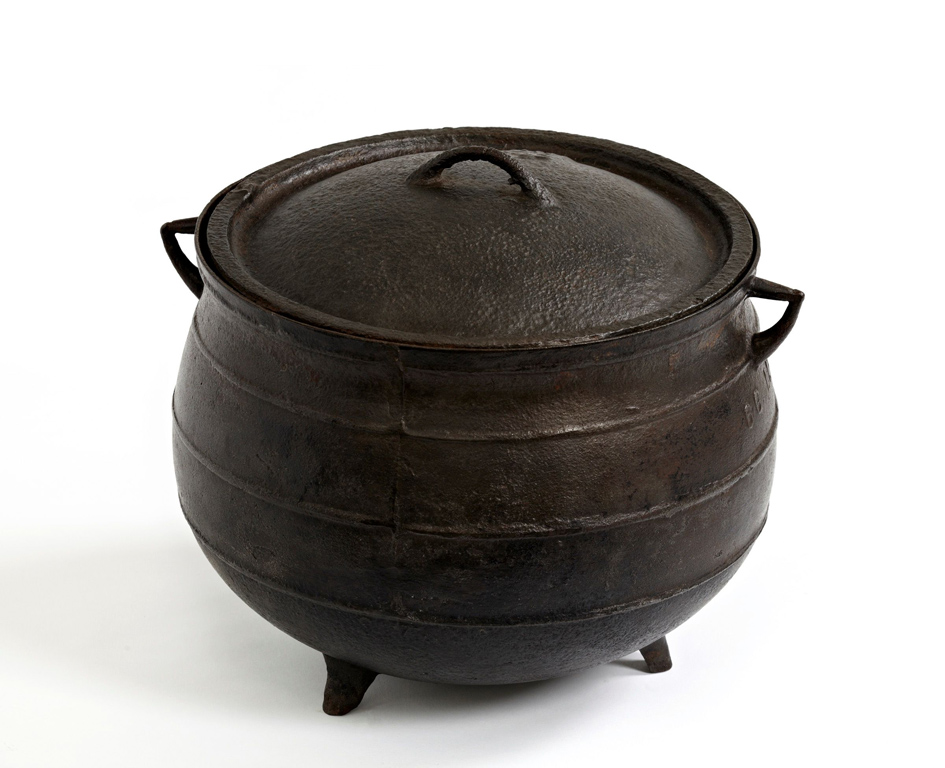 Cooking Pot
· No. 82 EMIGRANT'S TEAPOT, 1850-1950.
· No. 93 BOYNE CORACLE, 1928
· No. 95 EMIGRANT'S SUITCASE, 1950s.
No. 66 CRUCIFIXION STONE, 1740 & No. 77 WICKER CRADLE, 19th & 20th Centuries are also from the NMI-Country Life's Folklife collection and are based in NMI-Decorative Arts & History, Collins Barracks, Dublin.

Further details can be found on:
http://www.museum.ie/en/list/history-of-ireland-in-100-objects.aspx and on http://www.100objects.ie/

Visit http://www.museum.ie/en/exhibition-list/country-life-temporary-exhibitions.aspx for details about temporary exhibitions which are ongoing in the Museum Galleries
Museum Café Exhibition
Contemporary Ireland
This is an exhibition of photographs by students of the level 6 Professional Photography Course, Carrowbeg College, Westport, Co. Mayo. http://www.westportcfe.ie/dept/view/20. Contact Eilish Power for more information 087 2075203.


05. MUSEUM SHOP & CAFÉ
Museum Shop: the Museum Shop offers a broad range of affordable quality gifts for any occasion. Unique products to suit all budgets and requirements.
Museum Café: Visit the Museum Café for a wide variety of tasty and seasonal meals and snacks. Enjoy our freshly baked produce and speciality teas and coffees. The perfect complement to your museum visit. For queries and bookings contact the Museum Café: 094 928 9972; E-mail: maeve@brambles.ie
06. GENERAL INFORMATION
Visit http://www.museum.ie/en/list/calendar-of-events.aspx for details of the current programme of events.
Contact tpark@museum.ie if you would like to join the Museum's e-mail distribution list.

Follow us on Facebook: http://www.facebook.com/pages/National-Museum-of-Ireland/94907090068?ref=hl
and Twitter: https://twitter.com/NMIreland.

07. MEMORY BOOK PROJECT
Your Stories - Our Histories: Memory Book Project
During your Museum visit, please take a seat at our Memory Book to record personal memories and stories related to the objects and exhibitions you have encountered in the Museum. The Memory Book form can be downloaded and returned to the Museum. This form can be completed even if you haven't been to the Museum yet as we would still like to hear your memories relating to Irish country life.
08. ON-LINE RESOURCES
Blog by the Museum's Documentation Department
The Documentation Department in the National Museum of Ireland - Country Life have launched a blog as a spin off from the Museum's Inventory Project - http://turloughparkhouse.wordpress.com/. Visit this blog to get some information on objects in the Museum's collection.
Website for local heritage
www.ouririshheritage.org features articles on local history and heritage from around the country. Anyone with an interest in their local area can contribute to this website which, it is hoped, will eventually reflect the local history of the island of Ireland. Groups and organisations are welcome to promote their cultural and heritage events via the online events form.
09. MUSEUM OPENING TIMES
Museum: Tuesday-Saturday: 10am - 5pm Sunday: 2-5pm. Closed Mondays (incl. Bank Holiday).
Museum Shop & Café: open during Museum hours with extended opening from 12pm each Sunday.
10. CONTACT DETAILS
GENERAL INFORMATION: Museum Reception: 094 903 1755
MUSEUM CAFÉ: 094 928 9972; e-mail: maeve@brambles.ie

Note: if you would like to be removed from the e-mailing list please send return e-mail with "remove" in subject box
Kind regards, Bernie

Bernie Byron
Marketing Executive
National Museum of Ireland - Country Life
Turlough Park
Castlebar
Co. Mayo
Ireland
Tel: +353 94 903 1773
Mob: +353 87 798 7439
Email: bbyron@museum.ie
www.museum.ie
Admission Free. Closed Mondays.

How to find us: GPS Co-ordinates: 53.883986, -9.212476

Public Programmes & Temporary Exhibitions:
www.museum.ie/events: ongoing events & activities in the four sites of the National Museum of Ireland.

The "Hair hurling balls: Earliest artefacts of our national game" exhibition features 14 hurling balls made from matted cow hair with a plaited horsehair covering. All the balls have been dated to the late seventeenth century or earlier. Running until May 2014.