The recent beautiful weather provided an enjoyable backdrop to a swimming gala in Claremorris, where the swimmers and spectators enjoyed a few moments respite in the sun snatched between the various races. It was also quite a successful day out for Castlebar Swimming Club, with an impressive number of personal bests for many swimmers, and quite a few medals into the bargain.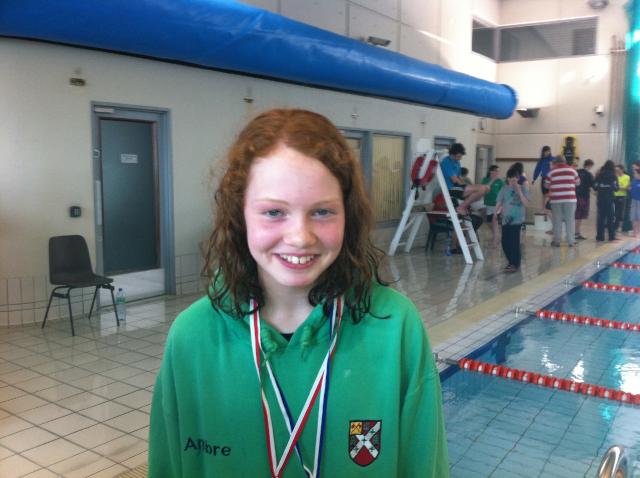 Edel Egan who took two gold medals and a silver at the recent Claremorris gala.


Eleven-year-old Edel Egan had some fine swims on the day and took gold in the 200m IM and the 200m freestyle, along with a silver medal and an impressive personal best time of 2:52.34 in the 200m backstroke. Matching her medal tally was 14-year-old Patrick Livingstone, who took golds in the 200m IM and the 200m breaststroke and silver in the 200m fly. Breaststroke proved a winner also for sisters Heather and Ambre Fadden, Siofra Horan, and Conor Melly, who each took silver in their age categories.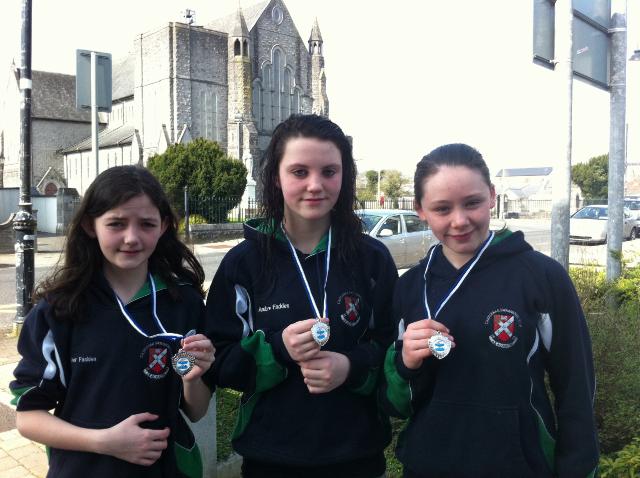 Heather Fadden, Ambre Fadden and Siofra Horan, who each took a silver medal in breast stroke at Claremorris Gala.
There were some other fine swims on the day. Paula McDonagh knocked eight seconds off her personal best in the 200m IM, while Mark Dervan improved his PB by over seven seconds in the same stroke. Nicola Connelly improved her 200m backstroke by an impressive 10 seconds, with Aisling Grady taking almost 13 seconds from her previous personal best in this stroke. Niamh Heneghan swam a fine 200m breast stroke in 3:18.75, a 28-second improvement on her previous PB. The 200m freestyle proved a good one for Megan Coen, who swam it in 2:44.01, an improvement of almost 16 seconds on her previous PB, and also for Una Togher who set a new PB of 2:40.17, taking over 13 seconds off her previous best time.
Also swimming well for Castlebar on the day were Laura Fahy, Aoibheann Hennigan, Siofra McHale, Louise Dervan, Ellen Murphy, Caoimhe Hennigan, Jamie Murphy, Niamh Breslin, Hannah Grady, Sean O'Connor, Nathan Rennick and Ronan Dervan.